10 Best Witcher 3 Mods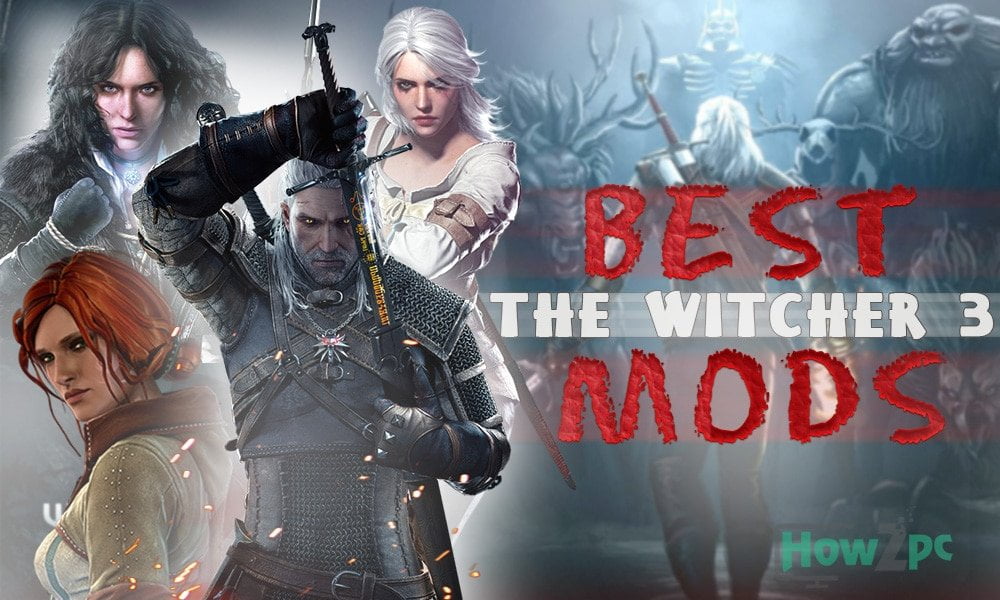 Witcher 3: Wild hunt, the latest part of the Witcher, a game full of action, released in 2015, is one of the best games, a player, having craze of fighting, can play in his leisure time! This video game basically defeats all the other games when talking about enjoyment, seeking attention of more and more players, year after year.
However, like other games, when you keep on playing it, it can sometimes get boring while seeing the same scenarios all the time, therefore, we have compiled a list of Best Witcher 3 mods that will change your game completely to make it more interesting for you.
What is Nexus mod manager?
All the mods that you install for the game basically live on nexus when we're not making any specific changes. So, in easy words, by installing this mod manager, you can install other mods easily as well and in less time. However, don't ignore the information boxes that are mainly about load of the mods and other issues since all the mods rely on each other. Therefore, ignoring any important note can result in negative effects to your game!
Debug console enabler
So this is our first mod which is a very important one if you're one of the players who's dealing with many mods at the same time! It actually enables you to use the debug console and through this, you can type in many console commands which will allow you to change your game, in different ways like spawning your enemies, you can change the weather to your favourite one and you may freeze the time if you want to take a screenshot of your favourite scene.
E3 Dodge system
If you're one of the players who hate dodging in this game and think that it's quite boring at times, this mod will be the perfect one for you as it introduces a more easy dodge system which enables you to enjoy the combat and makes the game more interesting for you!
Photo mode
If you're crazy after taking screenshots at certain points in your game, photo mode will definitely suit you. It enables you to make your game more catchy and to enhance the view. Not only this, but the camera rotates to around 360° allowing you to add visual changes. However, you cannot make physical changes to Geralt, you can change the weather and the surrounding objects to make the shot more interesting and you may make yourself invisible as well.
Fast travel anywhere
Apart from the players who like travelling slowly and steadily, there are players who want to travel fast. Although, we have signposts everywhere in the game to travel fast but this mod allow you to choose a destination in the map and reach there fast unlike in a normal way, when you have reach to the signpost for travelling fast!
Auto loot
Just like the name, this mod gives you a sort of relief that you don't have to wait for collecting the items from the ones you're killing. This, takes a lot of time. Hence, auto loot mod will does all the looting by itself, also you can make it specific that which type of items should be looted along with a benefit, that it doesn't steal, so there's no need to worry.
Friendly meditation
Friendly meditation, hopefully you guys you guys know the meaning of meditation, so all the nature lovers, this one's for you! This mod will help you to take a clear view of the surroundings where the HUD falls away, so there's no disturbance! You can watch the sun rising, you can clearly see the stars twinkling and the other things you like.
Enemies of Rivia
Fighters, are you ready? This mod is for the one who love fighting and wants the the game to be more and more difficult. As the name of the mod contains, Enemies of Rivia, the mod actually makes your enemies more powerful and upgrade their level of fighting. Your enemies behave in a totally different way along with increasing the number of attacks and they get more energy. This overall, makes the game more challenging and increases it's difficulty level making the player more curious and keeps on trying to defeat the enemy! So, all the daring players? Are you ready to fight against your powerful opponents? Go and Win!
More shadows
When talking about shadows, it seems like the game developers were not so keen in adding shadows to all the lightning sources. Although, they have added excellent lightning effects, but there are some players, who are great fans of shadows and therefore, they are always looking forward for new mods to change the game. More shadows mod enable you to add shadows to particularly all the lightning sources whether it is the torches that are on the walls or if the guards are carrying it, the candles or the lamps, you can add shadows to all the lightning sources.
Critical slow motion combat mod
Slow motion mod is my favorite one because this mod creates a very dramatic situation when Geralt is placing an attack on the enemy and you're able to see the attack in slow motion which means that the players are aware of the power of Geralt and how he places different attacks.
Indestructible items
This mod does very less work as compared to other mods but for me, this is also one of the best ones, I'm that kind of person who doesn't likes wasting my precious time on repairing the degraded items. This mod throws the entire degradation system of these items out of the game, which ultimately means that I won't be wasting time in repairing these items anymore and can enjoy the game without any wastage of time.
Summary:
The Witcher 3 modding community is quite big, which is why there are many more different mods for the game which are not even mentioned here. Here were some of the best 10 mods you guys shall try. Witcher 3 mods are a great way to change the settings of the game as per your wishes and likes; you can change the weather, level of combats, add shadows and many uncountable changes can be made through these mods! Hopefully, you guys enjoyed reading the article and we make sure that we're providing you the updated info!