Best Prebuilt Gaming PCs Under $800 in 2021 – Ultimate Buyer's Guide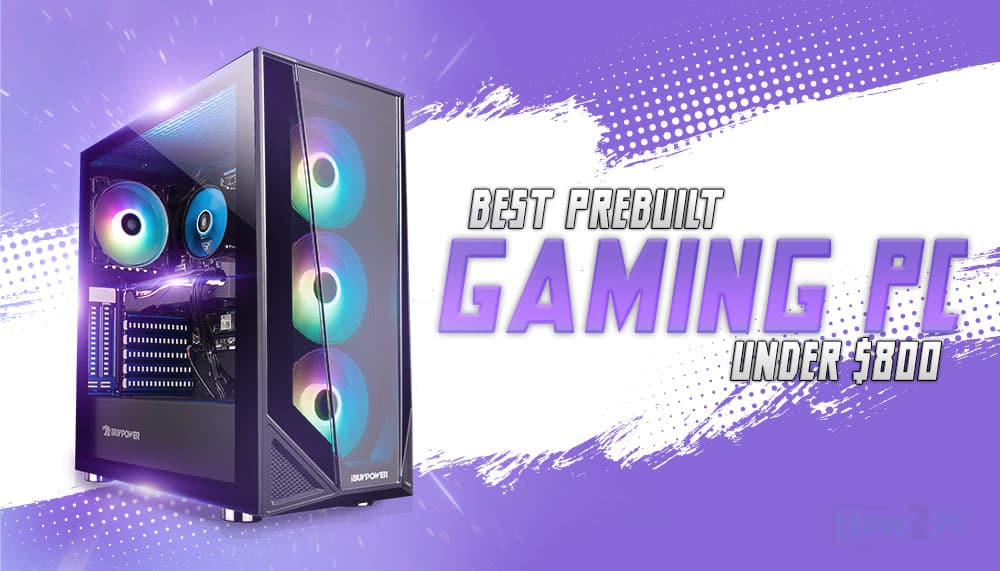 The PC gaming industry has been booming in the last few years and there is no better time to jump the ship than now. Statistically speaking many new PC gamers chose to go down the prebuilt gaming PC path as it is convenient to buy an off-the-rack PC.
Since prebuilt gaming PCs are mostly targeted at the new audience, they have a stigma around them for being expensive. This however cannot be further from the truth. As is the case with many industries the prebuilt gaming PC industry has also moved on and is a far cry from the past.
If you are in the market for a prebuilt gaming PC which you are as otherwise, you won't be on this article, then fret not. You can easily get a good PC for just $800. Yes, you read it correctly, $800 is the target I have set for the 12 gaming PCs that will be a part of this article.
RELATED:
Best Pre-built Gaming PC Under $1000
Case Design and Aesthetics
The box in this PC is wrapped in is not a case but rather a showcase. We have been seeing glass panels in cases for a while now, but this takes it to another level. The front panel of side panels of the case included massive glass windows almost giving out a mirror-like feel.
Of course, this all is done to elevate the RGB lighting of the case which is plenty to be had. The RGB lighting of the PC makes a grand appearance through the glass windows and the completely illuminated inside of the case is also a sight to behold.
The case of this prebuilt PC also has a power supply shroud that hides all the messy cables emerging from the power supply. This makes the inside of the tower look nice and tidy. Overall, in terms of Aesthetics RGB lighting is all the rage here and the case makes the most of the lighting by adding massive glass windows.
Connectivity and Salient Features
To have the sleek and sexy RGB case you have to compromise a bit on the front I/O. This PC only includes a power button, 2x USB-A ports, and a separate 3.5mm jack for the Audio and the Mic on the front. These ports are also on the top of the case so you will have to some fiddling to reach the ports depending on how far you are seated from the PC.
The back I/O makes up for some of the missing ports on the front of the case and the total ports you get include additional 4x USB-A slots, ethernet jack, and for the display, we get a Dual-Link DVI and an HDMI port. Both the HDMI and the DVI port support a 144hz refresh rate at 1080p.
Let's talk about some prominent features of this PC and the one that jumps straight to mind is the inclusion of 4x case fans. Many prebuilt PCs do not offer a single fan let alone 4x fans. All the fans are RGB too.
We are not done with the fans yet as the CPU cooler of this PC is also better than the stock cooler that comes with most prebuilt PC's and it also contains RGB lighting. All the RGB lighting from the fans combined gives it the appearance of a led-loaded machine.
Besides the fans, another feature that is worth highlighting is the inclusion of a WIFI card. The WIFI card included here is also of very good quality and provides decent speeds. The signal also remains stable and rarely will you experience any hiccup with the WIFI connection here.
Specifications
As the saying goes, "All that glitters is not Gold" but does this PC also fall victim to that quote. Honestly speaking I was a little scared that iBUYPOWER might have skimp on the specification to appease the Aesthetic crowd but that is exactly not the case here.
The specifications of this PC are decent for the price. At the heart of the machine is a Ryzen 3600 processor which is the king of 6 core 12 thread processors due to its mind-blowing performance with excellent efficiency.
For the graphics card, we are getting an AMD RX 5500XT making this an all-AMD prebuilt PC. This is a good thing because as things have unraveled in the last couple of years going AMD over Intel is the sensible choice.
In terms of the memory, you are getting 8GB capacity here which is on the lower side as far as gaming in 2021 is concerned but I cannot complain much since most of the competitors are also offering the same capacity. The storage capacity is also mere 240GB which is again low but then again competitors are offering the same capacity SSD drives.
Gaming Experience
iBUYPOWER Trac 4 provides an incredible gaming experience. It has everything a gamer would want in a prebuilt PC for $800. If I am being honest even despite having a custom-built PC I still highly respect what iBUYPOWER has achieved here.
To do what iBUYPOWER has done here with this PC in the given market condition is quite remarkable. The best thing about this PC is that you are getting a gaming experience that is free from any sacrifices.
In terms of the actual framerate figures, you can expect this PC to play demanding games like Red Dead Redemption, Assassins Creed Valhalla, CyberPunk 2077, Microsoft Flight Simulator, and other similar titles at 60FPS on the max graphic setting.
For battle royal games that include Fortnite, COD WarZone, Apex Legends you can expect the framerate figure to the around the 100 mark. These are great numbers, but the best is yet to come.
As we all know esports games are the most graphically optimized and therefore less demanding. So, in games like CSGO, Valorant, Overwatch, Rainbow Six Siege, Dota, and others you can expect around 150FPS.
Wow now we are talking, with numbers like these you can even invest in a 144Hz to get the most out of your gaming. As you can see from the framerate the iBUYPOWER Trace 4 is a beast in all scenarios and you can confidently game on this machine regardless of how graphically intensive the game is.
Case Design and Aesthetics
Not going to lie in terms of the Aesthetics this PC is quite lacking when compared even to the cheaper PCs on this list. This is not to say that this PC looks bad but rather it just fails to stand out in the sea of the prebuilt gaming PCs out there.
What we are looking at is a rather interesting case from the front. The front panel of the case has various intricate cuts that house the RGB lighting. This somewhat looks appealing but unfortunately, the led lighting is on the dull side and does not come through as nicely as one would expect.
Peeking inside the case through the glass window we find exposed cables. The case is the culprit here for the exposed cables as there is no piece covering the grommets from which the cables are threaded through. The small size board leaves a large area unutilized hence we see more of the games. This is not a big issue but something worth highlighting.
Overall, I would say this PC does not bode well in this department given that it is the most expensive of the lot. The design and Aesthetics of the case are not bad, but some elements just cheapen it out a bit and that is not good since this PC already costs more than other PCs on this list.
Connectivity and Salient Features
When it comes to connectivity this PC does pretty well and has a good port selection both on the front and the back of the PC. On the front, we have a lot of USB ports to connect peripherals and accessories. Besides that, we also get a dedicated button to cycle between the color of the lighting.
On the back, we find major display-related ports like HDMI and Display Port. The HDMI and the Display Port support a 144hz refresh rate at 1080p and this PC is also capable of running multi-screen setups if you are into that.
Moving onto the more everyday facets of connectivity, this prebuilt PC WIFI, and Bluetooth. Both WIFI and Bluetooth work flawlessly without any hiccups. The WIFI of this PC also supports high data speeds eliminating the need for an ethernet cable.
As far as the features are concerned with this PC you get 3x case fans. The fans used for this PC run smoothly and have RGB lighting as well. Another thing worth appreciating is that the folks at AVGPC have used a 600W power supply in this build. 600W is not only ample for this PC but will also provide decent headroom for upgrades to the PC.
Specifications
This section brings us to the meat and potatoes of why you should get the AVGPC Hellfire. The extra $50 you are paying is invested in a Ryzen 3600 processor and the Nvidia GTX 1650 graphics card.
Let's begin with the processor and there is not much to say about the Ryzen 3600 that is not already out there. All you need to know is this is the best 6 core 12 thread processor you can get that is not only fast and powerful but also efficient.
As for the graphics card, the Nvidia GTX 1650 is the most popular choice for 1080p gaming since it has the performance to play any game at 1080p. This card is only available on this PC and the HP one.
The other specs of this PC are in line with the price tag. It has 8GB RAM running at 3000MHz and an SSD storage capacity of 500GB. All other essentials that you need to get the PC up and running like the Windows are preloaded here.
Gaming Experience
As you can see from the above section this PC features some of the best hardware of any PC on this list. The only PC which can compete with this machine in terms of performance is the HP pavilion gaming desktop and the iBUYPOWER Trace 4.
For the gaming experience, we will compare these 3 machines. This prebuilt PC comes in the middle of the three when it comes to performance. It edges out the RX 5500 in iBUYPOWER but narrowly missed out on the 1650 Super on the Hp.
As to what this translates for real-world gaming is that this PC is capable of running all the latest games at the 1080p resolution. Regarding framerate, you are looking at 40-50 frames in Red Dead Redemption and Microsoft Flight Simulator, 70-80 in COD WarZone, upwards of 100 in games like Apex legends, Fortnite, Siege, and over 200 in games like CSGO, Valorant, Dota, WoW, and Overwatch.
Another thing worth noting here is that while the framerate is slightly less than the Hp but in my opinion, this is a better-looking PC when compared to the counterpart. This is it for the AVGPC Hellfire and if are looking at this PC I would suggest you take into account the other 2 options as well and choose the one that fulfills your requirements the most
Case Design and Aesthetics
Although clean and simple from afar the Hp Pavilion Gaming Desktop has plenty of subtle nuisances in its case that elevate the look up close. Examine the case closely, and you notice a boomerang pattern running along with the entire front panel of the case.
Every gaming PC has to include some sort of case lighting right, so this PC has it too. The difference is the lighting on this case is done subtly and it only illuminates the bottom portion of the front panel.
Given green is the color of choice for this PC, the lighting is also in that color. You will find hints of green elements shattered throughout the case such as the inner moldings of the front I/O ports and the HP logo.
Since Hp is going to that seamless and simple look you are not getting a side glass window on this case. But rather you are presented with a hard metal panel with holes for ventilation. As far as the overall aesthetic of the PC is concerned it gives an elegant and mature vibe.
Connectivity and Salient Features
Connectivity plays a crucial part in determining the gaming experience of the user. Nothing is more frustrating than dealing with a PC with missing ports. HP Pavilion gaming desktop however gets a flying pass in this regard as it not only includes the ports you will need on daily basis but also conveniently houses them at the front of the PC.
Starting from the top to the bottom we have a power button, 3.5mm headphone/microphone combo jack, followed by 4x USB-A ports, an SD-Card slot, and a high-speed USB-C port. Other display-related ports are found on the back of the PC along with additional USB inputs and this prebuilt PC supports dual display configuration if you are into that.
The other worth mentioning technical features include the addition of a rear exhaust fan. This fan is mounted in a way that in which it blows hot air out of the PC hence keeping the temperatures in check.
Talking about cooling this PC has a stock AMD cooler that comes with the 3rd generation Ryzen processors. This cooler does a fine job in maintaining the CPU temperature and overall, the ambient temperature of this PC also stays under the thermal limit so it all good there as well.
Specifications
The thing that stood out about this PC is the use of a Ryzen 3500 processor. Most other manufacturers at this price would be included an Intel i3 and called it a day so kudos to Hp for incorporating this little banger of a processor here.
The Ryzen 3500 serves this PC very well. It is a 6-core low TDP processor meaning that it draws very little power to function. Despite this, the performance of the processor is very good considering that it matches toe to toe to the latest generation Intel processors in the same category while drawing less power.
This processor is combined with the Nvidia GTX 1650 Super graphics card. This is one of the best graphics cards you can get in a prebuilt PC with the $800 price tag. The performance of this graphics card is not too shabby either and people overlook this card despite it being one of the best cards for 1080p gaming.
As for the other specifications, HP is giving you 8GB preinstalled RAM here. I wish it was 16GB as 8GB RAM is quickly being overridden in favor of higher RAM capacities. Games today often recommend more than 8GB.
The storage space is also limited with this prebuilt PC only providing you with a 256GB NVME SSD. Granted the SSD here is blazing fast and will help in quicker loading times for games and applications but due to the fewer space users will have to be selective in the games and applications they install.
Gaming Experience
The hardware of the PC is good, and HP has used good components, but does it translate to a good gaming experience as well because as we all know performance does not directly equal gaming experience.
Well happy to report that Hp has nailed it when it comes to the gaming experience. It all starts with the front I/O. The front ports are easy to reach and powering on the PC does not require any reaching for the button. The USB ports are right there in your peripheral vision making plugging any external accessories a cakewalk.
Then when you finally load up the game, the PC stays ever so quiet without compromising on the performance. This PC meets the requirements of most games. Competitive games like CSGO, Valorant, Apex legends, or Siege gives over 100fps on this PC.
While the more demanding titles like Red Dead Redemption, Assassins Creed will require you to tone down the settings just a teeny tiny bit but will run at stable 60fps which is what most gamers aim for.
This sums up the whole experience of the PC. The Hp pavilion prebuilt gaming desktop is nothing but a joy to use. Although there are some shortcomings with this PC you are still getting more than enough to make up for all of that.
You May Also Like:
Best Budget Gaming Chairs Under $200
Case Design and Aesthetics
Acer has a very aggressive design going on with the case. You cannot help but notice the protruding front panel that curves outward from the middle to form a sharp crease that runs along the middle of the case.
The highlight of the front is the Acer unibrow V-shaped cutout. This cutout contributes to making the case look more aggressive. To accentuate that feel, the logo also has red led backlighting.
You will also find red accents along the lid of the case that give the PC a commanding stance. Moving around the case to the top and the sides, we can see the sharp lines continue that define the chassis here.
One thing I am not certain about however is the airflow. This case lacks any proper ventilation for air to pass through and the holes that are carved out for airflow are small and not correctly positioned. Hence to one's dismay, it seems like Acer has skimped on proper airflow in favor of Aesthetics.
Connectivity and Salient Features
Proper front-mounted I/O ports. Yes, you read it correctly despite Acer cracking down on all the aspects to make the PC look more aggressive they somehow have kept the front I/O ports.
This is the best decision they have made because having ports right in your eye line is so convenient. You can insert any peripheral or pen drive without having to fiddle with your seating position or fighting with the port to get it in. The front ports also allow for quick operation and hence can be beneficial in a LAN environment.
I was delighted to see a USB-C port bundled in with the other usual suspects i.e. the USB Type-A and the 3.5mm Audio/Mic jacks. Having a USB-C port is very handy these days when most modern gadgets and devices are solely coming with USB-C connectivity.
Bringing convenience to the end-user has been the hallmark in terms of connectivity here and none reflects this better than the prebuilt WIFI and Bluetooth capability of the Acer Nitro N50.
The connectivity is not the only front where Acer seizes to impress and the jaw-dropping attribute also continues to the features. Most importantly this prebuilt desktop offers DTS X audio which is a first on this list.
DTS X audio is far superior to the regular audio standard that other PCs are tuned to. This audio processing will bring your games to life and hence will enhance the immersion when playing a game.
The other prominent feature that you will find here is the inclusion of case fans. But I am not sure certain about the efficacy of these fans since airflow is next to none in this case.
Nitro Sense software comes preinstalled in another handy tool to have. This software has endless customization and allows complete control over every aspect of the PC like fan speed, cooling, lighting, etc.
Specifications
The spec pool of the Acer Nitro N50 is impressive. These are not the specs you would expect in an $800 prebuilt PC and that too from a mainstream manufacturer.
Powering the PC is an Intel I5 10400f processor which is Intel's answer to the AMD Ryzen 3600. This processor equals the performance of the Ryzen 3600 in terms of gaming while falling behind in the productivity side of things.
The graphics card installed on this machine is Nvidia GTX 1650. This is possibly the best card you can get in the $800 price range. Featuring 4GB Vram this card has ideal performance for 1080p gaming.
I also like the fact that you get 512GB NVME M2 SSD with this Acer prebuilt PC. Most other PCs only offer 240GB SSDs in this price range so having 512GB capacity is a one up on the other machines. As for the RAM, it is the standard affair of 8GB sub-standard single-channel RAM. This is the trademark of prebuilt PCs in the $800 price range and certainly an aspect that needs to change.
Gaming Experience
Till now this Acer prebuilt desktop has been thoroughly impressive and this translates into the gaming experience as well. The Acer Nitro N50 is pretty much flawless, and I do not use this sentence lightly.
From the start to the finish this PC tells a wonderful tale. It starts with the aggressive design that greets you when you sit down and power on the PC. This sets up a feisty mood for a gaming session.
Excited by what today's gaming session is going to offer you open the game. As you enter into a mission or the match you get a glimpse of the performance of the processor and the graphics card. The high FPS figure makes you more excited, so you double-check the graphic settings.
After finding out that the game is running at the maximum graphics settings you come to appreciate the Acer Nitro N50 more. This pattern repeats every time you open a new game and with each gaming session, your appreciation for the PC grows until you finally start to adore the PC for what it is.
As for the actual frame rate figures you can expect this PC to deliver an excellent frame rate in most games. In demanding games like Red Dead Redemption, Assassins Creed, and Microsoft Flight simulator you can expect the frame rate to hover around the 60 mark at medium-high settings.
In battle royal games like Apex Legends, Fortnite, and COD WarZone this PC can easily achieve 100FPS while in the less demanding games like CSGO, Valorant, Dota, Rainbow Six Siege, and WoW you can expect to reach the 144FPS mark with this PC.
Case design and Aesthetics
Just when I thought prebuilt gaming PC cases could get any more innovative, I happen to come across this case. I would be lying if I do not tell you how upon first glance this case got my attention and I believe it will do the same for you.
What sets the case apart from other cases is the intricate detailing on the front panel. I also like the fact that the case is not overly drizzling with RGB lighting. Skytech has stuck with a single red color led lighting which I think works surprisingly well with the black and red theme of the PC.
The side view of the inside of the case through the large glass side window is also quite pleasing. The cables are well organized, and everything is well put together. Overall, this PC achieves what it set out for i.e a clean and elegant design.
Connectivity and Salient Features
Yes, finally front-mounted I/O ports on prebuilt gaming PC. If you are lost a bit here I/O that for the input and the output ports and seeing them on the front of the PC is so satisfying. Front ports that are there within your peripheral vision are so easy to use and require little fiddling around to reach the current port when plugging any peripheral or a USB pen drive.
As for the port themselves, you are getting here dual USB Type-A 2.0 ports, a single USB Type-A 3.0 port, and separate 3.5mm ports for the Audio and the Mic. The only port lacking here is the USB-C but the exclusive of it is understood here as this PC is slighter older and at that time USB-C was but not much prevalent in everyday use.
Nothing I cannot complain about though is the inclusion of 4x case fans. 3 of these fans that are mounted on the front have red led lighting while the one on the back is a plain old fan and does not feature any lighting.
I do not know if I can call it a feature or not, but I will roll with it anyway. What I want to mention is that is this prebuilt gaming PC comes bundled with a keyboard and mouse so that you can get started right away with the gaming action.
Specifications
Considering the current market situation and everything that has come along with it this PC has pretty decent specs for the price. At the heart of the machine is the Ryzen 5 2600 processor. While not being the latest, this 6 core 12 thread processor is still pretty beastly even in today's standard.
The graphics card here is the Nvidia GTX 1650 non-super variant. This vanilla GTX 1650 is indeed a great card for 1080p gaming. This also makes this PC among the few on this list to feature a GTX 1650 or higher graphics card.
As for the RAM and the storage, what you are getting here is 8GB single-channel memory and a 500GB SSD. These specs for the RAM and the storage are in line with other good prebuilt gaming PCs so nothing to complain about here.
Gaming Experience
Time and time again I have said that the gaming experience is the most important part of any PC, be it prebuilt or custom. At the end of the day, it's not about the specs on paper but about the game you are playing Infront of you.
It makes me so excited to say that the gaming experience here is one of the better ones you can get for the $800 price tag. This PC pretty much fulfills everything you would want in a gaming PC.
It looks good, plays games well, does stutter about. I mean what more do you want right. As for the games themselves, this PC can run any game you throw at it. Whether it is a demanding game or a less graphically intensive game does not matter here.
As for the framerate, you will easily hit solid 60FPS in games like Red Dead Redemption, Assassins Creed, Microsoft Simulator, and other similar demanding games. In battle royal games like COD WarZone, Apex Legends, Fortnite you can expect the framerate to hover around the 90-100 mark.
Esports games are the easiest to run and hence it should be self-explanatory that you easily break 144Fps in games like CSGO, Valorant, Overwatch, League, and others. Therefore, I recommend shopping for a 144hz refresh monitor if you are looking to buy this Skytech Blaze prebuilt PC for esports gaming.
Case Design and Aesthetics
At the first glance when you encounter the MXZ prebuilt PC, one can make out that this thing is a different league when compared to the other PCs under the $800 price tag. The PC screams as being more expensive than it is and has a tempting aura around it.
The case of the MXZ gaming Pc is straight up the best that you will find for this price. Upfront is an entire mesh panel that channels the air inside of the case. Since a mesh panel quite literally translates into little holes on the front, it allows for the RGB fans mounted on the inside to shine through.
In this way, you get a bright and colorful front nuance that is captivating and tempting for anyone that sees the PC. The glass window is also massive and provides a great view of the build. I also must highlight the piece that covers the cable coming from the PSU to the motherboard. This piece is nicely executed and works well in its purpose.
I also like the fact that all air ventilation grills have a dust filter that eliminates any possibility of dust clogging up the interior of the case. This is a great measure and one that every prebuilt PC case should include. Overall, in terms of the case, this prebuilt PC not only nails it in the Aesthetic but is quite practical as well.
Connectivity and Salient Features
When it comes to the front I/O this prebuilt PC does pretty well except for the USB-C port. Come on guys it's 2021 and USB-C is quickly becoming the standard for the industry so not having it is a bit of a shame. You do however get a USB-C port on the back of the PC.
As for the ports on the front you get a high-speed USB 3.0 port, 2x USB-A ports, separate input for audio/mic, power button, and a reset button. The gamers who want to connect multiple displays will appreciate the ability to do so.
This prebuilt PC offers tempting features as well that will surely peak for interested in this PC. The most important feature or we can also call it an aspect of this PC being the inclusion of 5 preinstalled case fans. The CPU air cooler is also beefier hence provides better cooling than the stock cooler that comes with the processor. The cooler as well as all the fans are RGB.
Let's be honest here, the most immediate upgrade we do with our gaming PC is to replace the stock fans with RGB fans but here you are getting them pre-included. This not only saves some cash but also the hassle of replacing fans afterward.
Specifications
MXZ prebuilt gaming PC lands in the upper echelon of gaming PCs in the sub $800 price range. The specifications this PC has are top-notch. Although it does not the best performance category as that award goes to the Hp Pavilion gaming desktop, this has a lot more quality on offer.
Starting with the processor, and this PC gets to a good start here. It has a 6 core 6 thread Ryzen 5 3500x processor which is known for being the best budget-friendly offering on the market. This processor packs great performance in a very efficient package.
At the graphics core, we have an Nvidia GTX 1050ti. Although is an old card now and replaced by the newer GTX 1650 it still offers good performance. Certainly, way better than some AMD Radeon 550/560 or Nvidia GT 1030 prebuilt PCs on this list.
MXZ is not playing around with the other specs as well. Ryzen processors are notorious for RAM speed. A faster RAM can greatly benefit Ryzen and boost performance by a significant margin. Keeping this in mind, MXZ is giving you 3200MHz RAM in this PC which although is a single 8GB stick. As for the mechanical storage, you are getting a fast 240GB SSD here.
Gaming Experience
I may seem like a broken record by iterating the need for good aesthetics in a gaming PC but I feel like I have to do this unlike manufacturers step up their game in this regard. An aesthetically pleasing gaming PC can elevate the gaming experience significantly.
If you are in the same boat as me then worry not as this PC is probably one of the best-looking machines you can get for $800. Powering the PC on and seeing the RGB lights come to life will put a smile on your face.
This PC is not all about the showboat. It has plenty of features and performance that will take your gaming experience to the next level. If you are worried about the graphic card being an older generation one do not fret as this GPU still has a lot of life left in it.
It easily plays all the latest games you throw at it and can even handle demanding games like Red Dead Redemption, AC Valhalla, COD WarZone, Apex Legends, and others in a decent graphic setting. This PC will easily hit the 60FPS sweet spot in most games you throw at it.
As for the less demanding games like Valorant, CSGO, Siege, League, WoW, Dota you can get away playing the games at the most extreme graphic setting and still will be able to break the 150fps barrier. If you only want to play esports titles, then getting a 144hz screen with this PC will also be a wise choice.
This sums up this PC and honestly, if you are after an effortless gaming experience then you just cannot go wrong with this PC. It is that perfect PC for that individual looking for a bit of everything in his gaming machine.
You May Also Like:
Best Open Back Headphones for Gaming
Case Design and Aesthetics
Wow, this does not look like a prebuilt gaming PC at all. This is the first thought that comes to mind when you take a look at this PC. AVGPC has bundled all the components of the PC into a generic-looking and industrial case.
This puts the AVPC Max 4 prebuilt gaming PC in the same league as other business-oriented desktops. This may not be a bad thing after all the money that is being saved in the case is invested into the hardware of the PC. And let's be real here a bland case will not make you miss shots in games so it's fine if they have gone with that direction.
Overall, the case here is pretty simple and meh to be honest which for a fact some gamers who are accustomed to RGB lighting will not like. But in the grand scheme of things, this seems like a wise decision.
Connectivity and Salient Features
In terms of connectivity, this PC does pretty well. It features all the ports that are required on daily basis and also hits a home run when it comes to the placement of those ports as well. Upfront you get USB-A ports, 3.5mm Audio/Mic ports, and a power button.
While on the back we have additional ports include 6x USB Type-A ports, 2x HDMI (one HDMI is for the graphics card while the other is for the motherboard, VGA port, Ethernet jack, and a Display Port. Since you are getting several different ports for Display purposes, connecting multiple screens to this PC will be a non-issue.
Coming on the features and frankly, there is not a whole lot here to highlight here. This prebuilt PC only has a couple of worth mentioning features and one of them being the inclusion of 2x case fans.
What I am a little skeptical about however is the efficacy of these fans. I say this because this PC lacks proper air ventilation. That being said, these fans do make a marginal difference in the temperatures.
The other feature of this PC is the inclusion of a DVD drive. Have not seen this one on a PC for quite a while now. Interestingly, AVGPC is still sticking with this DVD writer even though only a handful of people use it nowadays.
Specifications
This is the best part about this PC. All those costs cutting measures eventually seem justifiable when you look at the specs of this prebuilt gaming machine.
Powering the PC is a Ryzen 5 3600 processor. This is the best 6 core 12 thread processor which comes in our budget so complaints here. The graphics card side of things is Nvidia GTX 1050Ti.
This graphics card is outdated, and it has been replaced with the newer GTX 1650. Despite you should not write it off as there is still a lot of life left in this GTX 1050ti. This graphics card can still run the latest games at 1080p without any issue.
Gamers that store a lot of games and other related files will find the 1.5TB storage space of this PC to be a blessing. Indeed, this is a masterful decision as no other PC under the $800 price range offers such high storage capacity.
They are also not providing cheap mechanical drives either. In this PC you have a 500GB SSD along with a 1TB HDD. The SSD and the HDD also have an industry-standard speed which indicates that MXZ is using high-quality components here.
Gaming Experience
Coming to the bread and butter on any gaming PC whether is it custom or prebuilt. I found this PC to provide a wonderful experience when gaming. The best thing that you will appreciate here is the price to performance ratio of this PC.
The AVGPC MAX IV costs $750 and for that price, the performance you are getting here is kind of remarkable. You can determine this yourself for the gaming benchmarks that will come up next.
In demanding games like Red Dead Redemption, Assassins Creed, CyberPunk 2077 this PC averages around 60FPS on low-medium settings. You can bump the graphic settings up for that eye candy but then you will not hit the 60FPS sweet spot. The games still however will be playable and fairly enjoyable as well.
In battle royal games like Fortnite, Apex Legends, and COD WarZone this gaming PC will provide an average of 70-80 on medium-high settings. Here I will recommend you drop the settings further to increase FPS if you are using high refresh rate displays. Otherwise playing these games in medium-high settings is fine or you can even go a little higher as well.
In esports games like CSGO, Valorant, Overwatch, League, and others this PC easily breaks the 144FPS mark. If you are a competitive gamer this PC will serve you quite well and you can even go with a 144Hz monitor to enjoy smooth gaming.
Case Design and Aesthetics
Isn't it nice seeing the first white case PC on this list? As much as I want to cancel it the white case trend is becoming very popular because the white color helps to reflect the RGB lighting better.
The case of this PC here definitely showcases that in the best way as on top of being white it is loaded with RGB lighting. The led lighting here is customizable in 16 colors and all the colors featured here have a uniform texture. Another ace up its sleeve is the semitransparent mesh on the front panel.
This mesh on the front not only breaks the plastic symmetry panel but also helps the PC to pop out more by showcasing the RGB fans that are installed inside the PC. I also like the silhouette of the case as it contains sharp and angular lines which provide. These elevate the design of the case and give it that modern touch.
Connectivity and Salient Features
Due to the fancy case having I/O ports on the front panel is not possible so they moved all the ports to the top of the PC. This means reaching for the ports will require you to tilt and lean depending on how your PC is placed from the chair.
This does not deter me from giving this PC a full seal of approval when it comes to I/O. The port variety here is great and starting from the left we find a power button, followed by a LED switch for changing the color of the lighting, then we have separate 3.5mm jacks for the Audio and the Mic, and lastly, audio connections are followed by a 3x USB-A slots with only the port to the far-right serving as the faster USB 3.2 port.
Now let's come to the features and the most prominent one we noticed immediately was the inclusion of 4x RGB case fans. These fans not only provide the aesthetics with their RGB lighting but also have the cooling to go along. The secret to this impressive cooling is the front mesh panel that allows for much more air circulation through the system.
A good ventilated chassis results in a much cooler PC overall but at a cost. The mesh cutout on the front of the case although helps in better airflow but it also results in more fan noise creeping to the outside. This noise becomes apparent when gaming since the system is running at full load. This can become annoying if you are not wearing headphones.
Some other noteworthy features of this PC include prebuilt WIFI connectivity. The WIFI here is also not crap either like you would expect from prebuilt PCs. This is a great plug-and-play prebuilt PC and it requires little to no hassle to get this machine up and running in no time.
Specifications
In any gaming PC, the important part is the performance and if a PC does not fare well in this regard, then you are going to have a bad time when gaming. Fortunately, unlike so many other PCs that offer entry-level graphics cards, this PC includes a beefier one.
What we are talking about is the AMD RX 560 4GB graphics card. This card is an upgrade over the GT 1030 or RX 550 that is available on many of the competitors. The performance of this graphics card is double that of the other mentioned options.
This graphics card however comes at a cost and the sacrifice you are giving here concerns the processor. While the competitors offer a new 3rd generation Ryzen processor this prebuilt PC marches on with the 1st generation Ryzen 1600. Although this processor also has 6 cores and 12 threads it is a little on the slower side when compared with the latest generation processors.
This is just something that you have to consider, and I believe a graphics card upgrade is worth more than slight gains in CPU performance. Finishing the specs department is a single 8GB RAM stick and a 240GB SSD. I have talked time and time again that 8GB RAM and 240GB SSD is just not enough so at the earliest upgrade to 16GB Ram and add in a 1TB HDD for that much-needed extra storage space.
Gaming Experience
That was the situation with the hardware of this prebuilt PC and interested gamers will now want to know about how real-world gaming looks on this PC so let's get to that.
One thing which we can all take a moment and appreciate is the Aesthetic that this PC provides. Granted looks are not important but when factoring in the gaming experience they hold considerable weight.
This is because the first thing that you interact with the case of the PC and when you hit the power button the RGB lighting surely gives off that welcoming feel. It is nice to be able to look at your PC and be left in a state of WOW.
In terms of actually loading up a game and playing it, this PC does pretty well. Given the performance on offer, you will not be able to play demanding games like COD WarZone, Fortnite, Apex legends, Red Dead Redemption, or others on the maximum graphic setting preset but at least after lowering down the settings the experience will be smooth. In most games you will sail past the 60FPS granted you are willing to lower the settings a bit.
If you are not into these sorts of games and competitive gaming tickles your fancy more then you will thoroughly enjoy this PC. Games like Valorant, CSGO, WoW, Dota, League, Siege run exceptionally well on this PC. Some will even cross the 100FPS threshold hence owing to smooth and flawless gaming.
Case design and Aesthetics
Simple, clean, and purposeful. These 3 words fully describe the intent of this PC in terms of the design. In an age of RGB-loaded over-the-top gaming PCs, the HP Pavilion TP01-066 manages to stay relatively industrial and minimalist.
Taking a close look at the case we find a brush silver panel on the front. The sides of the case are covered with a black panel.
There is no sort of any glass window on the side which is often the trademark of gaming PCs. One thing I have to say that the silver and the black combination provides a classy and elegant vibe.
This grown-up Aesthetic of the gaming PC provides great flexibility in terms of where you want to place this desktop. It can go well in a gaming room, office desk, and even in the lounge or the bedroom.
Connectivity and Salient Features
In these business/gaming hybrid prebuilt PC connectivity is the main point worth pointing out. These do connectivity so well that they put the fancier prebuilt gaming PCs to shame.
The front I/O ports are not only plentiful but are also positioned ergonomically. All the ports are there in plain sight and are easy to reach.
The ports you are getting here, from the top to the bottom include a power button, 3.5mm combo Audio/Mic jack, 4x USB-A 3.1 gen 1 ports, full-size SD card slot, and a USB-C 3.1 port. As you can see from the ports everything necessary is included on the front hence plugging any accessories or gadgets into this PC quickly is a non-issue.
Another peculiar thing that is included on the front is a DVD writer. Have not seen these in a while and I guess it makes sense for this PC to have a DVD writer as it is targeted towards the more professional users that happen to the game as well.
The other less used but important ports are found on the back of the PC, and these include gigabyte ethernet jack, HDMI, Display Port, Dual-Link DVI, a handful of extra USB ports. On the Hp pavilion TP01-066, we are getting a pre-included Realtek WIFI card.
The WIFI works great here, and it is very convenient to have prebaked WIFI on your PC. This eliminates any need of buying aftermarket WIFI dongles. To go one step ahead of the competition the HP pavilion TP01-066 also includes Bluetooth connectivity making all your wireless peripherals compatible with this PC from the get-go.
Unfortunately, as this a sort of generic prebuilt gaming PC from Hp, we are light on features. But the features here are being traded for the reliability that comes with buying a prebuilt PC from a reputable brand.
One thing I do find extraordinary though in this PC is that HP included a gold-rated power supply. A power supply is an important component of the PC and manufacturers often skimp on it so seeing a proper gold-rated power supply is refreshing and reassuring of HP's commitment to this PC.
Specifications
The specification is the area where this PC shines brightly in some respects and then falls a little flat in others. Let's start with the better things this PC has to offer.
Hp has made a smart move to go with a Ryzen 3700x processor. This processor not only is better than any intel I7 offering but also competes with the Intel I9 in terms of multitasking.
When it comes to gaming this 8 core 16 thread Ryzen 3700x processor is a beast and is probably overkill for most of the games you are going to play on this PC. This not only iterates that how powerful this processor is but perfectly highlights the future proof worthiness of the processor.
Unfortunately, this processor is paired with a not-so-powerful graphics card, and that being the RX 550 2GB. This graphics card hangs at the lower end of the spectrum in terms of performance and is considered an entry-level card at best. But keeping in view the current situation and the hike in prices of the graphics card including an RX 550 makes perfect sense.
To round up the specification department you are getting 8GB single stick RAM. I recommend purchasing another 8GB stick with that leftover money as this PC only costs $720.
SSD upgrade also seems likely as here you are only getting 256GB storage drive. Although fast space is just not enough for storing a lot of games. Luckily upgrading the RAM as well as the SSD is easy, so it is not a big deal if you are getting shortchanged by default.
Gaming Experience
So, what the gaming experience like on this PC. Can it keep up with other fancier PCs or will it stumble?
To answer this let's first get the main caveat of buying a generic gaming PC from a mainstream brand out of the way. No matter how you put it in words these PCs are always going to the lacking in Aesthetics when compared to proper prebuilt gaming PCs and this Hp Pavilion TP01-066 is no exception.
It is simple and bland compared to the flashy PCs which we have come to associate with gaming desktops. While is not a bad thing for the gamers seeking minimalist but that is a very small chunk of the pie and I believe many more gamers will be put off by the design of this gaming PC deterring their gaming experience.
On the other hand, what is great about this PC is that you are getting a well-rounded spec sheet here making this PC pretty potent. The performance potential here is massive and the component holding back the PC from achieving greatness is the low-end graphics card.
Given that this PC still performs relatively well for a budget entry-level machine. Playing the latest games on this PC is possible granted you are okay with scaling down the resolution a bit from 1080p.
You can certainly get away with playing demanding games like Red Dead Redemption, COD WarZone, and Assassins creed at 30fps on a lower resolution and graphics. However, you will not be getting the best experience here and for heavy gaming, I recommend looking at the most powerful PC on this list.
This PC is meant to be used for less demanding or esports games and here you will be getting your money's worth with this PC. It can easily play games like Valorant, Siege, CSGO, Dota, League, WoW, and other similar titles at 60fps on decent settings.
This was it for the gaming experience and to wrap it up. This PC will provide you a good gaming experience as long as you play light and less demanding games on it. The moment you fire up a demanding game it all starts goes do downhill with this PC.
You May Also Like:
Best Gaming Headsets Under $50
Case Design and Aesthetics
Mini not only by name but also by size. The immediate first impression you get of this prebuilt gaming PC is how compact the case. When pitched against all the other PCs in this list the iBUYPOWER Element Mini comes out as the smallest.
Compactness does not mean we are getting shortchanged on features. On the contrary, this case has all the features you would find in a full-size case. Upfront we glass panel while on the side there is a massive glass window to peek inside your PC.
The top also includes a dust filter so that the inside of the PC can stay clean and shiny. There are some of the features you expect to find in a case on a good prebuilt gaming PC and as you can see, we are getting all of them here.
As expected with cases having multiple glass panels the glass is there so that the RGB lighting can take the center stage for the Aesthetics. Hence to no one's surprise, RGB plays the dominant role in deciding the Aesthetics of this iBUYPOWER prebuilt gaming PC.
Connectivity and Salient Features
Due to being compact, this PC has an advantage in the front I/O department. You see with tall cases front ports are not easy to reach but since this PC is relatively short you can easily get to front ports without any stretch. This seems like a small convenience but trust me when you get used to it there is no going back.
As to the ports present on the front, from the left, we have a power button followed by an LED button which is used to change the colors of the lighting. Moving on there are 2x USB Type-A slots, and lastly separate 3.5mm jacks for the Audio and the Mic.
When it comes down to the features this prebuilt PC is probably not the one you would pick for the first place. It covers all the basic features but lacks any specialty which may distinguish this PC apart from the others available in the market.
Let's take the most prominent feature of this PC as an example. iBUYERPOWER element mini comes bundled with 3x case fans. Now, this is good but when you look at the bigger picture most other PCs also come with the same number of fans if not more. I know I am being hard on this PC but for the price to performance ratio (see next segment) I think they could have done a better job here.
Specifications
This PC comes with a Ryzen 5 3100. That is great as the Ryzen 3100 is considered as the best budget processor one can buy. This 4 core 8 thread processor although lacking 2 cores when compared with its bigger brother the Ryzen 3600 is still a great performer and quite efficient too. The thing that bugs me the most here is the inclusion of the RX 550 graphics card.
This graphics card falls in the same league as the Nvidia GTX 1030 if not slightly better. As we know with the GTX 1030, cards that are on the lower end of the spectrum do not perform well when it comes to gaming. The most difficult pill to swallow is that despite having a 4-core processor and a lower-end graphics card this PC is still priced around the $800 mark.
With the other specs, you have your usual affair. This PC comes with a single channel 8GB RAM and a 240GB SSD drive. You will barely get away with having such low capacity on the storage, so I recommend getting a 1TB HDD to go along with your SSD.
Gaming Experience
The gaming experience matters so much for the end-user, and this is where this PC falls a little flat. Although the Aesthetics of this PC is absolutely on point and the case design is one of the best you will find in this segment but unfortunately, it fails to deliver on the performance front.
The only component holding this PC back is the graphics card and ironically this is the most important component in a gaming PC. A graphics card determines how good your game will run and unfortunately the RX 550 is just not up to the task.
It can play games but for more demanding games like Red Dead Redemption, Assassins Creed, CyberPunk 2077, COD WarZone, Fortnite, Apex legends you will need to set the graphics settings in-game to the lowest. This is not a good experience for the gamer who is here to enjoy games to the fullest. Despite lowering the settings, you will barely get 60FPS which proves to be another thorn in the way of having fun when playing.
All is not bad though and you can play the less demanding games like CSGO, Valorant, Dota, Rainbow Six Siege, Overwatch, WoW, and others at decent graphics settings while maintaining consistent 60+ FPS in your games.
If these are games, you are accustomed to playing then by all means go for this PC but do not expect to be able to play the latest games. You might get away with some but for most, you will need to turn the graphics settings down to the lowest. This sums it up for the iBUYPOWER Element Mini prebuilt gaming PC.
Case Design and Aesthetics
A white case with RGB lighting now who does not love that. This prebuilt PC is already starting on a high note at the first glance when it comes to Aesthetics.
The case design of this PC is also oddly unique. Instead of having glass panels that cover the full length of the case, the side window glass and the front glass are designed differently here. in a way that it feels like a single continuous glass panel being curved around from the side to the front.
There is no feeling of two glass slabs attached to the side and front panel here but rather the side glass panel smoothly flows into the front. This is the type of vibe I get from this case and have to say it looks quite the charmer.
That was however the main design aspect of the PC and when it comes to Aesthetics RGB lighting dominates this segment. I may sound like a broken record now for repeating this again and again, but the fact remains that RGB lighting is just so damn versatile. By changing just colors you can completely alter the vibe and mood of your setup which goes a long way in giving users control over how they play games.
Connectivity and Salient Features
The front I/O of this PC is decent. It includes most of the ports that you will need for plugging in your peripherals and accessories like headphones, pen drives, or a gaming mouse. This PC however suffers from the same issue as most other prebuilt gaming PC and that is the lack of any USB-C port on the front.
Many gadgets that are being released now only have USB-C connectivity so it would have been to have a compatible slot on the front of the PC as well. As for what ports you do get with this PC, they include 2x USB Type-A 3.2, separate 3.5mm Audio/Mic ports, a dedicated button to change the color of the lighting, and lastly a power button.
For the OTA connectivity, this PC only includes WIFI and there is no sign of Bluetooth here. This is not ideal as many PCs on this list come with out-of-the-box Bluetooth connectivity.
Moving to features segment and the other worth mentioning technical feature of this PC is the inclusion of 3x RGB case fans. Got to say the case fans used on this PC have a premium feel and are not cheap like most other prebuilt gaming PCs.
Besides that, not a feature but rather you can say an add-on is that this PC comes with a set of a bundled mouse and a keyboard to kickstart your gaming journey right away. The folks at CyberPower also offer free lifetime tech support and a 1-year warranty for all of their PCs which is something we all can appreciate.
Specifications
The area where this PC puts up a mediocre showing is the specifications department. The processor we are dealing with here is the Ryzen 3 3100 which a 4 core 8 thread processor. This puts the PC at a major disadvantage when compared with other prebuilt gaming PCs that have 6 core processors.
The graphics card here is also not the most powerful in the segment. Quite on the contrary side the Nvidia GT 1030 2GB barely puts a respectable performance at 1080p in modern games. This is not a great sign for this PC as it lags on the two major components of a gaming system.
Worse of all this PC also does not come cheap. It is priced at around $750 and for that money, the lack of performance is quite hard to swallow. The silver lining here in the specification department is that with this CyberPower prebuilt gaming PC you are getting a total storage capacity of 1.24TB from the 240GB SSD and the 1TB HDD. The RAM is more in line with the other PCs and comes in at 8GB.
Gaming Experience
I want to be honest with you all the gaming experience here is not going to be the best unless you play very light and less graphically intensive titles like Overwatch, CSGO, Valorant. These games will run pretty well at over 100fps on this prebuilt PC that is given, and you will have a good experience if that is all you are looking for.
But things quickly fall apart when you try to play demanding games like Apex Legends, COD WarZone, Fortnite, and Red Dead Redemption. Unfortunately, the Nvidia GTX 1030 barely manages to run them after lowering the resolution and the graphic settings to the minimum.
Then again it all boils down to what you want to do with this PC. If looks are important to you and you want to play esports games like Valorant or CSGO then by all means but this PC will provide you a great experience. But if you are someone who values performance more than anything then there are better options in this list, and I recommend staying away from this PC.
But before I close with this PC let's get to why we are being bombarded with low-end graphics cards. Well currently there is a shortage of silicon chips going on and hence the graphic cards are selling at a higher than their MSRP value. This is the reason manufacturer like iBUYPOWER have to resort to low-end graphics cards as we see on this PC.
Case and Design
I know what you are thinking, this does not look like a prebuilt gaming PC at all. Well, it isn't to begin to its fine if this Hp prebuilt desktop has a more muted and industrial design. Since this is a business desktop this design is there complementing that serious that of environment.
That is not to say that this PC cannot go well with a gaming setup. Quite the opposite a minimal design can go with almost anything, so I believe that you won't have an issue incorporating this PC in your setup.
Sure, it may not look fancy but honestly, at the end of the day beauty is in the eye of the beholder and for a fact, folks who prefer much simpler PCs will appreciate the design of this machine. Even if right away you do not like the look of this prebuilt PC give it some time as eventually, it will grow on you.
Connectivity and Salient Features
The connectivity is pretty solid. I am repeating myself, but cannot help it as I believe people responsible for prebuilt gaming PCs should take a page out of Hp's approach to the front I/O.
The ports are just there in plain sight. There are on top of the case or the side they are just right there on the front. This is so convenient and when you get used to it there is no going back.
As for what you get here the ports include 4x USB Type-A slots, a combo 3.5mm Audio/Mic jack, a full-size SD card slot, and a power button. There is no USB-C here unfortunately which is available on the afore listed HP pavilion. Anyways moving on like other prebuilt gaming PCs this Hp desktop also features built-in WIFI and Bluetooth connectivity.
When it comes to the features this PC is pretty much devoid of any. It is just a plain, simple and boring box that probably even your dad uses at his workplace.
Specifications
The sole reason this PC is on the list is because of the Ryzen 4700G APU. Seriously this APU is that good in terms of performance that it can single-handedly win you over.
As you probably know this PC has no dedicated graphics card but worry not as the Ryzen 4700G has integrated Vega 8 graphics. You will be utterly surprised on hearing that these graphics have better performance than a dedicated Nvidia 1030 or the AMD RX 550 graphic cards.
When I first got to experience it, I was quite shocked. As for the other specifications with the HP premium business desktop you are getting 8GB RAM and a 256GB SSD that acts as the storage drive.
The SSD used for this prebuilt PC is quite fast hence the system feels very fluid and smooth when navigating your way around a game or the windows user interface. The best thing about the specs though you get all of this at around just a $600 price tag.
Gaming Experience
The gaming experience you are going to get with this PC will heavily depend on what you use it for. If you are content with playing demanding games at a lower graphic setting, then you should have no concern about running games on this PC.
This PC can easily play demanding games like Red Dead Redemption, COD WarZone, Apex Legends, Fortnite, Assassins Creed at around 60fps if you are willing to lower the settings to the minimum.
Considering the GT 1030 and RX 550 both are incapable of delivering the aforementioned figure even at the lowest setting preset the Ryzen 4700G makes a strong case for itself.
Where this PC and the Ryzen APU truly shine is when it comes to esports gaming. These games that include Valorant, CSGO, Overwatch, Rocket League, Dota run like a charm on this HP prebuilt PC. You will easily cross 100 fps in these games considering you play in competitive graphic settings.
This is not all though, and we have to keep in considering that this PC costs $600. You can even use the leftover money from the budget to buy a solid mid-range GPU like GTX 1660 later on when the prices fall to the usual MSRP of the product.
You May Also Like:
Best 144hz Gaming Monitors Under $200
This is the misconception regarding prebuilt gaming PCs that I believe is important to clarify before going to the list of best pre-built PCs. It is a common sight to see people being misguided when buying prebuilt systems and eventually they end up making a mistake.
The misconception that I am talking about is prebuilt gaming PCs for $800 are not worth it. I have personally come across multiple posts all signing the same tone. The truth however is quite the opposite.
People make this statement without realizing the fact that the prebuilt PC gaming industry has moved far away from its early days. The fostering of strict competition in this industry has led to more aggressively priced products.
There are a ton of options to choose from now and granted there are some PCs that are still overpriced. But the majority of the offering here provide fantastic value for now. This will be demonstrated further in the article when we get to the list of best gaming PCs under 800$.
You will be utterly surprised to find the value one is getting with some of the prebuilt PCs here even though graphic cards are selling for a ludicrously higher price than the actual MSRP of the product.
The buyer's guide is the section you do not want to miss out on if you are a beginner in the PC gaming space looking for your first prebuilt machine. In this section, we will highlight some main points regarding the characteristic of a gaming PC which will help you understand the PC better.
Graphics Card
The graphics card is the component of a gaming PC that directly controls the gaming performance and the frame rate you will be getting in your games. Hence depending on the graphics card, you get to have great sway over your overall gaming experience as well.
Due to this relation, it should be obvious by now that the primary focus should be on getting the best graphics card possible. Obviously within reason, as there are some PCs out there that will offer a good graphics card but skimp on the rest of the specifications which is something you should keep in mind.
As for this price range aim for the Nvidia GTX 1650 or the AMD Radeon RX 5500XT graphics card. These pretty much represent the best this segment has to offer, and you can go with either of the two.
Processor
The processor is the brain of the system, so it indirectly affects every ongoing task in the PC. The processor market has always been dominated by Intel but now somebody has risen to the throne.
AMD has proven that you do not need a fortune to get a high-performing processor. Today we are lucky to be at a time that all processors available in $800 PCs are capable of gaming. Normally in the $800 price range, it is wise a choice to go with a 6-core processor and avoid a 4 core.
The 6-core processor I would recommend is the Ryzen 3600 as it is simply the best you can get at this price.
RAM and Storage
The RAM and Storage equate to the temporary and permanent storage capacity of the PC respectively. Ideally, for a prebuilt gaming PC, you are looking at 16GB RAM. But unfortunately, due to our $800 budget limitations, most prebuilt PCs will only offer 8GB RAM.
8GB RAM, for now, is fine for gaming but it will require an upgrade soon rather than later when more complex games start coming out. As for the storage get yourself at least 500GB. If you are gamer chances are, you will be installing a lot of games and other relevant applications.
The thing is even a single game today can take 100GB or more storage space. Therefore, it is recommended that you go with at least 500GB of storage so that you are not limiting yourself in terms of what you are installing.
Connectivity
Connectivity is crucial when it comes to prebuilt gaming PCs. As gamers, we require a lot more ports to plug in our peripherals than other users. Dual monitor setups are also the rave lately hence before buying a PC you should confirm that it has all the ports that cater to your needs.
Aesthetics
Now let's be real, who does not love an Aesthetically pleasing PC. Gaming PC is all about the customization and the flash that comes along with it.
I know gamers have divided opinions on going full overboard with fancy lighting and whatnot but we all can agree that a well put together design can most definitely increase the appeal of that given PC.
If it is your first time buying a prebuilt gaming PC, look around explore all your options, and see what the design and customization are all about. When you have seen enough form an opinion on which Aesthetic approach you prefer and just go with it.
These were some of the characteristics that I wanted to evaluate early on. Now with this set and done let's jump right into the list.