The 11 Best Open Back Headphones for Gaming in 2021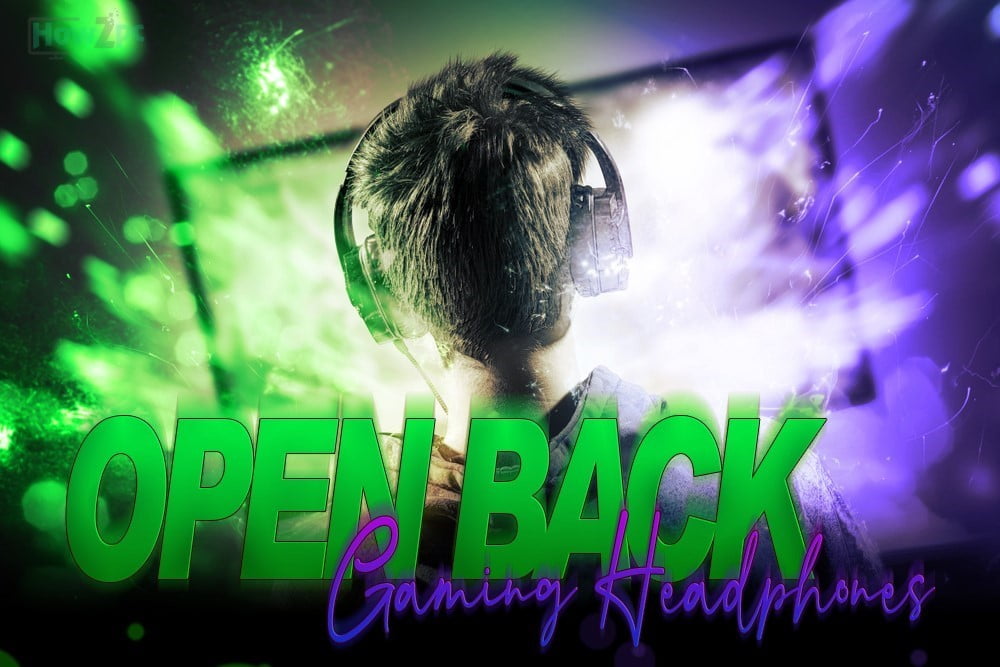 The gaming industry today has become the central medium of entertainment for many individuals. More people are coming into the fray and with this, the importance of best open back headphones for gaming has also risen. It is no denying that open-back headphones produce the best audio since they have been used in audio fidelity applications for a long time.
Open back headphones for gaming are also catching a lot of popularity due to the excellent audio producing capability of open-back headphones also translates into gaming as well. Today many streamers and professional players use open back gaming headset to enhance their immersion and overall gaming experience.
Before you get into open back headphones for gaming you have to understand some aspects of open-back headphones which make them different from traditional closed-back headphones. Also, with open-back headphones, there are other factors as well that determine their overall competence. So, before we dive into the list of the best open back headphones for gaming let us look at some buyer related aspects as well.
Overall The Best Open Back Headphones for Gaming: AKG K712 Pro


Sensitivity: 105 dB SPL/V


Frequency: 10 Hz - 39800 Hz

Frequency: 5 Hz - 40,000 Hz

106mm planar magnetic driver

Frequency: 10 Hz - 50,000 Hz

Semi-open over-ear design

Frequency: 5 Hz - 35,000 Hz

Frequency: 10 Hz - 41,000 Hz

Best Open Back Headphones for Gaming Under $200: AKG K612 Pro

Frequency: 12 Hz - 39,500 Hz

Frequency: 5 Hz - 30,000 Hz

Frequency: 15 Hz - 28,000 Hz

Frequency: 5 Hz - 35,000 Hz

Best Open Back Headphones for Gaming Under $100: SIVGA SV004

Frequency: 20 Hz - 20,000 Hz

Best Open Back Headphones for Gaming Under $50: Samson SR850

Semi-open over-ear design

Frequency: 10 Hz - 30,000 Hz
The Advantages of Open Back Headphones for Gaming
The sound portrayed in games is becoming more complex and with many developers now adding proper 3D sound with real-time audio propagation the need for good headphones with proper soundstage and extended frequencies is increasing. Obviously, the main advantage of best open back headphones for gaming over closed-back ones is the improvement in audio fidelity but it is not the only advantage. Let's discuss this further in detail.
The audio fidelity of open-back headphones is vastly more superior than closed-back headphones. Due to the drivers having a channel to disperse sound the actual audio quality and soundstage increases. It also allows manufacturers to put better and bigger drivers in the headphones. Open-back headphones are also not made for only one application like closed-back headphones made for gaming which allows the manufacturers to tune the drivers for a neutral sound which is much clearer and more detailed.
In gaming, this translates to a very direct open audio with all the frequencies present. Micro sounds like some ambient sounds which are not produced in generic gaming headphones can be heard here, and also the loud pitched sounds do not overshadow the other audio spectrum example being the sound of an explosion does not mask all the other sounds.
Open-back headphones are also not sweat accumulating cans. Due to the openness and the ability of air to penetrate they provide much better ventilation for the ears. Coupled this with breathable velour/fabric earpads and you have a perfect recipe for listening over long periods without your ears becoming drenched in sweat. For extended gaming sessions, this becomes really convenient because you do not have to remove the headphone to cool off your ears.
Open-back headphones are also very easy to mod. Any worn-out parts like the earpad or the headband can be easily replaced since the headphones do not have a fixed structure. Opening a few screws can lead you to the drivers. This also makes their maintenance relatively easy. Since gaming headphones have to bear more wear and tear than normal headphones because of their extended usage having the ability to replace parts comes in very handy. Also, this allows the headphones to be compatible with a plethora of third-party aftermarket parts such as different mics.
Buyer's Guide: The Best Open Back Headphones for Gaming
Open-back headphones come in different flavors and appeal to different work applications. Similarly, they have vastly different features to achieve their specific task optimally. It is important as a buyer to understand the different features and aspects they offer. To further facilitate you we have listed some of these important aspects and differentiating features.
How to Choose the Best Open Back Headphones for Gaming?
Comfort
Comfort is the most important factor which plays a great part in your purchase decision. This can be explained very simply. If the headphone is not comfortable to wear no matter how good the performance of the given headphone is it will be unusable. As a consumer, if you do not have the vanity of trying the headphone beforehand you should look into something which has a good amount of adjustment and great padding and cushioning.
Sound Quality
This is self-explanatory. If you are buying open back headphones for gaming it is most likely because you want a better sound. Pretty much most open-back headphones have a good sound reproduction but they have vastly different characteristics. Some headphones have a warm and smooth sound signature while others have a bright and punchy sound signature. When it comes down to which is better it all depends on your personal preference. Therefore, it is important to outline your own needs and preferences before buying a certain headphone.
Ability to Attach Microphone/ Microphone Quality
Communication while gaming is also an important aspect. Talking with your mates while you complete a mission and giving a callout of enemy position after you die can dictate how a game plays out. Unfortunately, most audiophile headphones do not have a built-in mic and you have to purchase external mics. Some headphones with removable cables can allow you to install inline mics like the V-Moda Boom Pro which can be very convenient. Also, the headphones which do come with built-in mic may not always have good sound quality so you as buyer look into that as well.
Soundstage, Detail Retrieval, and Imaging
This can either be on the top of your list or something irrelevant for you. This determines the airiness and the detail a headphone can produce. It also determines the depth of the sound. If you are looking for the utmost detail and accurate positional sound you should get something with a wide soundstage and good imaging.
Build Quality
This is another important aspect. If the headphone is not well put together with good materials it will not last a long time. This is especially important for gaming because gaming headphones have to go through quite a lot of daily usage.
Vanity Features
These are different features present in certain headphones which make the overall experience of using the headphone better. Some features can come in very handy like the ability to mute the microphone by rotating the mic capsule etc.
Top 11 Best Open Back Headphones for Gaming
Top Picks & Recommendations
1. AKG K712 Pro
Overall The Best Open Back Headphones for Gaming
Kicking off the list and at the first spot is AKG K712 pro which has accumulated great praise from the community. These open-back headphones outperform other headphones and have certain traits that make it fantastic for gaming.
Starting with the build quality. The construction is mainly plastic with metal insert for the headband. Due to this plastic construction, this headphone is very lightweight. The headphone overall adequately solid and sturdy with little creaks. The earpad material is velour which is very comfortable for long listening sessions. A suspended soft leather headband is incorporated to further increase the comfort of the headphone.
The most striking part about this headphone is the sound stage and imaging it provides. The sound stage is very wide and everything contained in the sound is of the utmost detail. The imaging is also precise. This especially helps in competitive games where a faint sound of an approaching footstep can decide the outcome of the round.
The overall sound signature of this headphone is very lively and dynamic. As for the bass, mid, and treble, all frequencies are managed quite well. The bass is tight and clean and never bleeds into other frequencies. The mids are also presented wonderfully. They are a little forward but have warmth in them and are never on your face. There is a peak in the 2khz frequency range which is bothersome but that can be fixed with a custom EQ setting.
The treble in this headphone is masterfully done. It is the most forward of all the frequencies but the detail it extracts is mind-blowing. For some people, the treble response here can be on the bright side but for the majority of the people this will be a fun and enjoyable headphone to listen to and the immersion it provides in games is surreal. The sound also has a great amount of clarity throughout the frequency range.
Lightweight when compared to other headphones
Excellent soundstage and imaging
A good amount of bass and treble present
The highs can sound too bright
Require a lot of power to drive and very amp picky
Conclusion
What makes these the best open back headphones for gaming is their soundstage, imaging, and compliant frequency response. This headphone truly brings all the little sound details to life and can increase your immersion a lot while gaming whether it is in a casual game like Witcher 3 or competitive games like Counter-Strike: Global Offensive, Rainbow Six Siege, or Valorant. The pros of this headphone easily outweigh all the cons associated with it but still if you are treble sensitive or are looking for a headphone with an absolute flat and neutral sound signature this may not be for you.
2. Beyerdynamic DT 1990 Pro
The Runner Up
At the next spot is Beyerdynamic DT 1990 Pro. This open-back headphone is highly praised within the audio enthusiast space for its excellent performance.
Beyerdynamic is always known for producing well-built products and it is no different here. DT 1990 pro has a very solid and robust build quality. The mainframe and earcups are made from metal. The headband adjustment is also neat and precise. When pressure is applied and the headphones are stretched, they do not exhibit any creaks or rattling sound. In the box, there is an extra pair of balanced earpads and a straight mini-XLR cable. The headphones do use mini-XLR input for connection.
The headband and earpads have soft velour padding to ensure there is no buildup of excessive heat over long continuous usage. This makes the headphones extremely comfortable to use for an extended period if you can ignore the rather hefty weight it comes with. Before we move to the sound quality, we have to mention the one main drawback associated with these types of open back audio headphones.
DT 1990 Pro requires a good amplifier to unleash its true capability. If you are specifically looking into high-end headphones you might already know this but this may pose a hindrance for some people.
Coming to the sound quality. This is truly where this open back headphone shines. It has good bass for an open back headphone. the sub-bass is lacking but overall, the bass delivery is very satisfactory. The mids are done nicely in these. The treble simply put is brilliant in these. It is a little on the brighter side and might not be for everyone but for the people who like their high end, this is fantastic.
The detail present in the sound of this headphone is next to none. It has a decently wide soundstage and the imagining and layering within the space is brilliant. This headphone will have no problem whatsoever in providing clear directional audio in games and you will be able to hear every little detail in your game which increases the immersion factor. The sound is also amazing for competitive gaming where the audio of just a faint footstep coming from a certain direction can decide the outcome of the round.
Excellent clarity and imaging
Require an amp for optimal performance
Conclusion
These headphones are simply amazing. They are comfortable, have all the features you would expect, and sound top-notch. They have excellent clarity throughout the frequency range and have tight precise imagining. The only minor gripe of this headphone is the treble which can become irritating for people who are treble sensitive but other than that DT 1990 Pro is easily among the very best open back headphones for gaming.
3. Monolith M1060
The Best Planar Magnetic Headphones for Gaming
This headphone featured on the list from Monolith is a planer magnetic open-back headphone rather than the conventional dynamic one. Monolith M1060 uses magnets to produce a very detailed smooth and crisp sound.
This headphone is built like a tank. All the materials used in this headphone are premium. The construction is mainly from metal with wood trim along the earcups to give it an exquisite look. The headphone has a suspended headband with decent padding. The earcups have thick leatherette padding which is very plush. The cable here features a 2.5mm connection to each earcup and terminates into a normal 3.5mm jack. The cable is also removable that comes handy in case the supplied cable fails or is damaged.
Like other high-end open back headphones, these also require an external power source since they require a good amount of power to drive them. With that out of the way let's talk about the sound quality of these headphones. Simply put this headphone produces a very detailed and clear sound throughout all of the frequency ranges. The bass is excellent and thick. The sub-bass is prominent and extends wonderfully into the mid and upper bass. The rest of the bass spectrum is well controlled and does not have the bloomy characteristic.
The midrange is a low point of this headphone. The mids are not horrible but they come rather dry and a bit tiny at times. The treble is represented well though in this headphone other than the harsh peaks at the high treble range. The treble can feel in your face due to its bright nature. This can cause some fatigue over an extended period of listening. The soundstage is not the widest here but the imaging due to the planer drivers is razer sharp. It can produce details within its confined space unlike any other headphone with this category.
Not the widest soundstage
Conclusion
This headphone is excellent in many aspects which matter the most for gaming. The sense of detail it provides is unrivaled. In competitive games especially this is a very good choice. Besides great sound quality, this headphone has a good build quality and is also very comfortable. The only gripe with this headphone is the weight. It can be very annoying over an extended period of gaming but if you can look past that this a great buy.
4. Beyerdynamic DT 880 Pro
Best Value For Money
This next headphone has a classic Beyerdynamic sound and is quite similar to the more expensive DT 1990 Pro we mentioned earlier.
Kicking off the build quality, this headphone has a good build quality. The mainframe and the headband are made from metal and they feel very solid. The earcups are made from plastic but have a metal insert in the grill to make them more rigid. The headband has similar padding like the more premium Beyerdynamic headphones. The leather-wrapped around the headband can easily be removed by undoing the button clips holding it in place. The velour padding of the earpads is also very soft and the clamping force is also moderate making them extremely comfortable.
These headphones are also usable on low-end power sources like laptops and mobile. They do not achieve their max volume and performance but they can easily reach about 60-70% which is quite reasonable. Still, to extract maximum performance out of these you will require an external amplifier.
The sound these headphones produce is also very good. In the bass department, they sound fine. There is sub-bass roll-off and the upper mid-bass is weak but still, it manages to stay perceivable and natural. The mids here are done rather nicely. Unlike other Beyerdynamic headphones, the mids in this headphone are not dry and tiny. They sound very natural. The treble is classic Beyerdynamic. It has a good of detail and can be bright for some people who are treble sensitive. The soundstage and imaging are excellent in this though. They make for a very good gaming experience due to extremely detailed and relatively non-fatiguing sound. The sense of layering and directional audio is excellent in this.
Good soundstage and accurate imaging
Treble can be bright and somewhat sibilant
Conclusion
DT 880 pro on the whole is an excellent headphone. There are some aspects where DT 880 pro is strong and there are also some areas where it lacks. Strictly for gaming, it is a good choice due to the very detailed sound with a wide soundstage. If you can forgo the lack of bass and a little bit brighter treble then this headphone will provide an immersion achieved by very few headphones.
5. Sennheiser HD 650
The Best Open Back Headphones for Gaming Under 500
No open back headphone list is complete without mentioning a Sennheiser headphone. HD 650 is a classic headphone from Sennheiser that has received high praise from a lot of people within the audiophile community.
Starting with the build quality. The headphone has decent construction. The headband and the mainframe are made from metal. There is no flex or creaking when the headphone is stretched. The ear cups are made from plastic though and might feel a bit flimsy especially compared to other high-end headphones. The earpads and headband have a very plush velour padding. The headband adjustment is adequately weighted for smooth movement and operation. The clamping force of the headphone is also on the lighter side to reduce pressure points.
The sound signature of this headphone can be summarized as being dark and smooth. These headphones do not have a good chunk of bass rather its very flat. The mids on these are wonderfully done. This is an area where Sennheiser delivers the sweetness and smoothness it is known for. The treble is also adequate and has a good amount of separation and clarity. The soundstage of this headphone is wide and airy. The detail is also good and the imaging is amazing.
Needs adequate amping to perform best
Conclusion
Sennheiser HD 650 is one of those headphones which makes you forget everything and lets your audio take the center stage. In doing so it is extremely comfortable as well. If you are someone who plays a lot of games or listens to music for a very long period continuously and needs something relaxed then this headphone is certainly for you.
6. AKG K612 Pro
The Best Open Back Headphones for Gaming Under 200
Up next on the list is an adored open back gaming headphone. Due to its amazing performance, this headphone is highly sought after by gaming enthusiasts as well as music enthusiasts alike.
In the build quality department, AKG K612 Pro does not disappoint. This headphone incorporates a suspension headband system with the mainframe being made from metal. The ear cups are made from plastic but it is a very good quality one. The cable coming out of the earcup is not removable and it terminates into a 3.5mm adapter with screw-in ¼ adapter available. The earpads have a very smooth velour padding but the form used inside is initially stiff and needs some time to break-in. The headband is wrapped in stitched leather which provides decent cushioning for the head. Overall, the headphone is solid, robust, and comfortable.
To reach their maximum potential these headphones require a good amount of power. AKG K612 Pro is also very amp picky and needs a good quality high-end amplifier to perform best. Coming to the sound quality these are wonderful. They have a good amount of thick bass response. The bass here is not lean like other open back headphones and has a good amount of impact. The mids here are very linear and smooth throughout the range. They have easy-going characteristics because they are not pushed forward or recessed rather, they sound very natural.
The treble in this headphone is very well done with minimal harsh peeks. It is not fatiguing and bright. Throughout the range, there is a great amount of clarity and detail. The soundstage is also very wide and natural for an open back headphone with decent bass response. The imaging is also excellent making them very good for directional audio without being harsh and tiring to listen too which is what many people in the competitive gaming space enjoy.
Smooth non-fatiguing sound signature
Good spatial sound and imaging
Earpads take time to break-in
Conclusion
It comes down to whether you like the sound signature or not because this headphone really delivers in the aspects it is strong in. If you are looking to buy headphones for strictly extracting out the most detail possible then you cannot go wrong with this headphone.
7. Audio-Technica ATH-AD700X
Best Budget Open Back Headphones for Gaming
Up next on the list is arguably one of the best all-around value headphones in the market today. Audio-Technica Ath-Ad700x is highly praised for its amazing sound characteristic.
Starting with the build quality and these headphones are well built. Though they are not all metal tanks like other high-end headphones but they still manage to feel solid and sturdy. The headband does not have any creaking nor it has any rattling sound. To provide support the headband has 3D shaped protruding wings. The wings have decent padding and are adequately comfortable. The earpads are velour cushioning which is very soft. The headband system is not the most adaptable and flexible but most of the time it gets the job done. Overall, they are comfortable but the comfort depends on the size and shape of the user's head.
For the sound quality, ATH-AD700x has a very clear and neutral sound signature. The bass is very light. There is sub-bass roll-off and the upper bass continuous to naturally exist. It is not heavy or prominent but rather it just sounds flat and accurate. The mids are detail and transparent. They are not pushed forward or pulled back. The treble is also detailed and clear. It is not bright but still manages to retain a good amount of detail. Minute details that other headphones fail to produce are present here. The soundstage is also wide and imaging is precise.
This specific sound signature makes them a great pair of open back headphones for gaming. From explosions to faint footsteps everything is displayed well here and it never gets to the point where the sound is overly sharp and tiring.
non-removable cable which is of subpar quality
Conclusion
Audio-Technica Ath-AD700x can be summed as being very relaxed and smooth yet delivering all the important little details when they matter. These headphones are also extremely comfortable over long usage periods. For anyone who is not looking for a lot of bass in their headphone, this is an easy recommendation.
8. Sennheiser Game One
All-in-One Open Back Gaming Headphones
This headphone by Sennheiser was from the ground up made for gaming meaning it has an integrated mic for all you folks who like to hang in discord and TeamSpeak. This headphone also has a slew of other awesome features to enrich your gaming experience.
Despite being a gamer branded headphone Sennheiser still retains the high quality which is to be expected with them. Game one has a solid build quality. It is primarily made from plastic but the plastic here is of very good quality. Headband adjustment is also smooth and feels premium. There is no creaking in the headphones when it is stretched. The earpads are wrapped in dense and soft velvet which provides a good amount of comfort. The headband is nicely padded and has velour cushioning which is very supportive. The velour earpads also mitigate the build-up of sweat further enhancing the comfort of the headphone.
The mic has a large footprint and is sparsely adjustable. It has an auto muting function. When the mic is moved upwards in the upright position it automatically mutes the microphone. Despite not being infinitely adjustable the quality of the mic is outstanding. It picks up the voice naturally and does not stray towards muffled or tiny details. It also has some background noise cancellation but it is not very enhanced like other gaming headsets. It trades that feature by sounding very natural and clear.
The sound quality is also a strong point of this headphone. It has a warm and smooth sound signature. The bass is present and sounds natural. It is not as boomy as other gaming headsets where it bleeds into the mids and muffles the sound. Sennheiser here has gone for a very neutral response. The mids are nicely done. They sound detailed and clear. The treble is also smooth and clear. It is not bright and has a lot of detail retrieval. The soundstage is also fairly wide. This all makes for a very immersive game experience. Every detail is present and the directional audio is great. The high-pitched explosions in FPS games also do not overshadow the micro details within the audio.
Conclusion
Sennheiser game one is a great open back headphone for gaming. The sound quality it produces is comparable to dedicated audiophile headphones and the mic is also clear and crisp. It can even be used for casual streaming or video recording. The build quality is also good and these are also extremely comfortable. This headphone is an easy recommendation if you looking to save yourself the hassle of getting an external microphone and want something ready to be used out of the box.
9. Audio-Technica ATH-ADG1X
The Best Open Back Gaming Headset
This next headphone is similar to the aforementioned Sennheiser game one. Audio-Technica has applied the same Sennheiser formula by coming up with an audiophile-grade headphone with an integrated mic.
Audio-Technica ATH-ADG1X has a very good build quality. The headphone has a similar shape to the AD700x featured earlier and like that headphone, it is well put together though with inferior materials. The headphone is made from mainly plastic with the core being reinforced with metal. The headband has a similar 3d wing structure like the ad700x and the earcups are micro movement for utmost comfort. The earpads feature a fabric padding which is smooth and soft.
The microphone in this headphone is non-removable but it is very adjustable. It can be placed in any position to facilitate optimal voice pickup. The audio quality of the mic is also very good. There is no tininess to the sound and it sounds very natural. The mic also has no aggressive built-in compression to the audio this in turn retains the details in the audio.
The sound quality coming from the headphone is also good. It focuses on maintaining audio fidelity rather than producing an artificial sound. The bass is accurate and tight in these. It certainly lacks the oomph but that is done deliberately to increase the overall detail and clarity. The mids are nicely done and sound clear and smooth. They are not pushed forward or recessed. The treble is also warm throughout the range but has good detail retrieval. In games like battlefield, the high-pitched sounds like explosion do not sound harsh but still manage to provide the substance. In competitive games like CSGO, Siege or valorant these headphones provide great positional audio and every faint sound like approaching footstep or reload can be easily heard. Due to the large soundstage, the audio also feels airy and does not get tiring.
Very Comfortable after break-in period
Good soundstage and directional audio
Build quality can be better
Conclusion
This headphone is a good choice for anyone looking to get into audiophile space without sacrificing the built-in mic. It has good sound quality and is also comfortable. It is not all good though and this headphone has a couple of drawbacks but they are not deal-breaking. First is the build quality. By no means, this is a cheap headphone but the materials used could have been better. Secondly, this headphone lacks any sort of punchy bass. If you are someone who cannot give up the punchy bass response of traditional gaming headphones then this might not be for you. Besides these drawbacks, this headphone still earns an easy recommendation.
10. SIVGA SV004
The Best Open Back Headphones for Gaming Under 100
Do not get swayed away by the tacky name and branding of this headphone. This headphone is a very good product.
The build of Sivga SV004 is exquisite. It is made from very premium materials. The core structure of the headphone is made from metal which makes this headphone very solid and robust. The earcups have real wooden inserts that not only enhance the aesthetic of the headphone but also provide greater isolation for the drivers. For the padding, the earpads have leather which feels very nice. The headband also has decent cushioning to support the head.
The cable is removable and features a standard 3.5mm connection making it very easy to replace. Also, in the box, an additional extension cable is provided if you need more length. Since this headphone has a standard 3.5mm port aftermarket mic + cable combo cables like the V-Moda boom pro microphone can be easily attached making them an all in one gaming headphone.
If you were expecting these to fail in the sound department you would be wrong. They produce very detailed sound. The bass is impacted and tight. There is sub-bass roll but the rest of the frequency has good extension and is well controlled. The mids are not a strong suit on this headphone. They sound a bit dragged down and tiny but are still satisfactory. The treble is amazing here. It is pushed forward more than the rest of the frequencies making them a very crisp sounding headphone.
The detail and clarity are good in these especially for the category they represent. The soundstage is not the widest but it is satisfactory. The positional audio and spatial sound are also very good in these. In games, they provide very direct experience. They are not smooth and warm but present you with all sorts of details. This can be a good or a bad thing. In games where a lot is going in the surrounding, these can sound fatiguing but in competitive games where micro details matter these headphones are very good.
Good detail and clarity in the sound
Not the widest soundstage
Conclusion
Sivga SV004 nails almost everything. It has excellent build quality. The materials used feel very premium. The headphone is also comfortable over extended use. The sound quality is also amazing. The drawbacks of this headphone can be associated with a person's personal preference. If you are someone who likes a smooth and dry sound experience then this headphone might not be for you.
11. Samson SR850
The Best Open Back Headphones for Gaming Under 50
When it comes to budget open back headphones there is none better than Samson SR850. For a fraction of the price, they deliver satisfactory performance.
The build quality is not the strong point here. These headphones use decent plastic material but the construction does not have the rigidity and substance that other high-end headphones. When the headphones are stretched there is some creaking near the joints of the headband. Still, for the normal use case, these are alright but do not expect them to take a lot of hits and remain undamaged. The padding for the headband and earpad is decent and in the comfort department.
Coming to the sound quality and this is where they make up for their lack of decent build quality. The sound is not going to set up new standards but it is very good for this category of headphones. The bass is done well here. The sub-bass is lacking but that is to be expected. The rest of the bass frequency has a good amount of impact and punch to it. The mids are pushed a bit forward and sound good.
The treble is where this headphone shows its drawback. Treble is pushed forward to compensate for lacking detail and clarity but it sounds bright and fatiguing. Luckily the soundstage here is good though so the treble never really becomes too annoying unless you are a treble, sensitive person. The resolution and imaging are also good and positional audio is great.
Lightweight and comfortable
Good resolution and imaging
Conclusion
To sum it up these headphones provide a very good sound. The only gripe with them is that the highs are a bit bright but for anyone who is getting into open-back headphones these are a great place to start.
Ending Thoughts
To sum up, everything we talked about in the article and give our ending thoughts we would like to emphasize the importance of choosing the particular headphones which may fit your needs the best. All of the headphones listed above are very capable headphones and cater to different needs and applications. Before buying a certain headphones, you should evaluate the use case. We can point you in the basic direction but the rest you have to do yourself.
Just for reference if you are someone who games casually and listens to other media as well, you should look into something with a smooth and fun sound signature. Likewise, if you are someone who plays games competitively you should look into something with a lot of detail retrieval, a wide soundstage, and good positional audio capability. We are positive that we have listed something for everyone and on that note good luck with your next purchase.