With manufacturers increasingly discontinuing headphone jack Bluetooth earbuds are becoming the norm for most people especially music enthusiasts or avid workout/gym-goers.
Unfortunately, most good Bluetooth earbuds are too pricey and the cheap ones are really not that good. But you would be surprised by the amount of adequately decent or outright amazing wireless Bluetooth earbuds hidden within the ever-increasing budget earbuds market. To make things relatively easy for you and help you get the most value out of your purchase we have compiled a list of the best Bluetooth earbuds under 50$ we could find.
Before we dive into the list you should be aware of the drawbacks that come with these budget Bluetooth earbuds. Mostly they will contain minimal audio lag not noticeable with regular use i.e listening to music, watching movies but will be somewhat present while playing mobile games like PUBG Mobile or Call of Duty: Mobile. It's really minimal and not really a big hurdle. There are also many factors that dictate your purchase decision. The preference of some factors over others depends solely on what you are looking for in your earbuds. To help you in the best way possible let us dive into the major factors associated with your purchase.
In a Hurry? A Quick Look at the Best Bluetooth Earbuds Under $50
1. SoundPEATS TruEngine SE
Kicking off the list is the classic highly acclaimed offering from soundPeats a company that has been hitting some noticeable strides with their latest releases.
These Bluetooth earbuds offer amazing specifications for the price. Featuring Qualcomm QCC3020 chipset at the heart paired with Bluetooth 5.0 they provide an interrupted rock-solid stable connection. Using the latest protocols these earbuds are also very efficient. People who prefer to use their earbuds in mono configuration will also appreciate their ease of solo pairing and unpairing. The button on earbuds although being a physical button can pretty much control all the necessary actions i.e play/pause, volume up/down, play/pause. The earbuds also include CVC noise cancellation mic for crystal clear calls. They also feature an IPX4 waterproof rating so you can easily wear them in rain or sweat
The appearance is also very striking. The implementation of clear plastic on the capsule and the visible driver within make for a very cool design. The case the earbuds come with features 400mah battery capacity and is charged via micro USB cable. The earbuds themselves contain 50mah capacity each totaling 100mah. These earbuds can easily last 5-6 hours and can be charged approximately 4 times via their case. Cumulatively that is a battery time of roughly 22-25 hours which is very good.
In the sound department, these buds are like little bass canons in a good way. Having dual crossover dynamic drivers with APTX audio codec the sound coming out of these is actually brilliant. You would easily be fooled into thinking about expensive earbuds. The bass is delightfully punchy yet controlled. Clarity is prevalent in all frequencies. The highs do not mingle with the mids and lows. The mids are exceptionally clear, vocals come through fruitfully. Overall, the sound signature here is exciting and fun. These earbuds are a good pick if you like good bass with clear mids and detailed highs.
Conclusion
Overall, these Bluetooth earbuds are surreal for the price. The features provided are exceptional and the sound quality is beyond amazing especially if you like a punchy sound signature. The battery life is excellent. The call mic quality is also decent better than many budget earbuds in the price range and rivaling more expensive ones. These are so good honestly making me have to nitpick for the cons at this point but there are some like physical button on buds or the big protruding capsule but all of that goes into vain considering how brilliant they sound. But keep in mind if you prefer a flat sound profile you might look elsewhere.
Many earbuds support amazing on paper specifications but among them only a few standouts because of their brilliant execution. These TRANYA T10 earbuds fall in the latter half of the equation and are truly a remarkable pair of earbuds for the price and a contender for the best wireless Bluetooth earbuds under $50 throne had it not been for one major flaw.
Right of the get-go, you realize their flaw which is the choice and feel of the material. These earbuds are made from brittle plastic material which neither looks good nor feels good. Holding the pair in the hand will straight away give the impression of some cheap budget earbuds. The case is also made from the same type of plastic. While these earbuds lose marks in the build quality they quickly catch up with their emphasis on function rather than aesthetics.
Hardcore users will appreciate the battery indicator lights on the front of the case. The use of a large battery is also welcomed and these earbuds can squeeze 7-8 hours from a single charge and the case when fully charged can top the earbuds four times bringing the total battery life to about 30 hours. Charging the case and earbuds is also convenient. The case has a USB-C connection which is a step in the right direction which more earbuds should follow. Also, the case has QI wireless charging which is convenient and handy.
For the top-spec cravers out there these earbuds should suffice because they feature industry-leading technology. The Qualcomm chip together with the Bluetooth 5 protocol guarantees a solid and stable connection. These earbuds also pack in an impressive range and the latency is also minimal to the point of being non-existent. Another impressive feature of these earbuds which makes them versatile and useable in any situation is the ipx7 water resistance rating. So using the earbuds in casual water-related activities or rain is a non-issue.
The 12mm drivers in these earbuds together with the APTX decoding technology produce some amazing sound. The bass is rich yet not empowering. It has a solid thump which most people like without drowning out the mids. The mids are clear but can be a little shallow at times. The highs lean on well portrayed and have good clarity. Overall, an enjoyable and welcoming sound here.
These earbuds also sound adequate for calls. The voice pickup is clear and unlike other earbuds in the same category, this does not sound nasally. The only downside is the background noise which this mic is unsuccessful in eliminating. This earbud also has a capacity touch button to control audio. While this touch functionality is apprenticed and convenient but for some reason, Tranya has gone with an unconventional control layout so getting used to the controls takes time on these earbuds.
Conclusion
TRANYA T10 is an amazing product given its price. It packs top of the line specs and some impressive features. The sound quality is also second to none and the comfort is also exceptional. Given its flaws, it still is an easy recommendation for anyone wanting a well-rounded earbud with as few compromises as possible.
Coming in at the next spot are the earbuds which started life as an IndieGoGo project. With the final retail version coming in with more impressive features than the already highly acclaimed kick-starter version these earbuds for sure deserve a detailed thorough look especially since they refreshed the earbuds for the year 2020.
EarFun free feature graphene 6mm drivers with SBC/AAC coding technology along with Bluetooth 5.0 protocol which gives these earbuds a stable connection without any hiccups. In the packaging, extra ear tips are included and generally, the fit is very good. The earbuds themselves look pretty decent and the build quality is fine. The earbuds are very lightweight. The case is charged via USB-C connection which is a big plus for budget-oriented Bluetooth earbuds. The earbuds host a one-touch volume adjustment feature which is very convenient and easy to use. They also contain CVC noise-canceling microphones on each earbud delivering clear call quality.
These earbuds feature Ipx7 waterproof rating making them resistant to most water-related activities. The battery life on these earbuds is phenomenal. Individually i.e without the case you can get around 6 hours of continuous usage. The case can also juice them up 5 times additionally giving a cumulative battery time of around 30 hours roughly. More impressively these earbuds feature quick charging built-in so with just a 15min charge you can get around 2-3 hours of playback time. It also packs 4000 hours of standby time which truly is impressive. The case is also Qi wireless charging compatible meaning you can charge it with any of the wireless chargers you might have lying around.
In the sound department, these earbuds feature a warm dynamic almost neutral sound signature. The bass is very delightful and has a nice amount of punch to it with a great amount of control. The highs sound detailed albeit a bit recessed but mids are where this pair truly delivers. The mids sound so clear and detailed making it a pleasure listening to vocals, podcasts, etc. Overall, the sound is very detailed and neutral yet feels dynamic and energetic.
Conclusion
These Bluetooth earbuds nail pretty much everything. The sound is amazing albeit a bit less rumbly and thumpy. The battery life is excellent. The call quality is amazing. It has very nice features and a solid connection with an ipx7 rating. These Bluetooth earbuds are the complete package but if you are into bright highs or rumbly bass you might not enjoy this but to everyone else, this is an easy recommendation.
At the fourth spot are the FIIL T1X. Like all top earbuds these run on Bluetooth 5.0 and feature AAC as their codec.
The most notable thing about this pair is the instantaneous paring. As soon as you flick open the case, they get paired within a second or two. The connection itself is very stable. Another notable thing is the app these come with. That app provides 15 additional EQ settings to adjust the sound to your liking. The app can also do other basic operations like resync the earbuds, provide you with the current battery status, etc.
The battery life on this pair is not the best though it is quite adequate. Individually they provide a 5 hours of juice but additionally via case you can charge them about 4 times giving you a total battery life of around 20 hours. On the upside, these come with fast charging via USB-C cable. These also feature an ip65 rating for their water resistance and you will have no problem sweating, showers or even getting them soaked in rain. The call quality here is exceptional easily the best out of the bunch. Even in a noisy environment, they perform fairly well.
In sound, these get very loud. But where these really shine is the sound quality. The bass is rich but very controlled not bleeding in the mids. The highs are clear with a good amount of punch. The mids are very detailed. The vocals sound amazing with the deep bass and rich highs. Overall, the sound is very good and detailed with an unprecedented amount of clarity added to the mix.
Conclusion
Overall if you can live with the subpar battery life these earbuds are a solid recommendation. All the important factors are covered with these earbuds and the sound is phenomenal.
Next up on the list is the Mpow M5. These earbuds are powered by the Qualcomm QCC3020 chipset and feature APTX and AAC codec technology baked in.
Just like all other latest earbuds these run on the Bluetooth 5.0 protocol providing a very stable connection. The latency is very minimal and they also provide dual connect feature. The build quality is decent for the price. The design is very ergonomic ad the fit is very secure.
The earbuds have a physical button to control playback, unfortunately, no touch controls here. The button also couples are a voice assistant activator. They, also include CVC noise-canceling mic. Call quality is alright but due to a single mic, it is not up to par for the price. For the waterproofing, these come in with the Ipx7 rating. They can easily survive rain, showers, or even casual swims. The battery life on this pair is simply put amazing. Individually you can expect around 6-7 hours of usage. The case, on the other hand, is very impressive and has the ability of topping these up 7 more times totaling a battery life span of over 40 hours.
In the sound department, they get really loud. The sound signature is very dynamic. Heavy rumble is present in the bass with a great amount of control. The highs are also detailed and bright. The mids though clear seemed a bit recessed and not detailed enough but overall, the sound signature is very good.
Conclusion
Despite some of the cons of these earbuds, they are very good for a suitable person. If you are someone who likes excessive bass these are a very compelling option also the fact that they have a battery life of over 40 hours makes them a very attractive buy.
Up next on the list is the Tozo T6 the upgraded version of highly sought after Tozo 10. Armed with all the latest industry connection protocols they provide a very stable connection.
The ergonomic design of these earbuds is very good for sports activities. Even during hectic exercise, running or sports these do not fall off and stick to the ear like glue. They are also very lightweight coming in at 4.5g each. Despite the snug fit these tend to be on the comfortable side. The earbuds feature touch controls for your playback and calls. The controls are intuitive and very easy to use on the go.
Coming in the Ipx8 rating (the highest out of all the Bluetooth earbuds on the list) these for sure can take a beating. Swimming, running, the rain will provide no problem for these. You can confidently continue to do your activity while not having to worry about getting these damaged. The battery is also pretty amazing. Individually you can expect around 5-6 hours of usage with 24 hours reserved in the case totaling a battery life of around 30 hours roughly. The case also supports wireless charging.
Call quality is also clear without any distortion. The sound signature is all emphasized on the bass. The bass is very strong and prominent. It definitely has the thumps and rumbles. The mids are recessive and the highs are bright yet a bit muffled. Overall, these earbuds provide the strongest bass out of the bunch.
Conclusion
These earbuds are a great option for people who prominently use their earbuds for sports. They provide great touch controls, decent battery life, and an ipx8 rating but the sound quality while certainly not horrible leaves a lot to be desired.
Votomy v22 brings the sound quality and features that are commonly associated with high-end earbuds only.
They are powered by Bluetooth 5.0 and include AptX sound codec technology. The case of these earbuds includes a led status bar showing you the exact battery percentage remaining which is very convenient to have. The footprint of the earbud is massive and earbuds stick out of the ears quite a lot. The earbuds can also be used individually independently of each other without any problem.
The earbuds are operated with touch controls and the inputs are very easy and convenient. Everything works flawlessly and the touch input controls every basic action. The battery life of this pair is phenomenal. Individually without the case, the earbuds last around 6 hours but the impressive thing is the huge 2500mah battery capacity of the case giving you multiple charges and a total battery life of around 150 hours. The earbuds also boast an ipx7 rating along with CVC 8.0 noise-canceling microphone. The call quality is decent.
The sound quality here is also very good. They can get very loud without any distortion. They provide an open sound signature which is impressive in this tiny package. The bass is tight with a great amount of accuracy. The mids are very forward on these giving the vocalist a great prominent. The mids are separated from the highs very well and the highs are very detailed and delightful.
Conclusion
These are solid recommendation for anyone looking for Bluetooth earbuds that can do everything. These do not excel in everything but they are decent in some things while being good in others. They also pack an amazing set of features.
8. Anker Soundcore Liberty Neo
The Soundcore neo has a very small compact design with a secure snug fit catering to the sports crowd. The fit is also very comfortable even during hectic sessions.
The earbuds are also very lightweight coming in at just 5.5g each roughly. The packaging also includes ear hooks to enable a secure fit even during extreme sport-related activities. They also run off Bluetooth 5.0 connection and the connection here is very stable without any interruption.
The battery life on these is lackluster compared to modern standards. They do manage to get around 3-4 hours individually without the case. With the case, you can expect around 15 hours of total juice. For waterproof rating these do manage to do fairly well, featuring an ipx7 rating makes them rock solid for every task which you might throw at them. Luckily, they do come with fast charging. A 10min charge would be enough to extract 1-hour worth of playback which comes in very handy.
The call quality coming out these is also not very pleasant. They pick up a lot of background noise and produce a static sound when spoken into the mic. For sound, they produce flat and lackluster audio. The bass is present but not very punchy. The mids are not detailed and the highs sound muffled. The sound quality, on the whole, is not horrible though it just lacks the crispness and details.
Conclusion
Taking about earbuds strictly for sport-related activities, these would be a worthwhile consideration. The fit is very nice and snug. The connectivity is good and they are ipx7 rated but for audio enthusiastic people, these are not the way to go especially due to the lackluster sound quality.
A budget branded earbud that does not suck. These Bluetooth earbuds from Jlab (an extremely popular manufacturer) priced under $30 come in various colors namely blue, black, green, and white.
The footprint of the earbud is very small. These come with Bluetooth 5.0 with 3 different EQ modes built-in letting you switch on the fly. The case also has an integrated charging cable. The physical appearance of this pair is really nice. They look clean and smooth with especially with blue color. The earbud can also be used independently of one another making them very easy and hassle-free to use in mono mode.
The earbuds feature touch control which is very intuitive. All your basic actions are covered that is play/pause, volume adjustment, skip, etc. The battery life on these is adequate. On the earbuds individually you can get around 5 hours and the case additionally can provide 15 hours bringing the total battery life to around 20 hours. The earbuds are rated for ip44 making them sweat resistant. The call quality is also decent. The mic is fine for the price but there is no sound cancellation built-in.
The sound coming out of go air is very pleasant. It is a flat neutral sound signature. The bass is present, not prominent. The mids are pleasant and the highs are present a bit shallow and not bright though. The sound of the whole is very flat which might be appealing for some people.
Conclusion
The go air is certainly targeted at the young crowd with their sleek looks and just the sheer jazz they provide. The features are adequate, not impressive though all essential ones are covered. The sound quality is fine, the battery is alright for basic use and the IP rating tops it off. These Bluetooth earbuds can go perfectly as a second pair of earbuds or for just listening casually.
10. Taotronics SoundLiberty 77
Built for sports from the ground up these earbuds feature a very ergonomic design with lightweight construction.
The footprint of the earbuds is very small and roundish making for a secure fit. With Bluetooth 5.0 the connection is pretty solid up to 15m without signal loss or interruption. For the audio codec, these include SBC and AAC technology. Pairing is also quick and easy. The pairing in these starts to initiate as soon as you open the lid of the case and they get paired within seconds after that.
These include touch controls on the earbuds. The controls are very easy to use and include all features. The most impressive feature these do come with is the TWS plus connection meaning you can use whichever earbud you please independently with any hassle or weird interruptions. In the IP rating department, these come in with ipx7 rating so no problems there whatsoever. For battery life, these earbuds last about 5 hours individually and with the charging case, the total battery life can be expected somewhere at the 20-hour mark. The mic also could have been a lot better. The calls come through muffled.
With all these impressive features you might be thinking why these earbuds are not placed higher up in the list and the reason is the sound quality which is very subpar. The bass is lacking and you do not feel the excitement provided by a good punchy bass. The mids are present though a little recessed. The highs are bright but they lack a sense of clarity.
Conclusion
These earbuds have excellent features but unfortunately lack sound quality otherwise these would have been way higher up in the list and an easy recommendation as well. But for now, all we can say is keep out an eye if they might get discounted then these might be a better buy.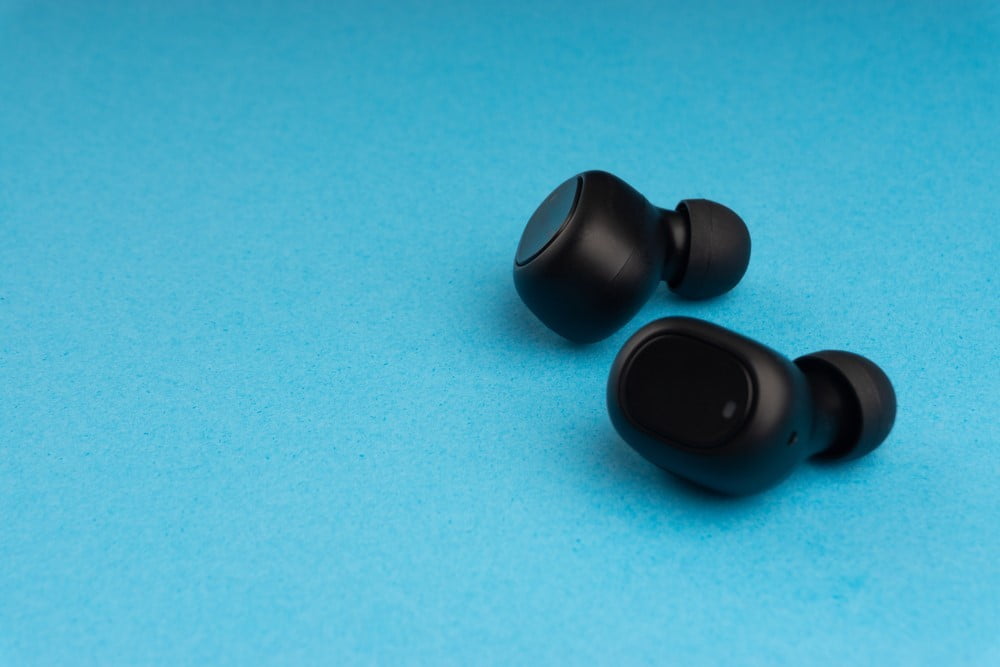 How to Choose the Best Bluetooth Earbuds?
The Buying Guide
With the plethora of options available every Bluetooth earbuds come with their own strengths or caveats. Also, you might lean towards an earbud based on some of the features it provides that you prefer more than others. To enlighten you more we are going to list some of the important different features that the Bluetooth earbuds may come with to help you make a better overall decision.
The Shape and Fit
Shape and fit play the most crucial role in your purchase decision. Firstly, there are many sorts of earbuds some being long protruding ones like apple earbuds, some being low profile capsule buds. Then there are plenty of sport shapes which include neckband style Bluetooth buds, ear hooks style ones, etc.
Comfortability is a key factor if you are not comfortable no matter how good an earbud is there is no point in buying one. Also, you should evaluate yourselves on what sort of shape you prefer so that you may find the right fit for you. We here could paint a rough sketch for you if you are an avid sportsperson you might look into earbuds that provide some sort of support, cling to your ear, or fit snugly in your ear. Meanwhile, if you are a casual music listener you should be cautious about which earbuds may comply best with your ear size though many truly wireless earbuds nowadays come with extra ear tips for you to find the correct size.
Sound Quality
The next major factor is sound quality. Different earbuds have altogether different sound imaging and signature. Earbuds due to different drivers may produce altogether different bass, low-end mids, and high frequency. I recommend you make a decision based on which frequency you prefer. To give a rough idea these are the frequencies at which sound is being produced.
In layman terms, if you like loud rumbling beats coming your way you might enjoy something with punchy bass. Likewise, the tunes generated via drums or other thumping instruments will also sound crisp. Highs are generally where the upper end of frequencies reside these being flute, violin, etc. Mids are median frequency vocals are mainly prominent here. Just like different tunes people have different preferences regarding which they like. You should choose the Bluetooth earbuds which excel at the sound you prefer. Just a word of mouth you should be vigilant when choosing because excessive bass might cause mids and highs to become withered or in some cases completely overpowered. Likewise, excessive highs may produce a very bright itchy sound.
Battery Life
Having a pair that may last a long while or does not just shut on you when you are enjoying a good music session or in the middle of some activity is very inconvenient. Quick charging may also come in very handy during those clutch situations. Likewise, everyone has different mileage when listening to their earbuds. Some people tend to use their Bluetooth earbuds for a short time while others may use them for the whole day. It really depends on how much you use and battery priority. Here I would recommend making a decision on your needs. If you are that guy that just uses his earbuds for some casual session you might get some with adequate battery and look into the aforementioned features first but if you use your earbuds excessively complete day battery life might be your first priority when purchasing a new pair.
Bluetooth Signal and Connection
This should have been the most important factor but fortunately these days many earbuds now come with relatively good Bluetooth connection. One should still be careful about which Bluetooth earbuds he/she chooses. Certainly, not all earbuds are created equally and have the same connection protocols. Here you should look for the earbuds which provide the latest Bluetooth 5.0 protocol and you will be good to go.
Water Resistance
This is a major factor, especially for sports-driven people. It is really convenient to let the earbuds drench in sweat or rain and not have to worry about it. Of course, an electric thing should never be exposed to high water pressure for a prolonged period but having resistance against light showers really helps. Here you should look into the IP rating provided for the earbuds. Not all IP ratings are the same, some are more water-resistant than others so you should thoroughly check your needs against the rating and make the purchase.
Call Quality
Call quality is another factor to consider when making a purchase. There are some earbuds that do calls better than others due to them having a significantly better mic. If call quality is your thing and you do not want to sound all muffled when taking a call. Here you should look into wireless Bluetooth earbuds that come in with dual mics and CVC mic i.e noise-canceling microphone to deliver your crispy voice.
Miscellaneous Features
These features are little things that help to enhance the experience these may include touch-sensitive control on earbuds for play/pause, volume up/down, mute. Easy mono pairing for each earbud so you may listen using one earbud without any hiccup. The better-designed case I mean you get the idea.
Well-known Brand or Manufacturer
With Chinese knockoff earbuds flooding the market you should be vigilant on what you pick up. The most convenient way is to go for a relatively established well-known brand but you can also double check your earbuds via amazon reviews. Honestly, you would be surprised how helpful that can be. But to your convenience we have already done the searching for you and this list is compiled with the products having the best reviews out of the bunch.
Closing Thoughts
To sum everything up we talked about in the article. All earbuds are not created equally. To each, they have their pros and cons and different people might gravitate towards different aspects when it comes to choosing their next pair of the best Bluetooth earbuds under 50. We strongly recommend that before buying a new pair of TWS Bluetooth earbuds you should evaluate what features you really want in your earbuds.
If you are a hardcore music enthusiast you should pick the one which has the best sound signature if you are into sports your most important factor should be the secure fit so on and so forth. We believe that we have compiled a list that features earbuds catering to everyone's needs and with some effort on your end you can find an earbud on this list which you will thoroughly enjoy using.