Are you a streamer looking to streamline your audio delivery? Then an audio mixer is a tool you are looking for to ease yourself from audio-related worries when streaming.
Having to manually manage audio resources can get overwhelming especially when you are engaged fully in your stream but why worry when in this article, I am going to tell you everything you need to know about audio mixers.
At the end of the article, you will walk away with enough knowledge to be able to comfortably pick the best audio mixer for streaming because this article contains the following:
Buyer's guide on how to buy the best audio mixer for your streaming needs
When and where should you use an audio mixer for your stream
6 of the best audio mixers for streaming available in the market
An audio mixer is a great device that gives you complete control over all the individual audio sources.
I am sure you might have seen streamers minimizing their window to adjust the volume of their background sound or any other audio that they have going on.
Although this pause despite for a split second takes away the viewer focus from the stream, and hence as a streamer you definitely don't need that now don't you
Therefore, prioritizing on a good audio mixer is essential for flawless streaming. So, ready to learn more about this invaluable piece of your audio setup? Then what are we waiting for let's begin?
In a Hurry? These are the Best Audio Mixers for Streaming
The following is a quick look at some of the amazing audio mixers that will be reviewed later on in the upcoming section.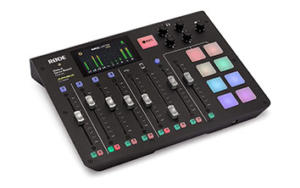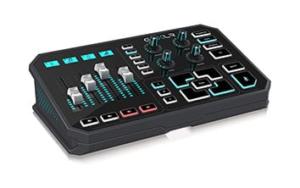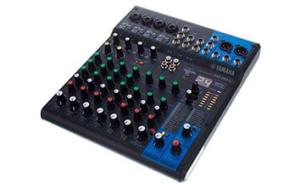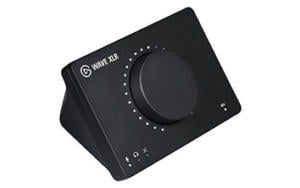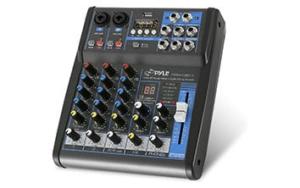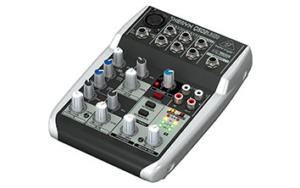 6. Behringer Xenyx Q502USB
RELATED:
Best Open Back Headphones
The Rode RODECaster is a high-end audio mixer that bundles everything you need for full-blown production output. This audio mixer is loaded to the brim with features. It has 4 separate outputs and mic, a mobile output, and even Bluetooth. The audio mixer also features the full suite of audio monitoring as well making the Rode RODECaster a one-stop solution for all your audio needs.
The Rode RODECaster is a professional product which although not specifically made for streaming serves that purpose pretty well.
This 4-channel audio mixer has a lot going for it. For starters, it has amazing sound processing. The sound coming out of the mixer remains natural and highly clear.
The main thing that separates this RODECaster from other audio mixers is the feature set provided by this product. This audio mixer is brimming with different features and perks that make you want to buy it.
The most prominent one is the inclusion of a color touch screen on the audio mixer that is the main control center of the RODECaster. Through this touchscreen, you can cycle through the different menus and select different settings and options built into the product.
Another perk I really like about this audio mixer is that it comes with Bluetooth. Allowing you to quickly synchronize any Bluetooth support device with the audio mixer.
Besides, the four main channels the RODECaster also has 2 separate external channels for USB and mobile connections that come in quite handy.
There is also a feature built into the audio mixer where it can independently record audio and save it on an SD card. This feature frees you from having to resort to PC recordings and comes in clutch when you are offline and on the go.
With the RODECaster you also get 8 programmable sound effect buttons that can be used to instantly trigger any audio command like SFX, music, etc.
Overall, the RODECaster is a phenomenal audio mixer that stands tall in all areas of applications. This audio mixer provides you with the flexibility to use it any way you want, and the added features on top make for a wonderful experience.
RELATED:
Best DAC Amp Combo
The GoXLR Mixer is a fantastic audio mixer that is designed specifically for the purpose of live streaming. Being made particularly for video game streaming from the ground up, this audio mixer has its perks optimized for that purpose hence offering a refined and tailored streaming audio experience.
This 4-channel audio mixer is gaining immense popularity among streamers and after some hands-on experience with the GoXLR, I get why that is the case.
For starters, the GoXLR audio mixer has a very minimal and sleek design making it a very desk-friendly product. We all know that for streamers desk real estate is important hence the small form-factor of the GoXLR makes it an instant fit in most setups.
The GoXLR audio mixer excels in producing amazing microphone quality on all of its 4-channels. This quality in sound can be attributed to the fact that this audio mixer uses 48V phantom power preamplification.
Coupled that with some good sound processing and you have an audio mixer that can make everyone sound better with cleaner and natural vocals.
There are also multiple sound effects baked into this GoXLR audio mixer for when you want to get funky with your viewers.
These sound effects are also easily accessible on the fly with the use of the dedicated sound effect buttons provided on the audio mixer which is a big plus.
Being the core connectivity of the device, this audio mixer also has an optical input which allows for streamers to seamlessly connect the GoXLR to both the Xbox and the PS consoles.
This multi-platform support of the GoXLR is quite welcomed in making it a flexible audio mixer that can be paired with any platform without any issue.
Last but not least the GoXLR audio mixer also features a very intuitive and user-friendly layout. All the buttons and switches for different purposes are well laid out in a systematic manner making audio operation easy and effective.
There is also an application available for the audio mixer if you so choose to do things that way. All in all, this audio mixer is quite an exuberant product in terms of its features and performance.
Everything however is not all perfect with the GoXLR. This audio mixer also suffers from the pricing plague coming in at a very expensive price.
Now for what it's worth if you like what is on offer with the GoXLR then the price should not be that much a deterrent.
The Yamaha MG10XU is a highly versatile 10 channel USB audio mixer. Due to its foolproof choice of hardware and vast functionality, it makes for a great centerpiece of your audio setup that you can build around. Yamaha has also blessed the MG10XU with useful features that come in quite handy for streamers.
Yamaha is no slouch in the audio department. The company is synonymous with premium and high-end audio products and therefore traces of that can also be seen in the MG10XU audio mixer.
This audio mixer is a technological bliss featuring one of the best hardware for the price. With the Yamaha MG10XU, you get 10 a total of 10 channels with 4 XLR inputs.
The microphone inputs are supported with +48V phantom power and coupled that with a D-PRE Class-A microphone preamp leads to a crisp and natural sound reproduction.
For post-processing, this audio mixer also includes high pass filters to eliminate any unnecessary background noise from your recording leaving you with a crystal-clear audio recording.
The Yamaha MG10XU also provides users with an amazing level of control over every aspect of the audio.
The 2 recording channels have 3 customizable bands that being high, mid, and low for EQ adjustment. Compression settings are also available for both channels.
The Yamaha MG10XU also features a built-in SPX effects processor meaning that this audio mixer includes audio effects that can be toggled on the fly by using dedicated buttons.
As a streamer, having sound effects is great to change the tempo of the stream or to engage with your audience. You can also program each effect and change it slightly to fit it according to your needs.
When it comes to the drawbacks the Yamaha MG10XU lacks support for a USB input. Hence you cannot attach USB microphones to this audio mixer, which is a slight nuisance, but I am sure won't bother most streamers since condenser microphones mostly use XLR inputs.
The other annoyance I found with this audio mixer is that it is quite big, heavy, and possibly redundant for a streamer. As a novice or even seasoned streamer, you won't be able to tap into all the functionality of this Yamaha audio mixer.
Overall, despite the slight nitpicks I have with the Yamaha MG10XU it is a solid contender for possibly one of the best audio mixers at a reasonable price.
The Elgato Wave XLR represents the transition from physical controlled audio mixers into fully digital ones. This device does its magic through the included Elgato software. Everything you wanted or needed from an audio mixer the Elgato Wave XLR will provide you that but in a much smaller and sleeker package. So why waste your energy and desk real-estate on large chunky audio mixers?
Elgato as a company needs no introduction. If you are in the streaming space for a while now chances are you might already be using one of their products.
This company specializes in streamer-oriented gadgets and their recent release is the Elgato Wave XLR audio interface.
Don't mistake it for the small size this tiny unit has got all the functionality built into it that you need.
I wanted to include this Elgato on the list because I believe it fulfills the demands of streamers looking for an audio mixer without going into the redundant territory like traditional mixers.
Most of the functionality of this device is baked into its software with the physical device only featuring a multi-purpose volume knob that doubles as a headphone gain switch and a PC/Mix switch.
The mute button located on the device is also super handy for when you want to mute your audio in a hurry.
Before jumping onto the software, I want to address that Elgato is using good quality technical stuff for this Wave XLR.
It has a great quality preamplification system in place with 48V phantom power to drive condenser microphones. There are also dual-stage selectable filters to remove any unwanted noise from your recording. All in all, it has a very sound technical structure.
Coming to the software and the Elgato Wave link software is where all the fun stuff happens.
Your complete mixing profiles are found here, and the software is also easy and intuitive to use with a well laid out structure hence eliminating the need for physical controls.
The only negative of the Elgato Wave XLR stems from its digital approach. Digital application is not as reliable as physical controls therefore you have to take that into account.
Overall, the Elgato Wave XLR is the future of audio mixers. This tiny little device provides you with so much functionality that you can't help but get tempted by it.
If this is your first audio mixer and you previously have no experience with a traditional knob style audio mixer before then you absolutely cannot go wrong with the Elgato Wave XLR.
The Pyle professional audio mixer is a budget audio mixer that punches way above its weight. This audio mixer has top-notch audio capabilities and a ton of functionality. The feature set provided here is also better than the price would suggest hence making the Pyle Professional audio mixer an extremely versatile value for money device.
Pyle may not be the first manufacturer that comes to mind when thinking about audio mixers but after knowing what this Pyle professional audio mixer is capable of, you might want to know more about it.
Being new manufacture of sorts Pyle has priced their audio mixer very aggressively in the market making it a very compelling offering that undercuts its competition both in terms of pricing and performance
Talking about performance, the Pyle professional audio mixer is a 4-channel mixer with two XLR inputs. For the XLR microphone inputs, this audio mixer provides phantom power delivery of 48V.
Connectivity is a strong suit of this audio mixer as besides the traditional XLR inputs, it also has Bluetooth capability which is quite rare in audio mixers let alone budget ones.
Coming to the functionality and features next. The Pyle professional audio mixer features a 3-band equalizer. Having this capability, allows you to adjust the low, mid, and high audio pitches.
Everything however is not perfect with the Pyle professional audio mixer and there are a couple of missing features and issues that I want to point out.
Firstly, it lacks a dedicated mute button. Since there is no mute button, you will have to turn the volume dial all the way down to mute the sound.
As a streamer your attention is also diverted between different aspects of your setup hence it can be a bit bothersome by having to use the knob again the again.
Besides that, using the USB input can deteriorate the sound quality of the microphone. This is something you have to be cautious with and avoid using the USB input altogether. Resort to the other means of connectivity when using this audio mixer.
Inspired from the British musical heritage Behringer audio products still carry that essence of audio quality. The Behringer Xenyx Q502USB is a banger of a budget USB audio mixer that is not a total disaster to use. This audio mixer for a budget offering does quite well in terms of audio performance and feature delivery.
Shopping with a confined low budget doesn't mean that you cannot get a high-quality audio mixer.
Although a budget audio mixer won't contain the frills that more expensive products have but that doesn't mean that it cannot provide you with a good streaming experience.
Case in point the Behringer Xenyx Q502USB. This sub $60 audio mixer from Behringer is a very reasonable audio mixer that provides you everything you need for your streaming needs.
The Behringer audio mixer has a single XLR connection with 48V phantom power delivery. This audio mixer uses high-quality Xenyx Mic Preamp that is also used in other more expensive Behringer products to deliver a clear and rich audio recording experience.
Besides coming at a budget price point this audio mixer still features a compression knob so that as a streamer you can record and process the most optimal and Hi-definition audio for your needs.
The Behringer also includes a 2 band EQ slider by allowing to do adjust the high and the low knob.
Besides that, there is not much to talk about in this audio mixer as it is quite barebones but still functions quite well and as a first-time user of audio mixers, you won't be disappointed here.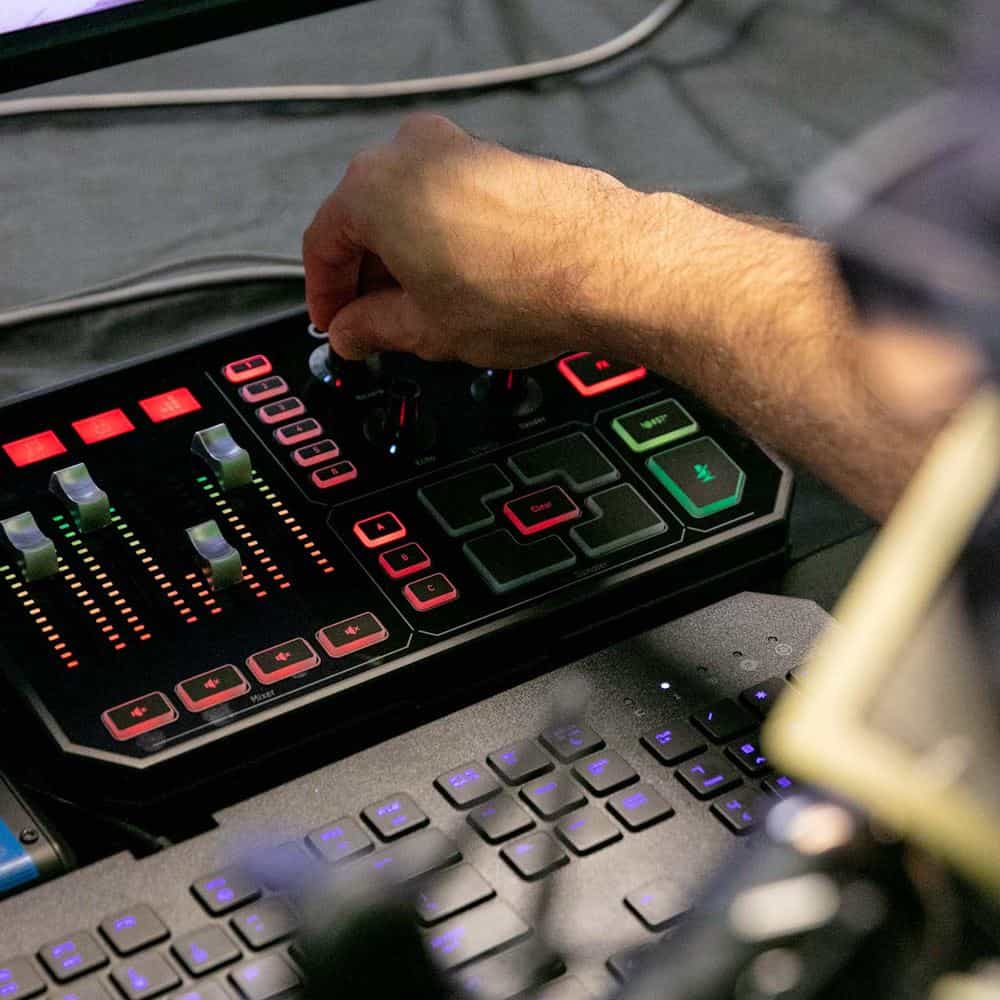 Buyer's Guide on How to Choose the Best Audio Mixer for Streaming
Before we get to the review of each individual product it is important that we first properly understand how to pick the best product for our needs. I want to guide you through this process because the market is mislabeled information and generation jargon.
It would have been quite easy for me to simply that (X) product is the one that you should get because it is the best and the most expensive one but that won't do you any good.
You see each individual has his own needs and preferences. The way I am seeing a certain audio mixer you might not be seeing it that way.
Our needs may also differ. You might use the audio mixer differently from me or any other individual hence one size fits all approach is not going to work when picking out an audio mixer.
You have to dive deep in, do your evaluation and pick out a product that best represents what you are after.
This is the core objective of this Buyer's guide section. In this section, we will go through the process of finding and understanding our needs in order to buy the product that best caters to them.
What Are the Benefits of an Audio Mixer for Streaming?
I am sure that you have already done some of the research on this topic because then you won't be buying an Audio mixer in the first place, but I want to add some important areas in streaming where you can take advantage of an audio mixer.
For streaming, you should integrate the audio mixer with all the different audio sources of your stream. As a streamer, you should likely be running multiple background audios for your stream.
You should integrate all these audio sources into your audio mixer in order to have control over them. This allows you to adjust them during your stream on the fly making quick adjustments possible.
Another highly overlooked use of an audio mixer is the ability to use quick sound effects. Most audio mixers have built-in effect panels that you can use for this purpose which is very beneficial for a streamer.
Why the Best Is Not Always the Right Choice?
This expands on the view that one product cannot satisfy everyone. Therefore, I also don't want you to fall into the trap of buying the most expensive product because it is the best.
Yes, it might be the overall best product but that doesn't mean it is the best product for you. It goes without saying that your need may be different than what the best product has to offer hence it might not be of value to you.
For example, the Yamaha MG10XU is an excellent product that offers a ton of functionality but maybe that level of functionality is redundant for your use case. Hence in that case the Elgato Wave XLR might be a better option due to its hyper-focus on the streaming part.
You see where I am getting at now, don't you? All I want you to do is not fall for the most expensive or the quote "best" product without knowing if it's the right choice for you or not.
The First Key Things to Consider
Before you jump to amazon to buy an audio mixer, I want you to lay these two aspects in order. Those being:
Firstly, before buying an audio mixer set aside your budget. There is a wide variation in price between different audio mixers. Hence to save yourself from confusion pick a budget before shopping around. Doing this will also allow you to shop efficiently and effectively by making you focus on a certain number of products.
The other important thing you need to do before purchasing an audio mixer is to evaluate your need. By this, I simply mean that give some thought to how and where you want to use the audio mixer. Once you know your usage then look for an audio mixer that can cater to the usage that you have set for yourself.
These are the two easy ways you can stay afloat in the convoluted and manipulative market for audio mixers.
Now that you know how to shop for an audio mixer let's also take a look at some of the traits and characteristics of an audio mixer for a better understanding of this product.
The Amount of Channels on Offer
Audio channels are the most crucial aspect of any audio mixer. If you are new to this term, channels are basically pathways for the sound to go through.
In the case of an audio mixer, the number of channels directly controls the number of devices and different audio sources you can set up with the audio mixer.
Ideally, for streaming, you want an audio mixer that has at least 2 channels but to be on the safer side 4 channels are preferred.
The number of channels is not strict and can vary a lot depending on the audio mixer and the needs of a user.
For example, if you need to connect a lot of different devices and sources to the mixer then the Yamaha MG10XU will serve you well with its 10 channels. On the contrary, if you want to connect just a couple of devices then the Behringer USB502 will be the better option.
EQ and Tuning
The EQ and tuning potential might possibly be the reason you are buying a mixer for. If you don't know what I am talking about then to put it simply the customization of the low, mid, and high range and compression of the sound is called EQ and tuning.
These aspects can alter the sound of your recording. In the perfect situation, you want an audio mixer that has natural and precise sound tuning in the first place like the GoXLR with the added benefit of being able to customize sound later on through EQs and compression.
Phantom Power
Phantom Power is a fancy name for the power coming to the condenser microphone that you use for streaming through the XLR cable.
For the most optimal operation, you need to make sure that your audio mixer supports at least 48V phantom power because that is the least requirement of most condenser microphones.
If an audio mixer is unable to fulfill this basic requirement, then you are bound to face issues with microphone audio. This is the reason all audio mixers feature in this article comply with this 48V phantom power requirement.
Interface and Controls
Most people overlook this aspect of an audio mixer which ends up biting them later on especially if you are considering 4 or more channel audio mixers with plenty of different controls.
For ease of use, get an audio mixer that has simple controls. The Elgato Wave XLR is a great example of this since all its controls are housed in digital software which is easy to access and use.
On the physical front, the Rode RODECaster Pro also has a very intuitive user interface.
Size
The size of an audio mixer matters a lot when you are choosing one for desk setup. Streamers already have a lot of different devices and gadgets on their desk hence space for them is limited.
Therefore, you should always consider the size of the audio mixer as well along with other technical bits to ensure no inconvenience emerges later on with the placement of the audio mixer.
This wraps up the review sections and brings our article to an end. Before I sign off though, let's quickly summarize the article.
In this article, we discussed how you can choose the best audio mixer for streaming that caters to your needs through the buyer's guide section.
Also, the detailed reviews of the 6 best audio mixers will provide you with information on some of the amazing audio mixers that are available in the market.
In the end, all I want to say is that you should always evaluate your needs and get the product that fits them the best.
With that said, do let me know in the comment section which audio mixer did you end up buying and why? I would love to know your evaluation and assessment of your needs.
I hope that you find this article helpful and make sure to enjoy for newly purchased audio mixer.