A good motherboard is the cornerstone of any gaming PC build. But which motherboard should you go for from the plethora of options available?
After all, going with the wrong motherboard can defeat the purpose of the whole build, won't it? Choosing the best motherboard for your gaming PC can be a monumental task but not if you know what to look for.
Therefore, I have combined all the bits you need in this article to get yourself the motherboard of your dreams.
I am going to take you on a journey at the end of which you will have complete knowledge of the following:
Buyer's Guide: How to choose the best motherboard for a PC
How to Distinguish Between AMD and Intel Motherboards
6 best motherboards for Intel and AMD gaming PC gaming builds
A motherboard can make or break your PC build and hence it is an integral part of any system.
Most new gamers and PC builders don't put in much research and end up with a wrong board that lacks quality. Worse even sometimes in a hurry gamers get a board that is not compatible with their PC.
I don't blame them, researching for a motherboard can be an intimidating and overwhelming task. Just look at the number of options available in the market and the confusing names they go by.
Now you don't want to be that guy who buys the wrong motherboard, do you? Ready to decipher the number combinations that motherboards go by? Then what are we waiting for let's begin.
In a Hurry? A Quick Look at Our Top Picks
Before diving into the more detailed review of each product the following is a quick glance at all of the motherboards featured on this list.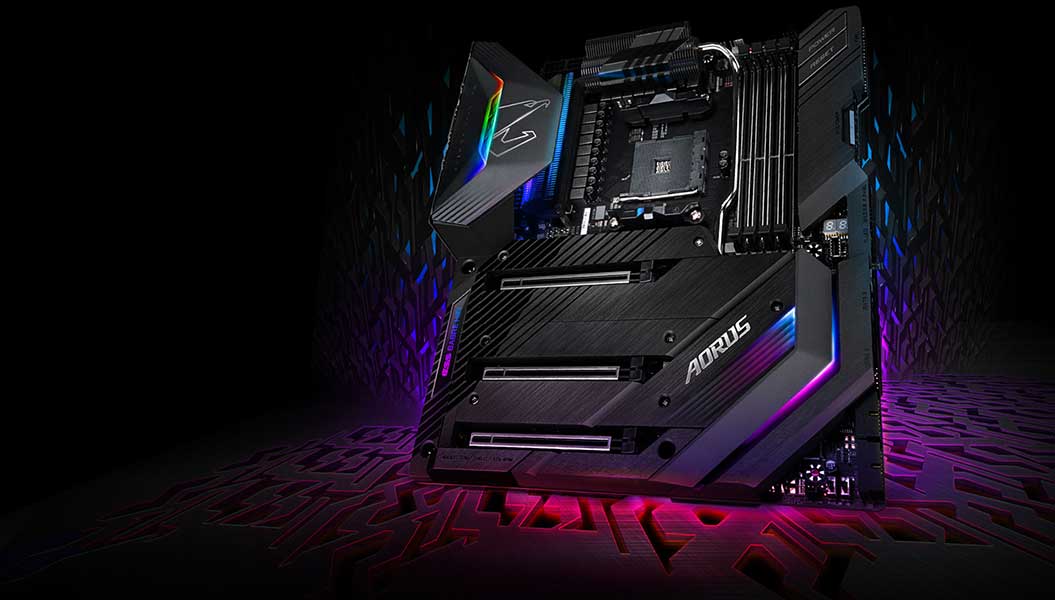 How to Choose the Best Gaming Motherboard – The Buyer's Guide
It will be quite easy for me to simply point out that the Asus Maximus Hero motherboard is the best for Intel or Gigabyte X570 Aorus Master is the best pick for AMD. But that doesn't get us anywhere.
You will still be as confused as you are now just with a brand-new motherboard that is. So, let's take a step back and analyze how can we buy ourselves the best motherboard for our PC and our needs.
The First Few Things to Consider
Naturally, before buying a motherboard there are two very important things to set aside first.
These being the budget you can fork out for the motherboard and which platform you are going to go with- AMD or Intel.
Ideally for the motherboard budget, set aside 20% of the total money allocated to your whole PC build for the motherboard. While this 20% theory works great but you can cheat a bit here.
Now things do get complicated when it comes to choosing your platform, so we are going to have to talk about it in detail.
RELATED:
How Much Does it Cost to Build a PC for Gaming
How to Distinguish Between AMD and Intel Motherboards
Once you have selected the processor that will empower your gaming PC build then you need to get a motherboard that is compatible with your selected processor.
Now before you jump into marketplaces and start typing let me tell you, there will be a lot of jargon to deal with. So, how does one get behind the technical jargon? Well glad you asked.
You see, Intel and AMD motherboards are fundamentally different and hence non-interchangeable function-wise.
The simplest and the easiest trick I can tell you to identify if you are looking at the Intel or an AMD motherboard is to look for the socket type.
Every motherboard mentions the socket it supports in the description. If you are shopping for an Intel board, you are looking for LGA 1200 socket type. The motherboard with the LGA 1200 socket type will support the latest Intel processors.
Similarly, on the AMD front, you are looking at a motherboard that supports the AM4 socket type. All motherboards with this socket type support the latest generation AMD processors.
The other way you can distinguish between Intel and AMD motherboards is by their series code.
Intel motherboards will have the Z590, H560, and the H510 series code in their names.
AMD motherboards will have X570, X470, B550, and B450 series code in their names.
For reference, the Intel motherboards on our list are ROG Maximus Hero Z590, MSI Z590-A Pro, Gigabyte B560M.
As you can point out all motherboards have the series codes we talked about. The same is the case with AMD motherboards. They will also have the designated series code in their name.
These two are the basic checkpoints by which you can distinguish Intel and AMD motherboards immediately.
Now that you know how to distinguish between Intel and AMD motherboards, let's evaluate the characteristics and aspects you should look for to choose the best motherboard for your PC.
RELATED:
Best Motherboard for Ryzen 5 3600
Performance and Capability
In simple straightforward terms, motherboards are basically complex electronic circuits that house other components of the PC.
Since motherboards are the main driving force of any PC it is important to get the motherboard with the best performance and capability because not all motherboards are created equally.
Ideally, we want a motherboard that has a good VRM design (main power phase) and has capacitors and transducers that will last.
Mostly, high-end motherboards like the Asus Maximus Hero keep this requirement in check. Gigabyte X570 Aorus on the side of AMD also comes close but cannot match the performance capability of our benchmark leader i.e the Asus Maximums Hero
Size
Motherboards come in three form factors. These form-factors are there to prevent any computability issues with different sized cases.
The three motherboard sizes are:
ATX: Also called full-size or traditional motherboards. These motherboards run full-length and are to be installed in full-size tower cases.
Micro-ATX: A slightly smaller motherboard. These motherboards occupy the middle ground in the range and hence are a good sweet spot if you want a motherboard that fulfills all functionality but is smaller in size.
Mini-ATX: This is the smallest size motherboard you can get. Normally reserved for small-size systems that rival the size of larger game consoles at max.
I would recommend going with an ATX motherboard like the Asus Tuf X570 gaming plus for AMD and MSI Z590-A for Intel since they offer the best functionality at a reasonable price also are more future-proof.
If the size is a concern and you want to buy a smaller case, then Micro-ATX like the Gigabyte B560M DS3H can be considered by stay away from Mini-ATX at all costs.
With this motherboard, you restrict a lot of functionality so before only get into this form factor if you know what you are doing. Not recommended for beginner PC builders and hence not also mentioned in our list of best motherboards.
Rear I/O Ports
Since you will be connecting most of the cables of the gadgets and other PC peripherals or components to the motherboard it is important to check the I/O (input and output) ports.
If you have something extra you would like to connect then make sure that the motherboard has a supported port for it.
Frankly speaking, these days most motherboards have a similar I/O setup but where they differ is the quality of the I/0. Good motherboards have faster Ethernet ports, utilize higher bandwidth USB connections, and also include distortion-free audio ports.
These subtle nuisances can make a difference hence on top of checking the ports you should also dive into some technical bits of the main ports that you going to be using.
Make sure that at least the ethernet port supports a Gigabyte connection and USB ports are Gen 4 3.2 ones. All our motherboards have these core characteristics if you so choose to go with them.
Vanity Features
These days since motherboards competition is growing manufacturers are trying to set their offerings apart by including vanity features.
These may include built-in Wi-Fi, bios rollback switches, led screens for monitoring temperatures, etc. While some of these features are gimmicky others are quite useful, take built-in Wi-Fi on the Gigabyte Aorus for example.
Vanity features are mostly found on high-end motherboards while I won't recommend stepping up to high-end motherboards only for vanity features if you do want the best of the best motherboard with vanity features then the Asus Maximus Hero should fit the bill.
YOU MAY ALSO LIKE:
The Best Prebuilt Gaming PC Under $1000
The 6 Best Gaming Motherboards
Now that we know how to choose the best motherboard for our supported platform, it's time to look at the reviews for some of the best offerings for both Intel and AMD.
1. Asus ROG Maximus XIII Hero Z590
The Asus Maximus series has always been the top dog of gaming motherboards and this Maximus XIII Hero with its exceptional power handling, performance, and features is ready and poised to become the best Intel motherboard.
If money is no objection and you are hellbent on getting the most premium Intel motherboard, then it's worth taking a look at the Asus Maximus XIII Hero Z590.
This motherboard has the Intel LGA 1200 socket at heart and provides unparalleled support for Intel's latest 11th gen processors.
The Maximus Hero has class-leading VRM, having the ability to handle 90 amps on each of the 16 phase VRM. Evidently, this high-end motherboard is unique when it comes to packing so much power into its relatively smaller dimensions.
This is largely thanks to a high speed PCB design that allows it to preserve power integrity despite containing numerous components.
This motherboard, however, is not all about performance though and has plenty of nifty features to go along with it. Before we dive into that let's just take a moment to appreciate the design aesthetic of the motherboard.
The right amount of RGB lighting and the clean aesthetic makes it look quite appealing in any PC case.
Feature-wise the motherboard has prebuilt Wi-Fi with a range antenna, a 2.5Gb LAN port, and includes thunderbolt 4 ports for future-proofing as well.
Asus has thrown everything in their playbook to this motherboard and it shows making it the best for the price. As for the actual price figure, this motherboard will set you back $500 hence bringing a lot of competitors into the fray.
2. Gigabyte X570 Aorus Master
Gigabyte Aorus master stands tall from the other high-end AMD motherboards because of its performance, functionality, and features. Although the price is a little steep but for that, you are getting a motherboard that will last the test of time and comply with anything you throw at it.
Gigabyte Aorus master is the most premium AMD motherboard the company has to offer. Nestled with premium goodies this motherboard is all that you will ever need for the current and the upcoming generation of AMD Ryzen processors.
Featuring an AM4 socket at the helm and the 14-phase direct VRM solution this motherboard is capable of not only supporting all Ryzen processors, but you can also over-clock those processors if you so choose.
I have like the fact that Gigabyte has provided a passive thermal solution of this motherboard with the use of heatsink and heat pipes.
This eliminates the need for having a physical fan attached to the motherboard hence alleviating you from the stress of hardware stress due to fan malfunction.
Performance aside the Gigabyte Aorus master also scores full marks in the features, Aesthetic and Port selection department.
The motherboard has appealing RGB lighting that runs along its edge and also supports 5V and 12V RGB headers.
The I/O ports are also plenty and fast. To top it off the motherboard excels in providing static-free audio by the use of high-quality audio components and also includes built-in Wi-Fi 6E and Bluetooth as well hence providing seamless and easy connectivity.
Overall, for the price of $350 you are getting a lot here. The performance, features, and port selection are next to none and the best you are going to find in this price range.
YOU MAY ALSO LIKE:
Best Cheap Prebuilt Gaming PC Under $500
3. Asus TUF Gaming X570-Plus
Although not fancy the Asus TUF Gaming X570 holds its own when it comes to providing a solid base for all your PC components to sit on. This motherboard merges performance and functionality into a handsome package that can be bought for under $200 making a great value for money motherboard.
What makes a value motherboard? If you are anything like me then a value motherboard should be a mix of performance and features.
Another key consideration is how long it will take to become obsolete. After all, you don't want to invest money in a model that will be in the landfill after a couple of years now do you.
The X570-Plus is not just the cheapest motherboard that runs on AMD X570, but also the best long-term option in terms of AMD motherboards.
With an AM4 socket at the helm, the motherboard supports the latest AMD Ryzen processors series. All other necessary technical bits that make a motherboard good, to begin with, are also covered here.
As a bonus, despite being a value proposition the motherboard still includes nifty features like built-in Wi-Fi and support for RGB lighting via the 12V and the 5V RGB header.
All in all, the Asus X570 gaming plus is a great choice if you are looking for a motherboard that blends in compelling performance and useful features in a package that doesn't cost a lot of money.
Not every good Intel motherboard has to be expensive and loaded with gimmicky features that are never going to see use. Well, if you are looking for a motherboard that does everything well without spending a lot of money then the MSI Z590-A Pro is your best bet.
The MSI Z590-A Pro is a no-nonsense motherboard riddled with stuff that matters and free from any unnecessary gimmicks.
This motherboard is built upon the Intel LGA 1200 socket and hence supports the latest 11th generation as well as the 10th Intel processors.
MSI has not held back on the performance front of this motherboard and has given it all the horsepower it needs to drive any Intel processor you throw at it.
The inclusion of the latest PCIe 4.0 protocol paves way for attaching faster storage drivers to this motherboard. A great future-proof aspect if you ask me because storage is only going to get faster as time passes.
MSI Z590-A Pro also has enough grunt to support overclocking of Intel processors. On this motherboard, you can safely push the Intel i5 higher without upsetting your entire PC.
On the feature front, this motherboard is barebones but that is to be expected for the price tag. What is not lacking, however, is the port selection of the MSI Z590-A Pro.
This motherboard includes all of the essential ports you will need on daily basis. It even features a USB-C port for easy connectivity of your USB-C gadgets and pen drives.
Overall, the MSI Z590-A Pro is an easy motherboard to recommend to anyone that wants a solid performer with good core functionality.
Good budget motherboards are hard to come by. Enter the MSI B450 Gaming Plus, this motherboard for being priced under $100 offers best-in-class performance. It can handle all AMD Ryzen processors up to Ryzen 7 making it a great choice for any budget build.
Not everyone has a high budget for a computer build and that is fine. I mean I also started with my PC gaming journey with a $600 build.
MSI B450 Gaming plus is a motherboard that you can incorporate in your budget builds and despite being priced under $100 this motherboard is quite a handful.
Riding on the AM4 platform this MSI motherboard has decent performance and power handling capability. This motherboard can effortlessly run even Ryzen 7 8 core processors so anything under is a walk in the park.
Everything however is not sunshine and rainbows. To bring the price down some corners had to be cut so if performance is adequate then that cost-cutting has to be in the feature segment.
Indeed, the MSI B450 gaming plus lacks any frills and therefore portrays the approach of functionality over form, and I can't say this is a bad thing.
The core performance aspects that you want in a gaming motherboard are present here and as a matter of fact, this motherboard goes above and beyond in terms of performance for the price.
Overall, a great budget motherboard if you want all the functionality at your fingertips.
Budget Intel motherboards are getting better and better. Gigabyte B560M is a motherboard that for under $100 provides power handling and features that you would never expect from a budget motherboard a couple of years before hence making it a great choice for any budget-oriented intel build.
Intel budget-oriented builds are becoming more and more appealing with time. Now even an i3 can game quite handsomely but the challenge arises when a good budget motherboard has to be paired with this processor.
Worry not, the Gigabyte B560M DS3H is here to save the day. This sub $100 processor from Gigabyte is remarkable for the price.
Although barebone this motherboard contains all the right equipment to power through a lower-tier Intel processor without any fuss.
The 6 plus 2 phase VRM on the motherboard is quite decent actually and so are the other technical aspects. The motherboard has support for dual-channel memory and fast PCIe 4.0 NVME storage drives.
If you were expecting a disaster in the port selection department then this motherboard might prove you wrong. It has all the necessities in check and even includes a gaming LAN to provide the most lag-free experience when playing competitive esports games.
Overall, apart from the features and frills, this motherboard is pretty decent. It will get the job done for any build that includes an Intel i3 or an i5 processor but CPUs above that may cause troubles.
Related Guides
Check out some of our related motherboard guides.
Conclusion
With our final budget option done with it is time to wrap up the article. To summarize some of the key points, in this article I started off by explaining how you can choose the best motherboard for your needs.
Then was the list of the 6 best motherboards for both Intel and AMD CPUs. I hope that you find the list helpful. With that being said I would like to again iterate on the point talked about in the Buyer's Guide.
Don't buy a motherboard until you know which platform you are going with and when you do, choose a motherboard that fits your needs the best. The best or the most expensive is not always the one you need.
Before I sign off, let us know in the comment section down below which AMD or Intel motherboards in your opinion are the best to use for anyone building a gaming PC.