Are you looking for a good surround sound headphone to dominate your games, movies, and music? Then this article is for you.
Finding the ideal surround sound headphone can be quite challenging and time-consuming but don't worry you don't have to do that because I have already done the research work for you.
You can now put your headphone worry to rest as this article will cover everything you need by including the following:
Buyer's guide on how to choose the right surround sound headphone for you
What makes a good surround sound headphone
5 best surround sound headphones
Having surround sound capability in your headphone makes a night and day difference to audio.
With surround sound, your sense of directionality increases, and audio is depicted in a much true-of-life fashion.
Surround sound creates a sense of spatial space around us in which the audio is being propelled from all directions just like how we hear in a real-life setting. This is what makes surround sound headphones a joy to listen to.
Excited yet? So, what are we waiting for let's begin.
In a Hurry? A Quick Look at the Best Surround Sound Headphones
The following is a quick look at top picks for surround sound headphones. For a more detailed review of each headphone refer to the section down below.
1. Sony L600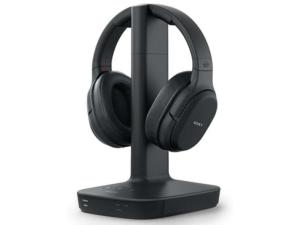 Shop on Amazon
2. Audeze Mobius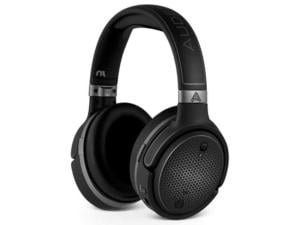 Shop on Amazon
3. Corsair Virtuoso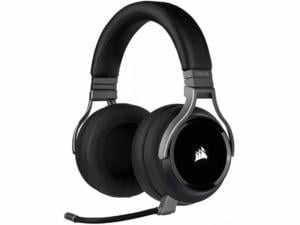 Shop on Amazon
4. Philips SHP9600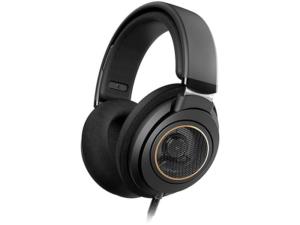 Shop on Amazon
5. Hyper X Cloud Alpha S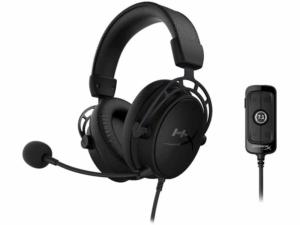 Shop on Amazon
When a high-end product from Sony is labeled to provide a cinematic surround sound experience then you know they mean business.
Anyway, let's start with the build quality and comfort and leave sound for the end. In terms of the build quality, it is rather disappointing to see a such flimsy build at the $300 price point.
The headphone is made primarily from plastic and as we all know plastic is not the most rigid material around.
Therefore, to one's disarray, this headphone exhibits creaking and rattling noises to the point where it can get annoying.
The build quality may be comprised I can't fault the comfort of the headphone. Aided by a plush leather padding on the earcups and the headband the headphone sits quite softly on the skin.
The earcup size is massive and the clamping force is also not overly excessive making this headphone ideal for a relaxed listening session.
Since these headphones are wireless one major concern is battery life. Fortunately, Sony has snuck a large size battery is these headphones owing to a real-world backup time of around 15 hours which is quite impressive considering these headphones have Dolby surround sound feature.
Charging the headphone is nice and convenient and since Sony has included a base stand in the box you can rest the headphones on this stand when charging them.
The stand also features connectivity options of the back which include HDMI, Optical IN, and aux while on the front it has power and mode buttons.
On the topic of buttons, the important buttons that control the audio are placed on the left earcup. These include a volume rocker, power switch, and sound field button.
Talking about the sound and the Sony L600 sound great. They have a balanced frequency response in which no frequency overshadows the other.
Albeit the bass is pushed a little forward which is great if you want that thump in your music and movies. Dialogs and vocals also sound rich on these headphones.
The Sony L600 series of headphones are primarily made for movie watching so you can expect these to have amazing surround sound. The Dolby audio compatibility and the fantastic tuning from Sony make for one of the most immersive movie-watching experiences.
Overall, the Sony L600 is a headphone that thrives in true form. These headphones are made for movie watching and they do that job with finesse. The surround sound experience you will get out of these is unlike any other on the market. So, if you can deal with the shady build quality then it is a green light for the Sony L600.
RELATED:
Best Open Back Headphones
Audeze is an enthusiast audiophile brand engaging in making amazing magnetic planar headphones. The Mobius is their first attempt at a gaming-oriented Hi-Fi headphone and one thing is for sure, right out of the gate these guys have the sound characteristic of their headphones in check.
Carrying the prestigious Audeze tag one would expect these headphones to blow every other gaming headset out of the water.
Unfortunately, it isn't that simple while Audeze has crammed in a lot of handy features for gaming the cohesion of all the aspects is what makes or breaks a headphone so has Audeze done enough.
Starting with the build quality and although made primarily of plastic this headphone feels solid and robust in the hand. You won't come across any creeks or rattles here which reconfirms one's belief in the build quality.
On the surface, this headphone also has comfort in check. Soft leather padding is what you rest your skin against but unfortunately, the headphone is held back by the excessive clamping force.
The clamp of the headphone is so tight that it puts pressure on the back of your ear and needs to be constantly adjusted.
While the comfort may be a little finicky, but you can get by fine once you get adjusted to the headphone.
If one thing is to be highlighted about this headphone then that should be the sound quality. Before I tell you how this headphone sounds like let me tell you that there are an insane amount of features packed into this headphone.
Head tracking, Dolby audio, 3D Surround Sound software, ambiance adjustment you name it. While some of these may be gimmicky at best but the rest do elevate the listening experience of the user.
Coming to the sound and these sound amazing. Right up there with the best gaming headphones of all time.
There is a certain depth to the audio which many gaming headsets lack on the other hand these can recreate sound in such a masterful fashion that it leaves the user stunned at times.
The surround sound capability is also top-notch. When gaming you can hear all the faint sounds like footsteps and reloads and exactly pinpoint from the direction they are coming from.
If you want even better surround sound, then you can head over to the Audeze Mobius software and configure your optimal settings.
When not gaming you can remove the detachable mic from the headphone and enjoy listening to music or movies.
This aspect of the Audeze Mobius makes it a fantastic all-around winner that produces excellent surround sound for games as well as movies.
Overall, if budget is not a concern and you can fork out $400 for a multipurpose gaming headphone then by all means go ahead and buy this headphone for the terrific surround sound it delivers.
RELATED:
Best Open Back Headphones for Gaming
Sleek, stylish, and multipurpose wireless gaming headset. If this is what you are after, then the Corsair Virtuoso should feel right at home. This headset from Corsair has one of the cleanest designs seen for a while in the gaming industry and on top of that sounds and performs incredibly too.
A quality wireless gaming headset has always been the outcry of the gaming crowd and this headset aims to fill that void with its charming looks and host of new features.
I might confess the moment I laid my eyes on this headphone I was hooked. The headphone stands out from the crowd in terms of its design and the satin finish makes the exterior look very appealing.
The headset however is not all about the looks. The shiny trim you see on the outside is made from aluminum and so is the rest of the body.
Special attention is paid to the build and even the slightest part like the microphone capsule is metal. Needless to say, the Corsair Virtuoso is built like a tank and feels solid and robust.
Coming to the comfort next and this headset implements plush memory foam leather earpads. These earpads although very soft can accumulate a lot of heat.
On the whole, the comfort of the headset is another plus, and granted you don't live in a humid climate the headset will feel like resting your head against a pillow.
Corsair has also undergone special efforts to ensure that the wireless signal of the headset is as good as possible. With the Corsair slipstream technology at the helm, the headset boasts a lag-free wireless signal of up to 60 ft.
The battery life is also impressive coming in at 20 hours of use. But that can vary depending on the features you are volume of the headset and the features in use.
Talking about features, this headset has dedicated software in which you can control all the features of the headset. There is a lot of customization here so make sure to play around with the different settings to tune the sound of the headset according to your liking.
Now it's time to wrap up the review of the Corsair Virtuoso with its sound quality. Getting straight to the point this headset sounds amazing.
It has clear and detailed audio that portrays great depth. No sound effect is overpowered or muffled by another when gaming.
Explosions, gunshots, cars, choppers, and every other sound is well represented in the audio. The headset also has a better soundstage compared to other gaming headsets and with the ability to produce precise audio it delivers an engaging surround sound experience.
The microphone sound quality is also surprisingly very good for a wireless headset. The voice pickup is clear and a good amount of background noise is suppressed so your friends don't have to hear your dog every time you log onto discord.
Overall, as a wireless gaming headset that looks good, sounds fantastic, and performs exceptionally well the Corsair Virtuoso strikes as a compelling package.
RELATED:
How to Make Headphones Louder
The Philips SHP9600 is the successor to the decorated SHP9500. Carrying most of the beloved aspects of the former while improving on the others makes this headphone an awesome choice if you want a solid surround sound experience on a budget. Not to mention this headphone is very comfortable as well as extremely flexible for any given situation.
Philips makes outstanding Hi-Fi grade audio products and the SHP9600 is one of them.
While technically this headphone is not branded as a surround sound headphone but due to its sheer masterclass audio tuning, it beats most in that regard.
Since we are already on the topic of sound let me preface this before explaining further that you won't find a better sounding headphone than the Philips SHP9600 in the price range of $85.
The Philips SHP9600 is not your typical audiophile headphone but rather has a very fun sound signature. The bass is somewhat boosted, following by a slight rise in the treble.
This makes way for some engaging audio reproduction and sensational it is. The surround sound directionality aspect present in the audio of this headphone is quite spectacular.
It has the ability to single out sounds and place them in the exact spot based on where they are propagating from.
The directionality aspect of this headphone is pushed further by its enormous soundstage meaning that this headphone can accurately place sounds in a much wider plane. This adds more depth and character to the surround sound.
One massive advantage this headphone has is its removable 3.5mm connection. Since the cable is removable you can easily plug in an external inline microphone like the V-Moda boom pro.
Now that we have established that this headphone sounds great let's move to the build quality. This headphone is primarily made from metal meaning it has a solid construction.
The body does not creek or rattle and the earcups and headband part is also well reinforced to negate any wear.
Overall, the build quality is quite good and so is the comfort. The fabric padding on the earpads and the headband does not trap heat like leather, making this headphone a joy to wear in a warm and humid climate.
On the whole, if we look at this headphone from a packaging perspective then it has got everything you want a sub $100 headphone to have.
On top of the sound quality, the ability to connect an external microphone easily is simply remarkable making this an easy recommendation if you hunting for a budget pick.
YOU MAY ALSO LIKE:
12 Best Gaming Headsets Under $50
The long-standing darling of the gaming community and one of the best value headsets the gaming audio industry has to offer. These sub $150 Hyper X Cloud Alpha S produce excellent surround sound that puts many more expensive headsets to shame. On top of sounding great and being fairly priced this headset also ranks high in the comfort aspect.
The HyperX cloud series from Kingston is altogether a fan favorite but this Cloud Alpha S outranks all its brethren in being the most versatile headset.
Surely, 16000+ positive ratings on amazon and rave reviews from critics can be all for nothing.
Rightfully so, the HyperX Cloud Alpha S is top-notch in all regards. Starting from the build quality and upon laying your eyes on this headset for the first time the strong build of this headset captives you in a sense of security.
The frame of the headphone is made from metal and exhibits no creeks or rattles. The earcups are also attached securely to the frame and the reinforced cage around the earcups adds another layer of security.
Surprisingly despite having a metal build the headphones are extremely comfortable to wear. The padding on the earcups is generous and the plushness quite literally makes it feel like you are resting your head against pillows.
So, this headset does indeed pass two important aspects with flying colors which makes you wonder how it will perform in the sound and the mic quality department.
Happy to report that the HyperX Cloud Alpha S also aces the sound quality segment. Although you can't match its sound with proper audiophile headphones on this list for a gaming headset it's great.
The headset not only has good tonal balance with all the frequencies being well represented but also amazing sound separation and directional audio.
The origin of where the sound is coming from is spot on and there is some level of depth as well which helps to provide a better horizontal and vertical integration to the audio.
While the sound quality is special the mic quality is not. The voice pickup of the mic is your typical gaming headset nasally and over-sensitive affair.
In short, your voice will not sound natural to the other person with the mic of the HyperX Cloud Alpha S.
Overall, the Kingston HyperX Cloud Alpha S is a heavy hitter in the gaming headset category and the go-to headset if you are looking for a comfortable budget option that has a good build quality and amazing surround sound capability.
RELATED:
Headset vs Headphones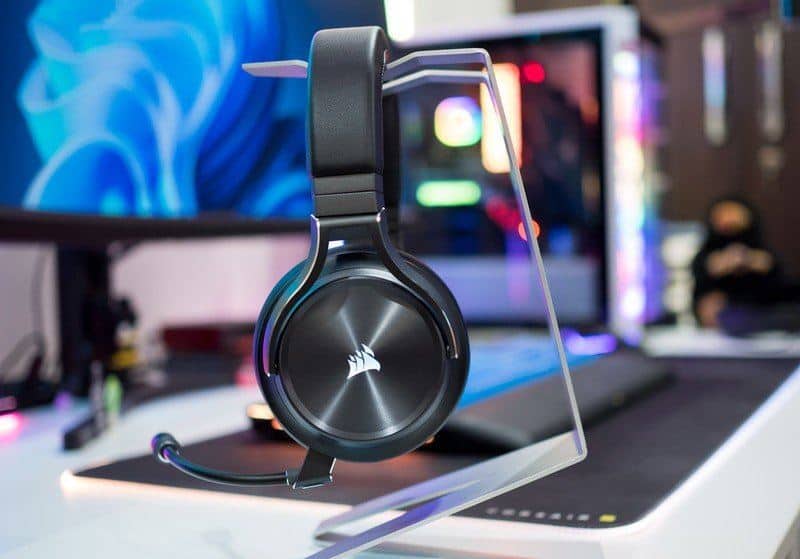 How to Choose the Right Surround Sound Headphone for Your Needs – Buyer's Guide
Although I have listed the 5 best surround sound headphones, these headphones cannot be any more different in their application.
So, this begs the question of how can a person choose the best headphone for his needs. Given that everyone has different preferences as to what sounds best and since everyone wants something different from their headphones finding the best headphone can get a lot more challenging.
For this purpose, the Buyer's Guide section of the article comes into play. In the Buyer's Guide, I will fully uncover the secrets to finding the best headphone for your needs.
What Makes a Good Surround Sound Headphone?
Surround sound is a very controversial topic because it differs in application depending on which crowd you are in.
Audiophiles swear by its redundancy, gamers live by simulated surround sound, while cinemaholics believe true surround sound is only delivered with 7 speakers connected in a 7.1 channel configuration.
Now to be clear surround sound is inherently the same. It basically means audio that is generated in a 3D plane. It mimics how we hear things in real life.
Now coming to the topic of headphones. Today in the market there are a lot of terminologies used for surround sound and not to mention the countless ways to achieve surround sound.
You have to steer clear of the marketing terms and only focus on the aspects that make headphones achieve great surround sound.
The two aspects on which surround sound in a headphone depends are soundstage and imaging.
Soundstage is the size of the virtual plane in which a headphone is producing sound. It also overlaps with the depth factor of a headphone
Imaging on the other hand is the placement of sound effects in a sound stage.
The headphone that has the wide soundstage and precise imaging will have the best surround sound experience.
Although surround sound is not solely dependent on these and some external factors can influence how you perceive surround sound but generally, if you get things right with these two aspects then you are guaranteed to land on a good surround sound headphone.
I am again iterating that stay from industry gimmicks like virtual surround sound, 7.1 channel audio, or similar things like that. These are only virtually creating the effect of true surround sound.
In our list we all the headphones have good soundstage and imaging and rest assured all of them produce exceptional surround sound, but which one should you get?
In our list we all the headphones have good soundstage and imaging and rest assured all of them produce exceptional surround sound, but which one should you get?
YOU MAY ALSO LIKE:
How to Clean Headphones
Fundamental Things to Consider
There is a lot of variety when it comes to surround sound headphones and if you don't set certain boundaries before searching for your next surround sound headphone then you will be overwhelmed by the choices available and left in utter confusion.
These two main points are
Deciding the budget for a pair of surround sound headphone
Evaluating your use case
Having a budget in mind and sticking to it will keep you focused on the right track but let me tell you surround sound headphones can drastically differ in their prices.
After you have set a budget, the next thing is to ponder on your use case. Mostly, surround sound headphones are used either for gaming or for movie watching.
Headphones for these two genres are different and hence you want a headphone that caters to your case use and is suited for your application.
Why the Best is not Always the Answer?
The Sony L600 is the benchmark for surround sound but it might necessarily not be for you. You see, when headphones are evaluated, the variables are eliminated for a more direct comparison.
While this may be fantastic for testing but not so much for real-world usage. Everyone has different use cases and wants the headphone to fulfill their needs. Taking that into consideration some people may not like the Sony L600 and that's fine.
Frankly, despite being Sony L600 being a dumb reach to recommend I will iterate that you first evaluate your use case and what you want in a headphone because chances are other headphones on the list may do things you like better than the Sony L600.
Take gaming, for example, now it would be downright stupid to buy Sony L600 for gaming when the Audeze Mobius exists. Heck even for music listening you would be better off with a Philips SHP9600 but that doesn't take away from the fact that Sony L600 produces the best surround sound.
You see where I am getting at, so I would urge you not to keep track of ranking but rather focus on what you need from a headphone.
Now that you know what makes a good surround sound headphone let us look at some of the different characteristics of headphones to determine which one suits you the best.
Sound Quality
Surround sound is a forte of all of the headphones on the list but not everyone has the same tonal balance.
In other words, headphones have different sound tuning to fulfill their purpose. Some might have a punchy bass response, others might recess the bass to favor the mids more while some may have a peaky treble.
This is how you should differentiate among headphones. Pick out the frequency that you like the best and then find the headphone that matches your preference.
Generally speaking, gaming headphones like the HyperX Cloud Alpha S and the Corsair Virtuoso are more tuned on the bass-heavy side.
While on the other hand headphones make for watching movies or listening to music like the Philips SHP9500 favor more mid and treble frequency as opposed to the bass.
If you want a balanced sound response, then your best bet is the Audeze Mobius.
Comfort
Comfort in a headphone is very important and should not be taken lightly. As opposed to the popular belief that a headphone becomes more comfortable as you wear it, I recommend choosing the headphone that is comfortable, to begin with.
If a headphone is not comfortable then no matter how good the sound quality is, you won't enjoy listening to it for more than a few minutes.
The best candidate for this position will be Philips SHP9600 which due to the cloth earpads and loose clamp has the best comfort out of all the headphones.
Availability of Microphone
For a gamer, a microphone is a must-have. Even if you are not a gamer having microphone connectivity can come in very handy for taking important calls during a movie session.
One thing I should say is that don't expect professional-grade microphone quality in a headphone. The pre-included microphone will be adequate for casual voice calls at best.
From the listed headphones the Corsair Virtuoso has the best microphone with close to natural voice pickup.
Build Quality
If a headphone does not last the test of time, then what is the point of using such headphones.
Build Quality is an important check because let's face it no one like buying the same headphone twice.
Ideally for maximum lasting you want your headphone to have a metal build rather than a plastic one. Plastic being malleable will easily break if the headphone is put through rough use.
On the other hand, metal will last the test of time. Corsair Virtuoso comes in first in this category since most of it is metal with the Philips coming in a close second.
Vanity Features
Certain additional features can add to the ease of use of a headphone or sometimes enhance the sound experience.
These features may include volume buttons on the earcups for easy audio controls, different connectivity options, docks and stands for headphones, or certain buttons that change sound profiles or alter the sound output.
These features are not needed but can add to the user experience. Audeze Mobius will be your option if you want a plethora of features that you can tinker around with.
READ MORE:
On Ear vs Over Ear Headphones
Why Are My Headphones So Quiet (Fixes and Reasons Discussed)
Conclusion
This wraps up the article. To quickly summarize there are 5 best surround sound headphones mentioned in the list that all cater to different individuals.
Some lean on the gamer side while others lean on the entertainment side. I again want to iterate that you should choose a headphone that fulfills your needs the best by using the buyer's guide which contains everything you need to know about buying the best headphone.
Before I sign off, I want to emphasize the importance of not falling for the marketing crap spewed by many manufacturers to get your money.
Let us know in the comment section if you have come across such misguiding marketing tactic and while you are there let us know your favorite surround sound headphone.