It is all fun and games until the quiet kid in your class invites you to visit his grandeur universe in Minecraft.
Since its release, Minecraft has had a special place in the hearts of many gamers. The gameplay and core concept of Minecraft are simple – but until now, there has not been any game that can replace Minecraft.
Minecraft is not a game – it is an artistic expression of an individual. The best thing about Minecraft that puts it above and beyond any other game is the free reign it provides to the gamer.
Minecraft has no restrictions – you can do whatever you want, when and how you want. Fancy cutting down the tree – well, you can do it, or want to build an underground tunnel – that is possible too.
Many gamers – including me, have spent hundreds of hours on Minecraft building and improving our creations. However, as the new update ages, there is little to fulfill the content drought. Don't feel disappointed, though because these games like Minecraft can keep you company while you wait for the next major Minecraft update.
If you have felt wanting more, then play the following 31 games like Minecraft in the meantime. These games resemble Minecraft while providing a fun and interesting twist on the gameplay.
31 Minecraft-Like Games
The following is a quick glance at Minecraft-like games you cannot miss. All the games bear resemblance to Minecraft. However, these games are ranked in no particular order. So, you can choose any and enjoy it.
Subnautica
Satisfactory
Terraria
Stardew Valley
Ark Survival: Evolved
No Man's Sky
Roblox
The Forest
Space Engineers
Don't Starve
Starbound
Fortnite: Save the World
Dragon Quest Builders 2
Eco
Cube World
Vintage Story
Factorio
Moonglow Bay
Valheim
Teardown
Lego Worlds
Staxel
Trove
Colony Survival
Craft The World
Ooblets
Rust
Sims 4
New World
Fallout 4
The Flame in the Flood
1. Subnautica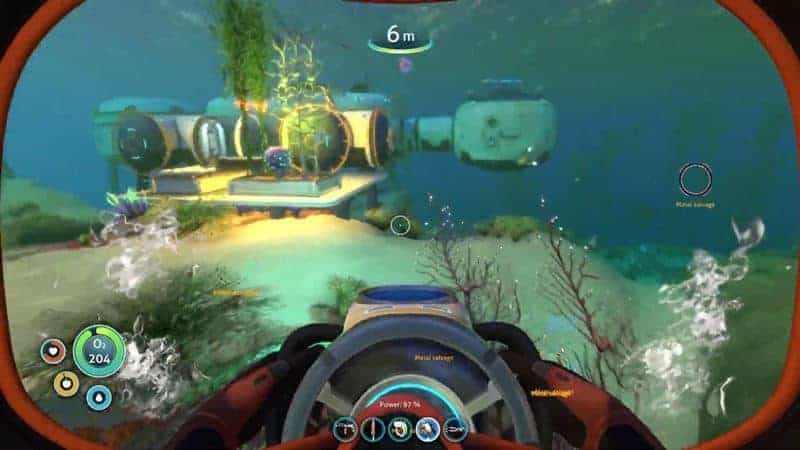 How about Minecraft but in the ocean? If that sounds nice, then you will love the underwater exploration and survival game – Subnautica.
The night ambience in Minecraft is the favorite part of the game for many – multiply the tense feeling of Minecraft's night ten folds with the added threats of getting drowned or being ripped apart by sea monsters – that's Subnautica for you in a nutshell.
The vast and endless ocean of Subnautica is gorgeous to explore – however, beware of your progress because there is a danger lurking around every corner. If you like Minecraft's survival and exploration, then Subnautica should feel right at home.
The world – ops sorry the ocean of Subnautica is filled with rare objects to collect. So every journey to the ocean becomes memorable. It is a game you will keep returning to just to relive the experience.
Developed by Unknown Worlds Entertainment, Subnautica is available on PS4, PS5, Xbox Series S and X, Xbox One, Nintendo Switch, PC, and macOS. The ocean is calling, so what you are waiting for, grab Subnautica right away.
2. Satisfactory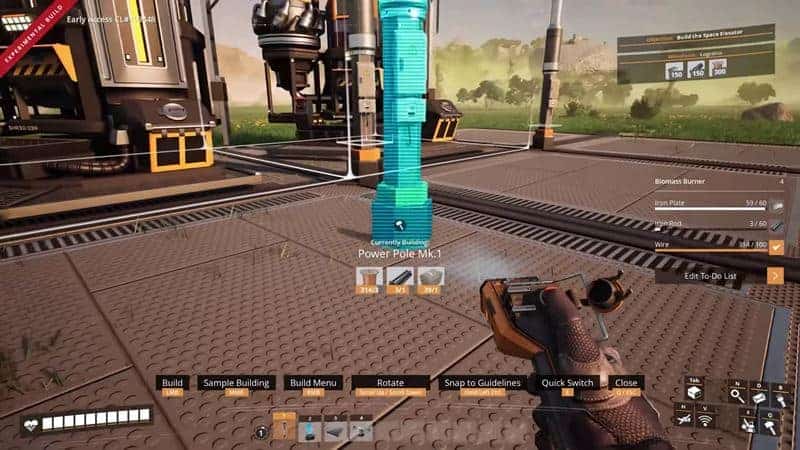 Satisfactory is what would result if Minecraft and No Man's Sky had a romantic moment. Imagine yourself on a new planet you know nothing about, but now that whole planet is your playground.
The surviving aspect takes a whole new turn, from scraping rocks and resources to building sophisticated machinery. Unlike Minecraft with its basic building, Satisfactory lets you build fully automated machines – those are sure to impress some alien races as well.
The machines get more and more Avant-garde – I still remember the oil refining base my friend had set up. Seeing such a hyper-realistic interpretation in a game was surreal. If you ever wanted to build sophisticated, fully functioning bases out in the unknown world – this is your chance to make your dream come true.
Developed by the Indie Studio of Coffee Stain, Satisfactory is only available on PC through the Steam Store.
3. Terraria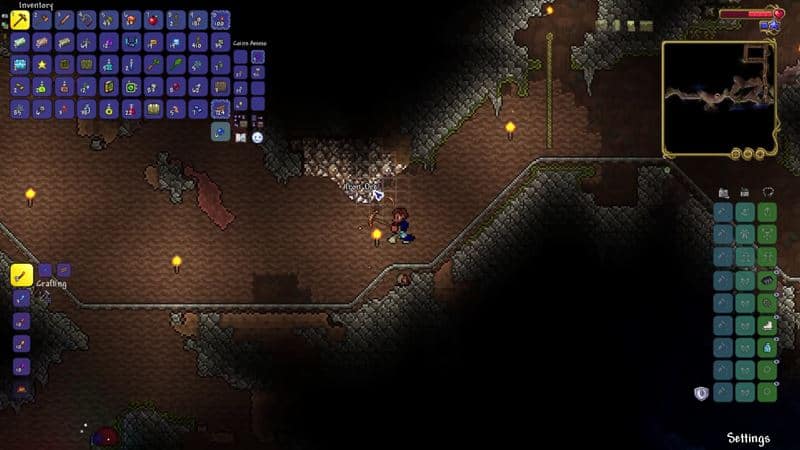 In many ways, Terraria resembles the 2D version of Minecraft. After being dropped into a wide, colorful universe, you are granted complete freedom to do whatever you want in the game. You can engage in close combat, look for riches, and develop amazing tools, equipment, and designs best suited for your quest.
It's a 2D game that offers a large playing area and promotes imagination. You can create a fantastic city with powerful warriors if you wish to. Nobody will stop you if you decide to hunt down adversaries to battle and steal items from. You have the power to rule the entire globe.
In addition, Terraria often receives content upgrades that will have you playing the game nonstop for days on end. So check it out if you like games that give you this much freedom.
Terraria is a must-play 2D Minecraft-like game developed by Re-logic studio. The game is available on PlayStation 4, PlayStation Vita, Xbox One, Nintendo Switch, Nintendo Wii U, PC, Google Stadia, macOS, Android, and iOS.
4. Stardew Valley
A farming and life simulation game with gorgeous pixel graphics, entertaining gameplay, and plenty of material to keep you interested is called Stardew Valley. It's a game that, like Minecraft, will keep you focused with all of its different activities and is best played in short spurts.
You take on the role of a young girl in this game who received their grandfather's farmland. You will have his tools and a little cash to begin your trip.
A corporation's control over Stardew Valley has caused the town to be in disarray – well, it seems that may until you no longer have a clue of who's the evil. Your take control of a young girl in discovering strategies for reviving the former spirit of Stardew Valley's residents.
Stardew Valley, like Minecraft, lets you use the entire world as a playground. You'll come across possibilities to raise cattle and harvest crops while enhancing your grandfather's farm plot. Additionally, the game offers a four-player online co-op, where you and the other three players can construct a farm and enhance its neighborhood.
Live the life of a farmer in this epic adventure-building game by studio ConcernedApe. Stardew Valley is available on PlayStation 4, PlayStation Vita, Xbox One, Nintendo Switch, PC, Google Stadia, macOS, Android, and iOS.
5. Ark Survival: Evolved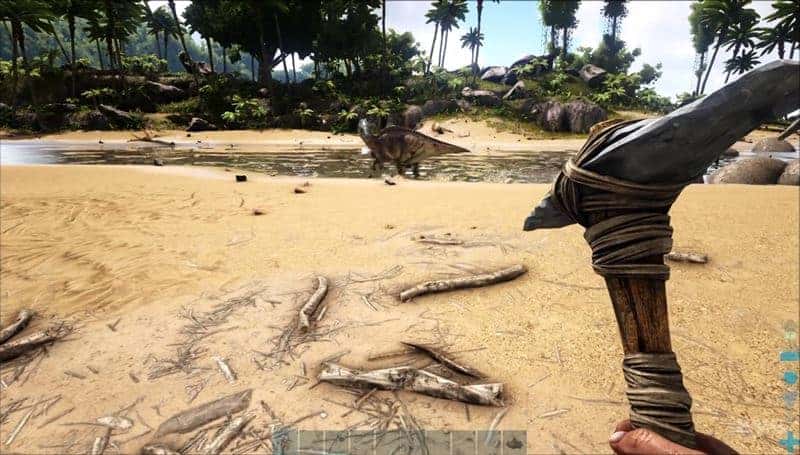 The grimier environment of Ark: Survival Evolved is home to dangerous dinosaurs and other hazards. This game, like Minecraft, enables players to build structures, explore their surroundings, make things, and go on food hunts.
As one can see, both Ark and Minecraft take an exciting and original approach to the themes of survival and suspense. You'll notice minute details that grab your attention as you move about and explore your environment. Although the Ark's universe is undoubtedly more colorful and realistic than Minecraft's, it nevertheless manages to convey the same suspense and awe.
But compared to Minecraft, Ark allows much greater artistic freedom. In essence, the resources you mine or search for let you construct more intricate constructions. Additionally, unlike Minecraft, Ark makes it simpler for users to construct wires, generators, ramps, and other kinds of material objects.
In this game, you don't need to twist a chair-shaped object to make it resemble an arch. Instead, everything is finished and made simpler for you.
That is not to imply that the game lacks obstacles. Like Minecraft, Ark offers difficult obstacles in the form of challenges and enemies that will keep players on their toes.
Developed by Studio Wildcard, this game is available on PlayStation 4, Xbox One, Nintendo Switch, PC, Google Stadia, and macOS.
6. No Man's Sky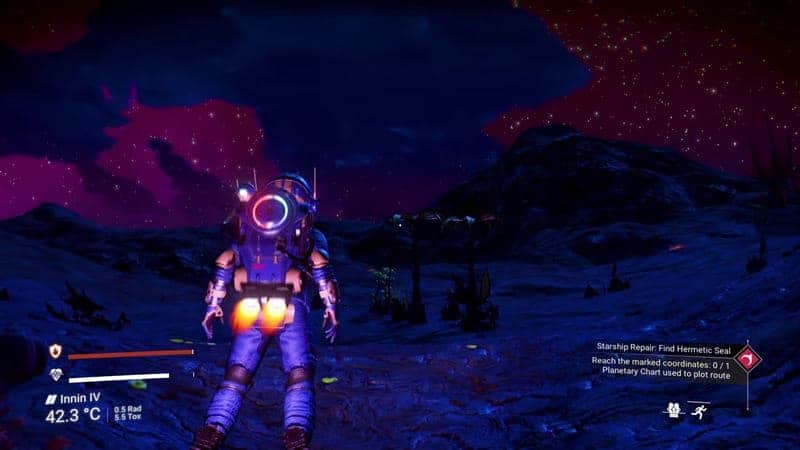 No Man's Sky should have been the ideal space fantasy game build on the same foundation as Minecraft. However, it had a difficult launch and development process. As a result, many people expressed dissatisfaction with the small procedurally generated content by complaining to the developers.
The developers worked diligently over time to create the game that both they and the players wanted. While it still has some shortcomings, the game has improved and is full of activities and interesting locations.
No Man's Sky is set in a gorgeous, expansive cosmos where you can travel between many planets. The planets resemble the different dungeons and player-generated worlds you can visit in Minecraft. You can interact with various creatures, mine for minerals, and develop your character by improving their equipment on these planets.
Especially if you're playing the game with the highest graphics settings, all of these machines and living things appear astonishingly beautiful.
There are unique discoveries and surprises around every bend in each of these worlds. Players can create experiences distinct from those of their friends and other people because of this.
At best, the game's action is mediocre. Compared to other third-person adventures, the gunplay doesn't feel very enjoyable. It is comparable to the uninteresting swing animations in Minecraft, though.
Explore the magnificent intergalactic world created by Hello Games in No Man's Sky on PlayStation 5, PlayStation 4, Xbox Series S and X, Xbox One, Nintendo Switch, PC, and macOS.
7. Roblox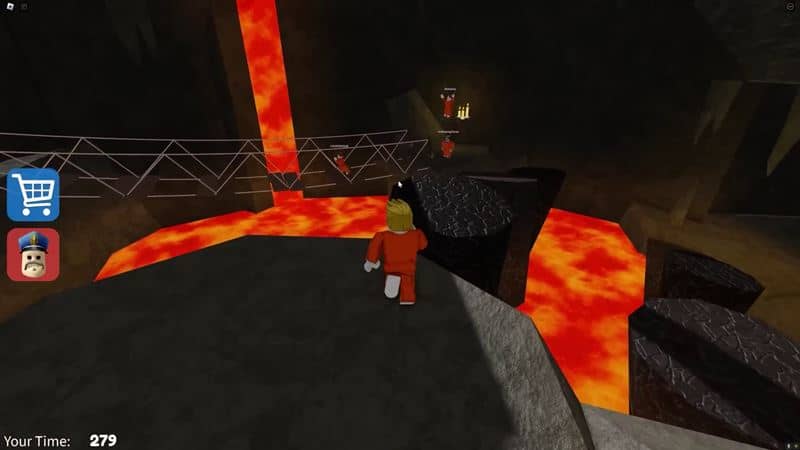 Roblox is Minecraft without the need for the boring endless grind. In Roblox, users get complete reign over the game design, and they can invite players to these created games. Therefore, Roblox is completely driven by the community.
It has a variety of activities, from vibrant, kid-friendly minigames to more violent PVP gaming. Everyone in the family can have fun playing it.
Roblox developers know that providing complete control over user-generated content can lead to pretty uninspiring events. Therefore, they keep a constant eye on user-generated content.
Each little mini-game has its own set of regulations to prevent things from getting out of hand, which bears an uncanny resemblance to the rules people put in their Minecraft servers.
Both the games have simple retro visuals, but one can't deny that pixelated graphics suit these styles of games. Players can buy cosmetics items to individualize and customize their experience and add a sense of excitement.
If you want to take on a challenging world created by others, Roblox is the game for you. Developed Xbox Series S and X, PC, Android, iOS, and macOS.
8. The Forest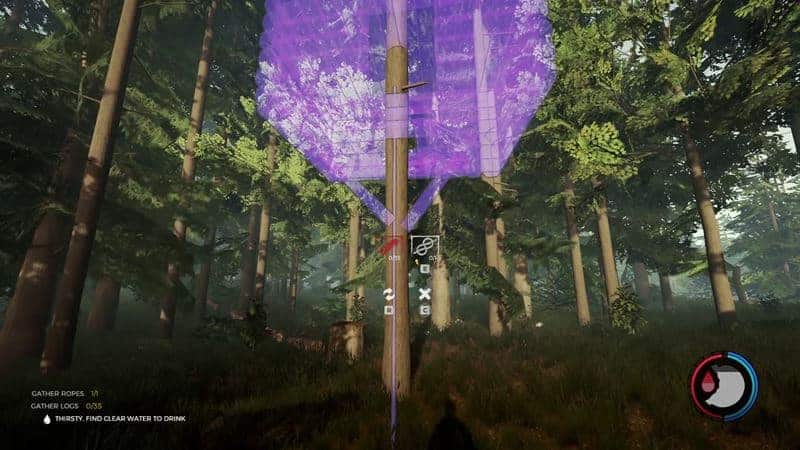 The Forest has a Minecraft-like realism to it. It features the same crafting and building gameplay that's both enticing and fun. However, its gloomier atmosphere creates a tense vibe, which I am all for.
Not going to lie; it occasionally gets to me too. The game also has vicious animals with bizarre designs that would terrify a youngster if they were to play it. The violence levels in the title are also more brutal, as you'll chop and shoot away at enemies with realistic and dangerous weapons like guns and knives.
The Forest is set on a deserted island. Because of a plane catastrophe, you must fend for food, shelter, and weapons. It's best to move quickly because when darkness falls, the world's dangerous creatures will awaken and begin their search for you.
The game does a fantastic job of creating tension and suspense, as has already been mentioned. In addition, it gives off the same eerie vibes as nighttime forested exploration in Minecraft.
The Forest is a great alternative for players looking for a mature version of Minecraft that doesn't hold anything back with its scares.
The Forest is a great alternative for players looking for a mature version of Minecraft that doesn't hold anything back with its scares. Developed by Endnight Games, The Forest is available on PlayStation 4 and PC.
9. Space Engineers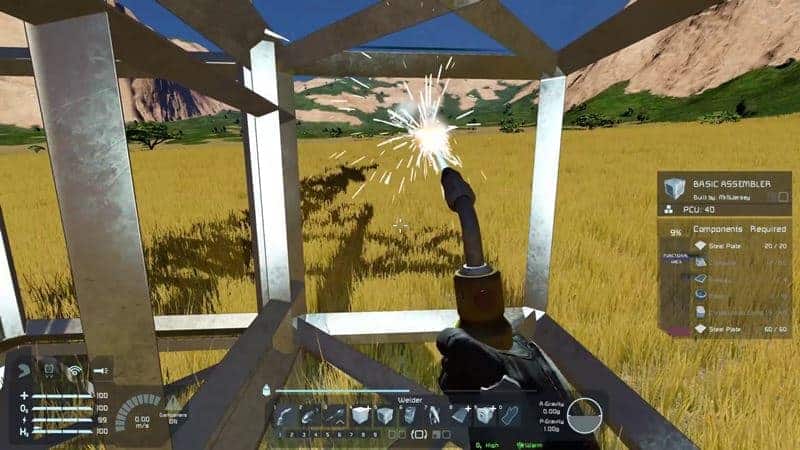 Ever wondered what crafting in space felt like – me neither. Space Engineers is providing you a once-in-a-lifetime opportunity to build and construct the different objects in space as you see fit – no need to get expensive degrees and credentials from NASA when you can do all that in Space Engineers.
Space Engineers allow gamers to create their own spaceships, vehicles, bases, etc. There are two game modes, survival and creative mode.
The physics engine in this game is superb, enabling gamers to build or destroy almost anything. In some ways, it's a whole different game world where you can enjoy a large degree of freedom for building and progressing.
The multiplayer mode has 16 players per world that work together or fight each other to gain control. The game has an active community that delivers many different mods allowing you to try different spaceships and fly off to other planets.
Developed by Keen Software House, this is one of the most unique games. Suppose you are tired of Minecraft-like clones and want something different that rekindles the spirit that you had when playing Minecraft for the first time. In that case, you should give Space Engineers a try. This game is available on Xbox One and PC.
10. Don't Starve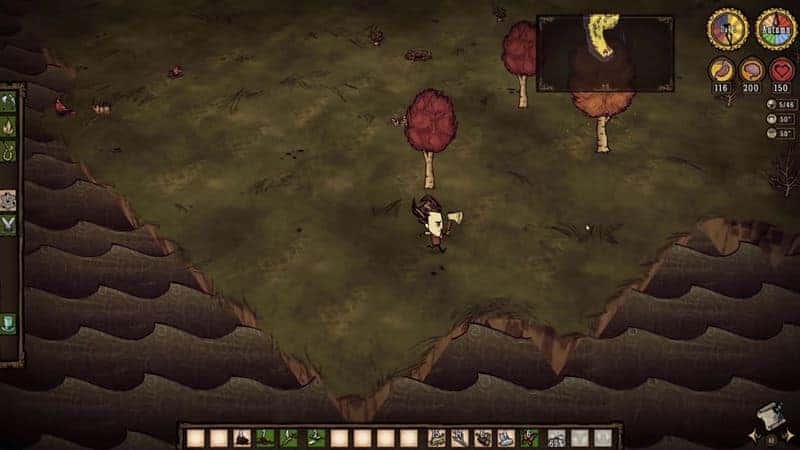 Don't Starve is one of the other unassuming titans of the survival genre, and it has a lot in common with Minecraft, even though it isn't block-based or very soothing (in my experience, at least).
Procedurally created universes? Check. Taking down trees as a first step? Check. In order to avoid becoming hungry during the first few days, are you foraging for different kinds of food? Check. The list continues.
Klei Entertainment is known for producing visually stunning and stylish games that captivate you from the get-go, and Don't Starve is no exception. Don't Starve offers players just as much to explore as Minecraft does.
The universe and its inhabitants, fascinating tools and machines, modes of transportation, wormholes, caves, seasons, odd occurrences, paranormal activities, and more are all covered. In addition, you can play in the same world with your friends in Don't Starve Together, exactly like in Minecraft.
In addition, you can play in the same world with your friends in Don't Starve Together, exactly like in Minecraft. Don't Starve is available on PlayStation 4, PlayStation 3, PlayStation Vita, Xbox One, PC, Linux, Android, and iOS.
11. Starbound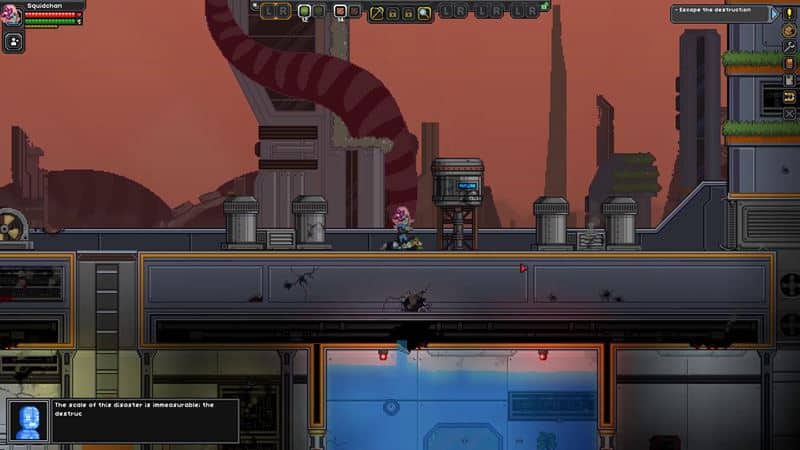 Starbound is to Terraria what Vintage Story is to Minecraft. It's similar enough that you might mistake it for just a fantastic revamp mod, but that would be unfair to the game.
There are many more reasons to play Starbound than any other game because it is jam-packed with fresh stuff. For all the fun there is to be had in Minecraft, Starbound actually offers greater enjoyment.
After a brief introductory mission, you crash-land on an alien planet with nothing but (luckily) a Matter Manipulator, which doubles as all of your tools in a conventional Minecraft-like experience. However, Starbound puts a new spin on things by fusing the classic survival experience with sci-fi.
Starbound never lets up with its barrage of brilliant concepts, usability, inventive environments, monsters, and mechanics from this point on. Additionally, you have a predetermined path to follow, which may be welcome news for all the players out there who are becoming weary of creating their own goals for these kinds of games.
Developed by the team at Chucklefish, Starbound is available on Xbox One, PC, Linux, and macOS.
12. Fortnite: Save the World
Fortnite? Like Minecraft? I know you are thinking I have probably gone insane – but hear me out for a second, will ya?
Don't worry; I'm not bringing up the wildly successful Battle Royale, which is a household name. I'm referring to Fortnite: Save the World's initial release. The cooperative zombie survival shooter was largely forgotten until Fortnite: Battle Royale became a huge success in the gaming world.
Seriously, there are direct comparisons that can be made. It's a survival experience, not by any means a sandbox game, and it includes an absolutely brilliant building and editing system that makes the game much, much more than simply about shooting people in the face. It's also a really excellent way to have some crazy fun with your pals.
It's also a really excellent way to have some crazy fun with your pals. So, what are you waiting for? Grab Fortnite: Save the World on PlayStation 4, Xbox One, PC, and macOS.
13. Dragon Quest Builders 2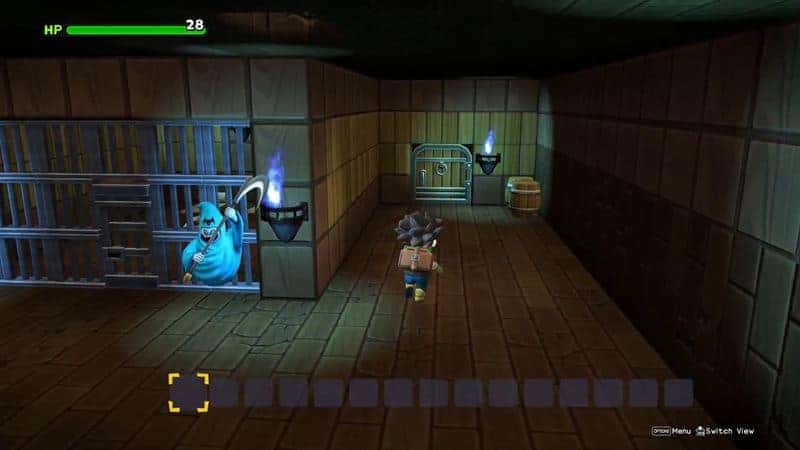 Developed by Square Enix – yea, you read it right, Square Enix used to make block-based games as well before they transitioned into making survival stealth games.
It's obvious that Dragon Quest Builders 2 is a Minecraft offshoot. A campaign driven by a tale full of new characters and shenanigans must be completed in addition to the cube-like builds that demand the most care.
As the game's name suggests, the building is its primary component. So while there are battles similar to the first Dragon Quest Builders, the second game focuses on constructing.
Like Minecraft, this game may be played in countless different ways. Want to build some mud houses for the locals? Yes, you certainly can. Fancy a mansion? No, one's stopping you from doing that as well.
You have a set of chores to complete, but you get complete creative freedom on how you can approach these chores.
Oh, and there's also the free-build area, where you can screw about and construct anything you want.
This Square Enix masterpiece is available on PlayStation 4, Xbox One, Nintendo Switch, and PC and it is a must-play for anyone looking for a unique Minecraft spinoff that provides plenty of fun and joy.
14. Eco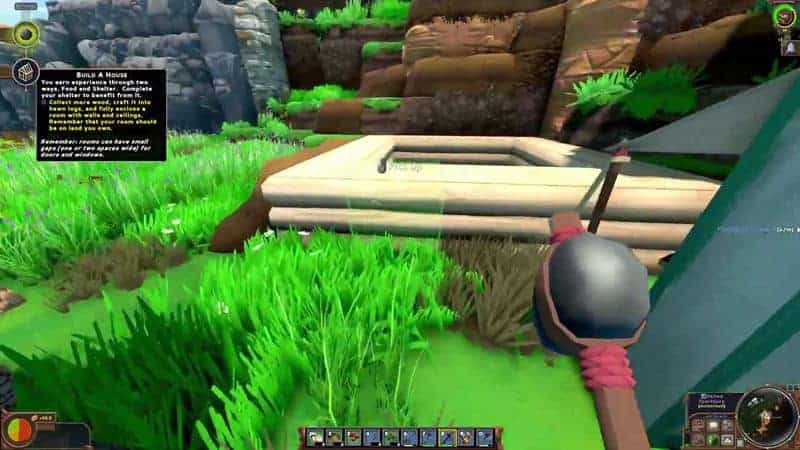 In order to provide something with much more of a focus and a message at its core, Eco is an ecosystem simulator that draws upon the same principles as Minecraft. The point? It can be summed up by saying, "Nature is nice, and we should conserve it."
Similar to Minecraft, Eco has enormous potential as a teaching tool; in fact, before its release, it was awarded a grant from the Institute of Education Sciences to help realize this potential. Schools could use Eco as a teaching tool to teach kids about ecology, the environment, sustainability, and science in general.
Beyond that, it's just a pretty fun game with a fascinating premise. To build a colony that can prevent a meteor from destroying everything you have constructed, you are given a little, vulnerable globe to take care of, use as a resource, and give back to.
It may seem odd to add a clock to a sandbox game in this fashion, but it is a masterstroke that gives players a constant objective to strive for.
Developed by Strange Loop Games, you can play this realistic take on Minecraft on PC and Linux. Eco is currently not available on any consoles.
15. Cube World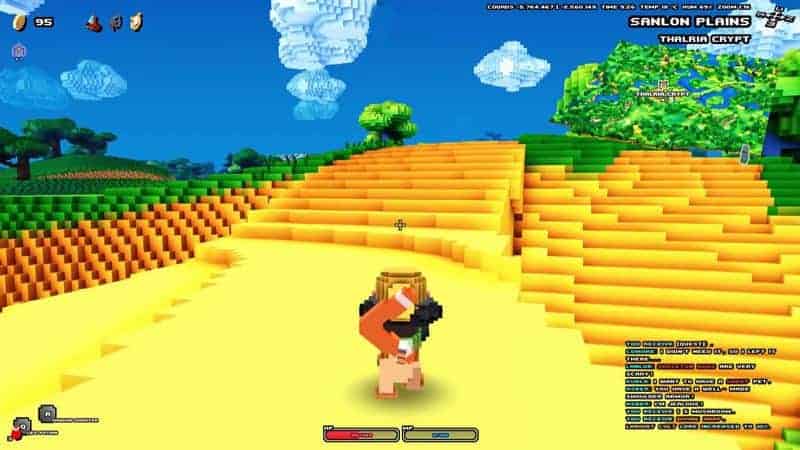 Cube World was the first Minecraft-like game that took a shine to the masses? The game debuted in the early 2010s; no wonder why you don't know what it is.
Cube World, which offers a unique but equally stunning take on the blocky-world-generation idea, varies from Minecraft in that it emphasizes action-adventure RPG gameplay over survival.
Classes, magic, character growth, foes that drop glittery loot, quests from locals, and a tonne of other things to do are all available.
Cube World will consume hours of your day. Before you even realize the days will turn into nights and nights into sunshine, making you wonder what's really happened here. If you are looking for an action-packed Minecraft lookalike, Cube World is the game for you.
16. Vintage Story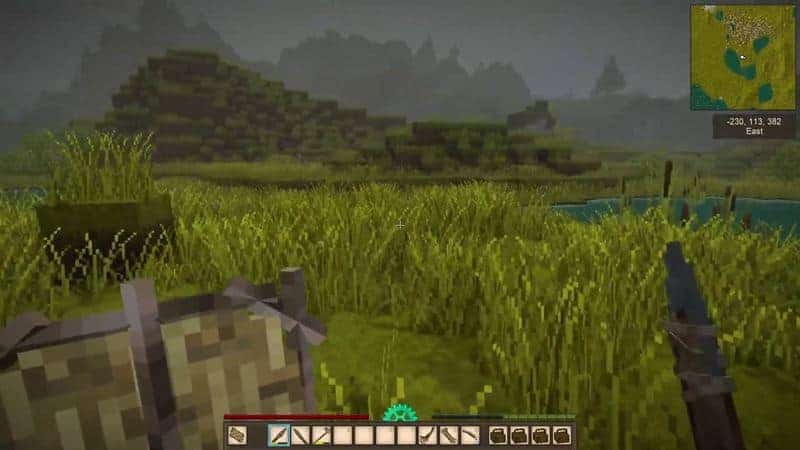 Vintage Story is the best option if all you truly want is more Minecraft but from a different game. If you're into Minecraft modding, you've probably heard of the conversion mod Vintagecraft, which revamped the vanilla world generation in order to give each world more personality and color.
It turns out that the developers of Vintagecraft decided to start over with a new game called Vintage Story rather than try to improve it inside the constraints of Minecraft.
Vintage Story, which is still in Early Access, takes pride in offering a rich environment that Minecraft players will recognize right away and in its simplicity for customizing and modifying.
The entire thing has the feel of a really ambitious Minecraft mod. Still, it goes far enough with additional animations, environment generation, and other features to be considered a game in its own right. So if you're looking for Minecraft with more things to do, Vintage Story is one you should definitely check out.
If you fancy playing a Minecraft-like game, look no further than Vintage Story. Developed by Anego Studios, Vintage Story is available on PC and Linux.
17. Factorio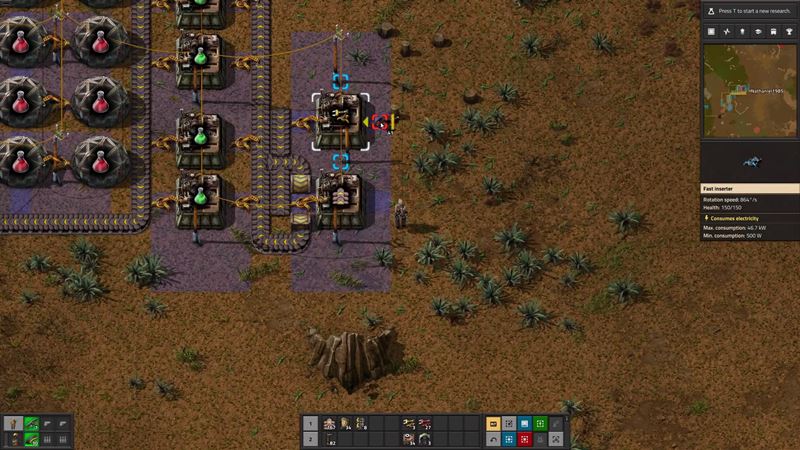 Okay, calling Factorio "blocky" may be a stretch – it's more tile-based than blocky. But when it comes to fulfilling other Minecraft criteria, Factorio gets it spot on.
This is a fairly complicated game, similar to Oxygen Not Included, which can scare off people who avoid stuff like Redstone in Minecraft. But being the second-highest-rated game of all time on Steam is not something you achieve by accident.
Since Factorio is more than just a builder, it is actually my favorite game on this list. This game encourages you to think creatively, which is something I really enjoy doing.
Why the stern language? Due to the ongoing natural urge towards automation and efficiency of your production, Factorio not only offers an utterly unmatched sense of progression, but it's also a really soothing experience.
Although there are opponents in the shape of the native inhabitants – who don't like you and even worse can get a little out of hand when you pollute their planet. Factorio differs from other building games with its bit more relaxed approach.
The game actually doesn't place any roadblocks in your path; aside from the occasional biter attack, you're free to merely expand, explore, and advance. There's actually a pretty good chance that Factorio will become one of your favorite games ever if you've ever enjoyed using Redstone in Minecraft.
So, if you fancy an action-packed game that is similar to Minecraft, give Factorio a chance. This game is available on PC, Nintendo Switch, macOS, and Linux.
18. Moonglow Bay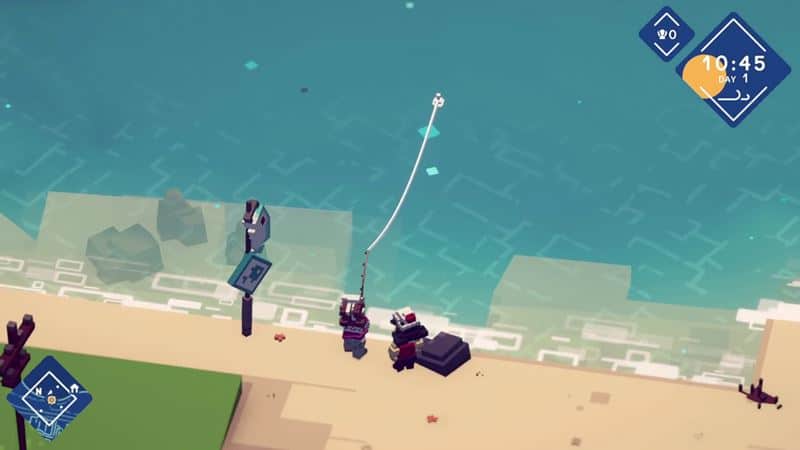 Moonglow Bay is everything Minecraft could have been – had it had a story and a narrative. The blocky style and the pixelated graphics of Moonglow Bay will quickly remind you of Minecraft – and don't get me started on the splendid world.
The world of Moonglow Bay is much more diverse and sophisticated compared to Minecraft. You will get to meet new characters, explore the open waters, and keep the fishing business afloat – all in a bid to fulfill the wish of your partner.
There is a clear direction to follow in Moonglow Bay; however, the game never locks you into doing something that you don't like. It is a great alternative to the open-ended vastness of Minecraft – which, admittedly, can get dull when the creative juices are not flowing through your veins.
If you like the survival aspect of Minecraft, you will get that in abundance with Moonglow Bay. Not only do you need to fend for yourself – there are tons of boss fights to be had which keep the game challenging and refreshing.
Moonglow Bay is a lot of fun, and unlike other building and survival games, you get to connect with the game character making each action meaningful. Developed by Bunnyhug – which has to be one of the best names for a developer, Moonglow Bay is available on Xbox Series S and X, Xbox One, and PC.
19. Valheim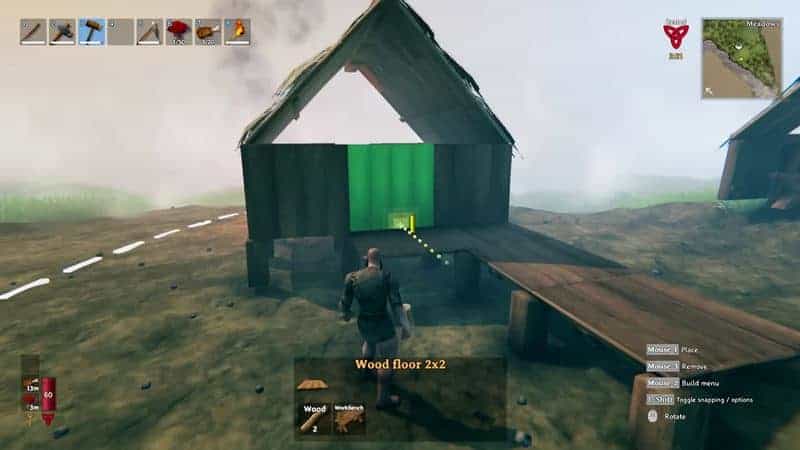 I digress; Valheim looks nothing like Minecraft – at least from the graphics and art style. However, suppose peak survival instincts and creativity are what you are after. In that case, it's time to head to purgatory – the procedurally generated world of Valheim.
Don't get carried away by the procedurally generated world – this world is anything but boring. Valheim is inspired by the Viking lore – before you ask! Yes, you do get to wear the longhorn hats.
If you like surviving and thriving, no game does it better than Valheim. The monsters you will come across in Valheim are a lot more challenging than the creepers or skeletons you will come across in Minecraft – don't take my word for it; experience it for yourself.
Valheim works wonders in a cooperative setting. Take your buddy for the ride, and along your way, take down monsters, hunt for survival, and forge new alliances – personally, I find the multiplayer experience in Valheim to be a lot better than Minecraft, but hey, that's just my two cents.
So, are you ready to build a kingdom worthy of Odin himself? Developed by the Indie developers Iron Gate Studio, Valheim is published and released by Coffee Stain Publishing. Valheim is currently available on PC, with a planned rollout on Xbox One and Xbox Series S and X in 2023.
20. Teardown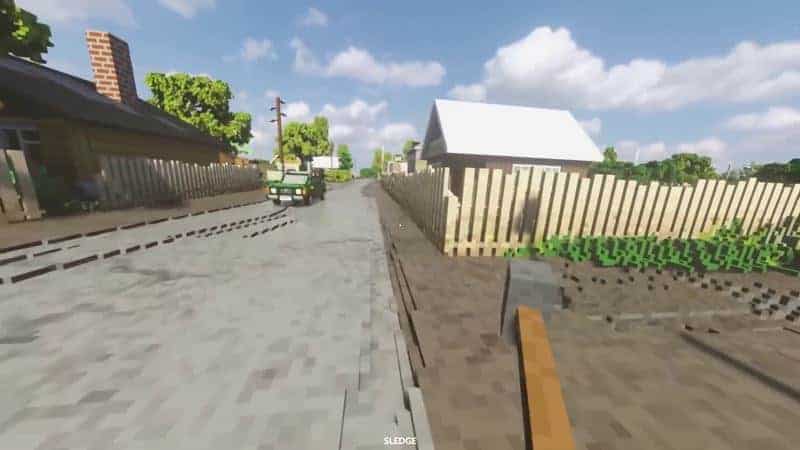 Building in Minecraft is very fun, but it can get kind of repetitive – I mean, who loves mining the same resource over and over, right? Well, Teardown is the exact opposite of Minecraft – rather than building, this game is all about destruction.
In Teardown, you get to complete heists in predesigned levels with a bit of puzzle-solving and a heavy dose of destruction. Unlike Minecraft, which provides an open sandbox environment, Teardown restricts you to a confined play area.
It is a different type of experience than Minecraft – but I will argue, a heck of a lot more fun. If you still want to rekindle the Minecraft building spirit, this game gives the option to design levels. Watching your friends struggle as they fail to solve the simplest of puzzles is very fun indeed.
If you fancy a challenge, swing into levels created by other players. Either way – whether you are destroying everything in your way or designing levels for others to take a bite at, this game is extremely fun and addicting.
Developed by Tuxedo Labs – an Indie Studio, Teardown is available on PC only. It is available through the Steam Store. So what are you waiting for? Add this game to your cart right away.
21. Lego Worlds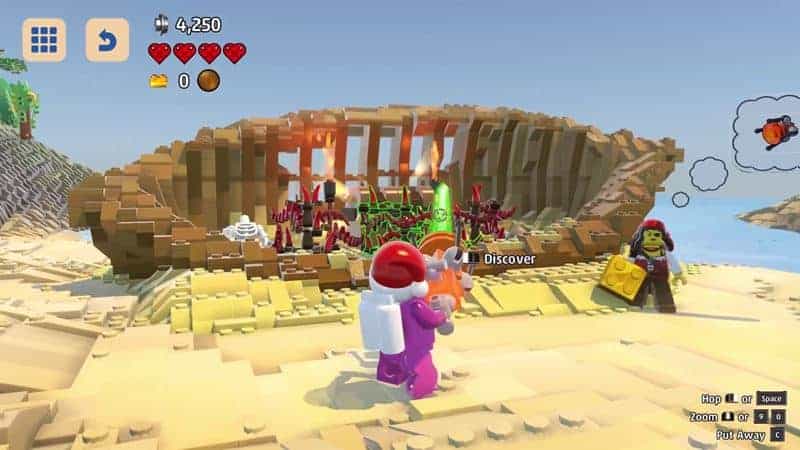 Who doesn't love a bit of Lego in their lives? Lego is the OG building game that never gained any popularity outside the blocks we bought as kids. Admittedly, all our Lego was collecting dust somewhere in the closet.
If you want to relive some of the happiest memories of collecting Lego bricks, then Traveller's Tales Lego Worlds brings you all of that – and more.
This game brings you all the joys of Lego in a digital game. In Lego Worlds, you not only build your universe with insane structures but are also engaged in helping out NPCs and discovering treasures.
Just like the original Lego – Lego Worlds include multiple categories. You can play in a wild west setting or head out to Egypt for some pyramid sightseeing. Lego Worlds is an extremely relaxing experience, just like the original.
If you fancy some Lego for yourself, then get Lego Worlds on PS4, Xbox One, Nintendo Switch, and PC.
22. Staxel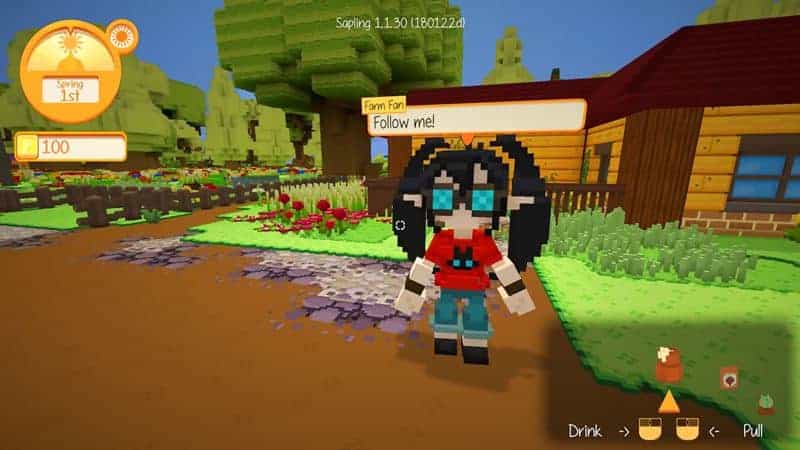 There is a certain charm in the distinct style of Minecraft – pixelated graphic style and everything being made in proportional cube-size boxes. If that is what you are looking for, say Hello to the village sim – Staxel.
Staxel is a village simulator, so there is a lot more going on than Minecraft. However, the gameplay loop is very much the same – eerily similar, as a matter of fact.
You start in the beat-up old farm and turn the place around by collecting, crafting, and doing all of that boring stuff you have now become accustomed to. In your bid to make the farm beautiful and functional, you will meet a lot of new friends and enjoy the company of your fluffy companions.
Staxel is very addicting – just like Minecraft, you will be loading your save file just to admire your new structure. The world we live in is fast, and it can be tiring – but hey, at least Staxel gives us the opportunity to experience the simple village lifestyle.
Plukit, the Indie Studio behind Staxel, has made a hell of a game. If you want to experience Staxel for yourself, don't forget to add it to your wishlist on PC or Mac.
23. Trove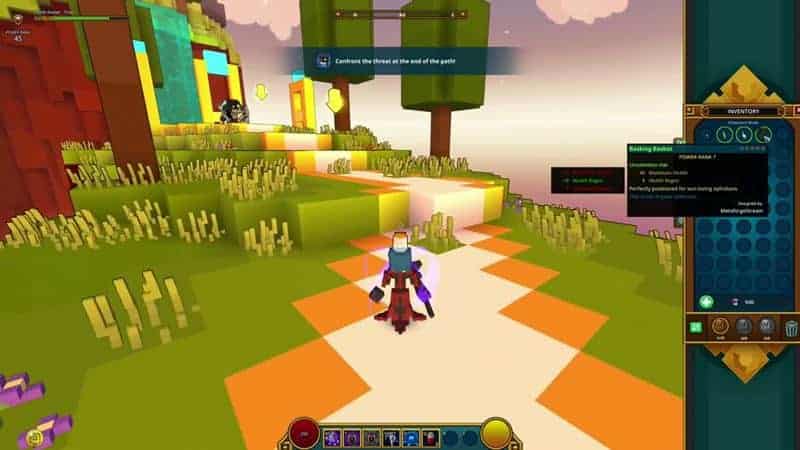 Trove is what would be the result if you put Minecraft and World of WarCraft into a blender and mixed them up. Trove has many sandbox elements as Minecraft, but it combines them with a complex layer of MMO goodness.
The graphical design and level design of Trove has a very close resemblance to Minecraft – had it not been for the weaponry, it would have been hard for me to differentiate the two.
However, where this game differentiates itself from Minecraft is in the gameplay. If you are tired of the same never-ending loop of Minecraft – this game is a wacky MMO that lets you shoot and loot.
The game has multiple classes to choose from – if you ever wish to be a knight, you can do that here. Armed with all sorts of weaponry, you and your friends will ride into epic battles. The enemies get an upgrade – you are no longer looking at the likes of creepers in Trove. This game has much tougher fights which get more and more difficult as you progress further into the game.
The one thing I am not so keen on is the microtransactions that rear their ugly head as you advance into the game – it ruins the otherwise excellent game.
If you want a game that plays differently than Minecraft without sacrificing the pixelated graphics, then Trove is the game for you. The genius minds at Trion Worlds have developed.
Trove is available on PS4, Xbox One, Nintendo Switch, PC, and Mac.
24. Colony Survival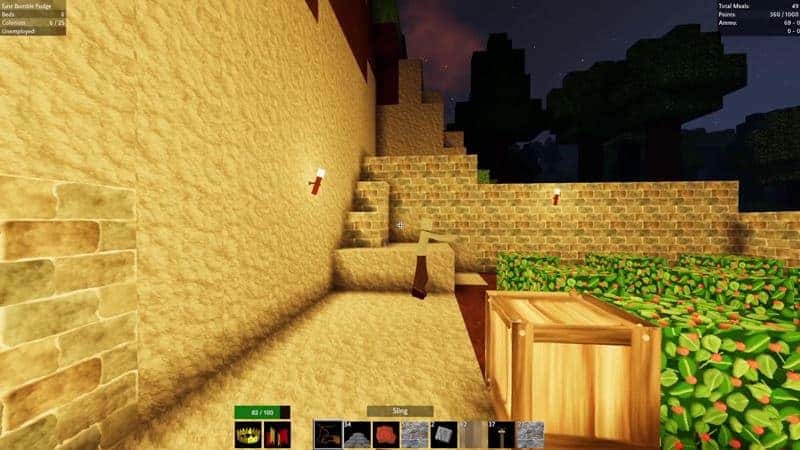 This game plays out exactly as it sounds – you build a colony in order to survive. The gameplay loop of colony survival is very similar to Minecraft.
You mine resources, build yourself a nice little structure only to destroy it because of that one brick that won't just align properly – does it only happen with me?
Jokes aside, Colony Survival has a tad more depth than Minecraft. What you build is more meaningful because your survival depends on it.
If you are looking for a high-stakes game that plays out like Minecraft, then might I suggest you try Colony Survival. This game is developed by Pipliz, and it is available on PC, Linux, and macOS.
25. Craft The World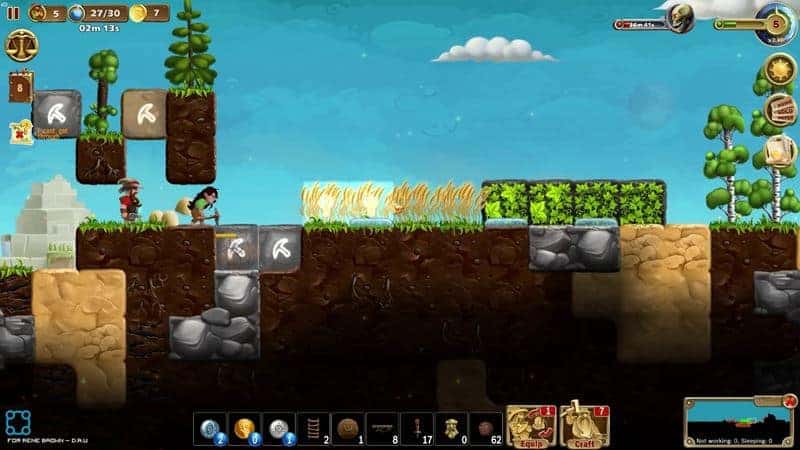 Have you ever imagined what it might be like to rule a dwarven civilization? With a group of dwarven inhabitants, players can take up the role of God in Craft The World, sending them on missions to battle, explore, and gather resources for the society.
The 2D sandbox game is rather expansive and huge. Players can customize the dwarves' dwelling in a variety of ways. Creating unique settlements will pique the curiosity of other beings. Other monsters will pay a visit as the dwarven camp expands – not always with good intentions.
These invaders can be dealt with in a variety of ways, such as either attacking them or attempting to forge a shaky alliance. However, players are ultimately responsible for leading the dwarves and defending their dwellings.
Oh, and did I also mention that gamers can become gods? Players have access to a wide variety of powers to aid their flock because they are "divine beings." Despite having a somewhat different aesthetic from Minecraft, Craft The World is just as powerful in terms of its crafting engine and open-ended gameplay.
Developed by Devokir Entertainment, Craft The World is available on a limited number of platforms. The supported platforms include PC, macOS, Android, and iOS.
26. Ooblets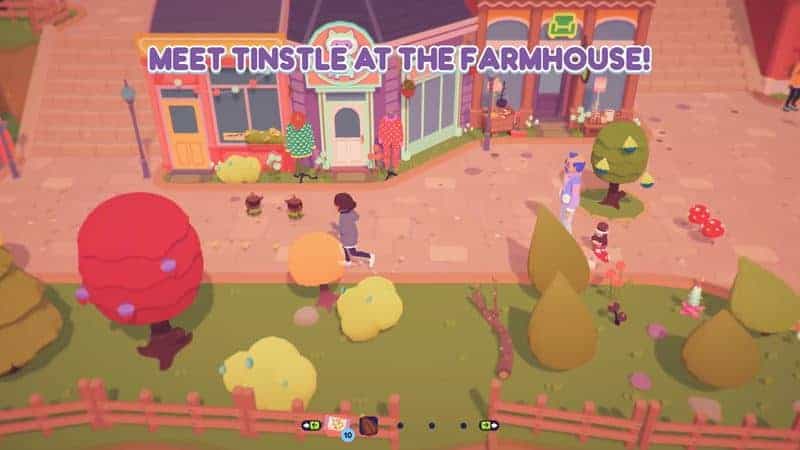 Players may be drawn to "Ooblets" by its adorable cast of creatures (or Ooblets), but Minecraft aficionados will find it to be a good fit thanks to its customization options and emphasis on managing and expanding a farm.
The building tool in the game has very deep customization options. Additionally, some lovely Ooblets engage in some sweet dance-offs, and who doesn't enjoy a dance-off?
In addition to raising Ooblets on the farm, users can interact with locals and take part in daily challenges to acquire new seeds and tools. Ooblets that you raise have a tremendous amount of charm, which is enough to pull in many players, more than any of its other aspects.
Like a few other games on this list, Ooblets is currently in early access, but it gets regular updates. Its creator Glumberland studio interacts with players, teasing more exciting news to come as the game gets closer to its official release. You can get your hands on Ooblets on Xbox One, Nintendo Switch, and PC.
27. Rust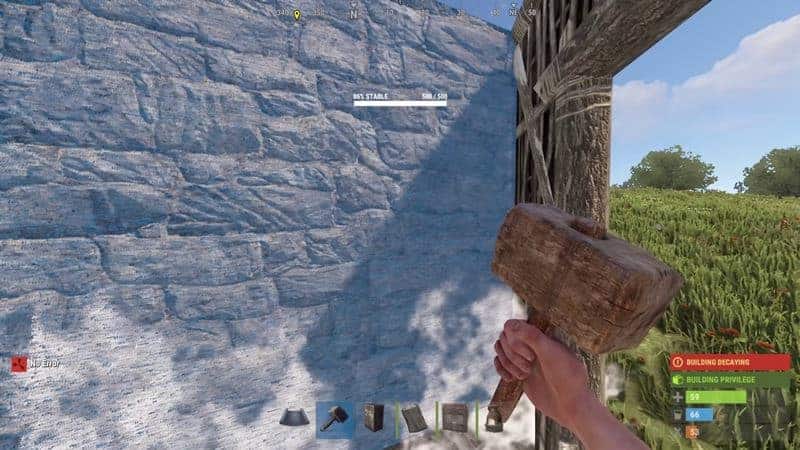 Minecraft is a great survival crafting game; however, at times, it can feel a bit too uninspiring. If you want to up the ante, Rust is a hardcore realistic survival game that will keep you on your toes and glued to the monitor screen.
Rust has a simple formula. You play as a survivor placed on an abandoned Island with multiple other players. You start with a rock and have to scavenge and build for survival against the different wild animals roaming the island and other players.
The feeling that a player can take away all your loot adds a new dimension to the gameplay and keeps you alert at all times. As a result, in Rust, each encounter is faced methodically rather than aimlessly mashing the attack button until the enemy dies.
If playing a survival crafting game that blends realistic gameplay mechanics sounds fun, check out Rust. Developed by Facepunch Studios, Rust is available on PlayStation 4, Xbox One, PC, Linux, and macOS.
28. Sims 4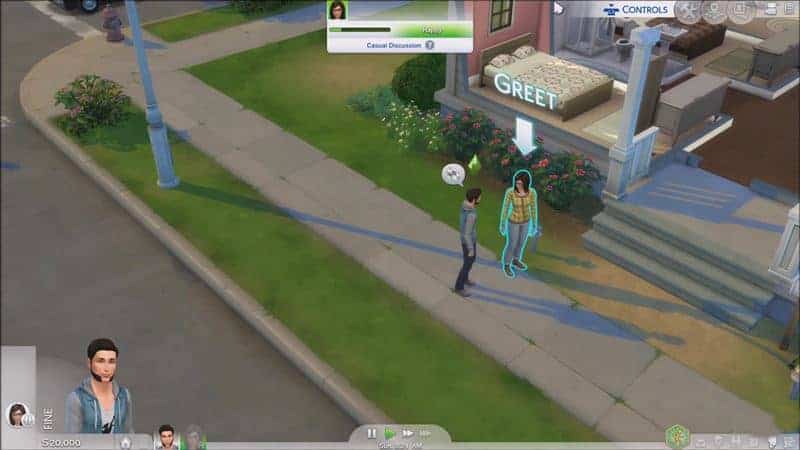 The Sims" is a well-known franchise among gamers who like to construct objects and investigate social dynamics. It plays similarly to Minecraft but in a more social setting.
The most recent game in the series merely enhances the concept already used in earlier games. Even though we shouldn't have been allowed to play The Sims' as kids, many of us – including me, spent our years being influenced by SimNation's life.
The Sims 4 offers better aesthetics with a highly vast selection of building equipment and accessories to choose from. Players are free to interact with the surrounding however they live. The Sims 4 gives complete creative freedom to the player.
Creating grandiose neighborhoods or a ghetto from scratch is entirely up to you. This game allows users to fabricate social drama, which can be quite entertaining and fun when it unfolds.
Every gamer should try Sims 4 once in his lifetime. Developed by EA; the game is available on PlayStation 4, Xbox One, macOS, and PC.
29. New World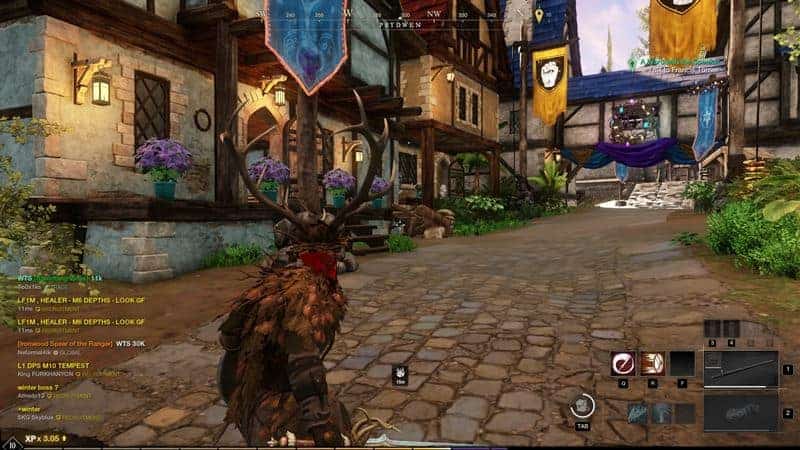 The first game created by Amazon's games, New World, is an MMORPG with survival mechanics. The game has you crafting bows, arrows, shelter, and other gear to survive the harsh expeditions and fend off the enemies.
New World had had a shaky start and encountered issues at launch. The servers always seemed to be affected by long queues to get into the game. Other issues included bugs. However, the developers have not only fixed these issues but also injected the game with some new life by releasing value-packed content updates.
New World is the ideal choice for gamers seeking a challenging, narrowly focused survival game. New World still has some DNA in common with Minecraft, despite some warning hints that it's not for casual gamers, giving it a pleasant challenge for anyone looking to advance in survival and crafting games.
The game's MMO characteristics make survival and crafting even more fun and rewarding. Currently, New World is only available on PC. So, console players will need to miss out of the fun, but if you are on PC, this game is a must-play.
30. Fallout 4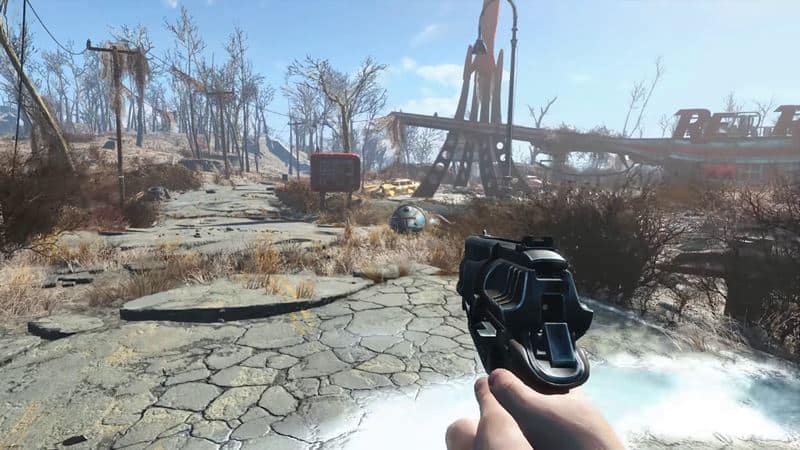 If Minecraft is a kid, Fallout 4 is the matured version of the kid hitting puberty. Fallout 4 may not seem comparable to Minecraft, but its intricate building mechanism makes it similar.
Players can start creating towns for stragglers across the waste after a certain point in their post-apocalyptic journey through the wasteland. Even though the building isn't required to complete the game, individuals who enjoy producing and creating things will find it to be a lot of fun.
Players can assemble various defense mechanisms, luxury items, and ornamental components for their communities using materials they find on their excursions, which will make life in the wasteland a little more tolerable. In addition, DLC for Fallout 4 offers extra recipes for aficionados of building and crafting.
If you want to experience and survive in a post-apocalyptic world, Fallout 4 is for you. Developed by Bethesda Studio, Fallout 4 is available on PlayStation 5, PlayStation 4, Xbox Series S and X, and PC.
31. The Flame in the Flood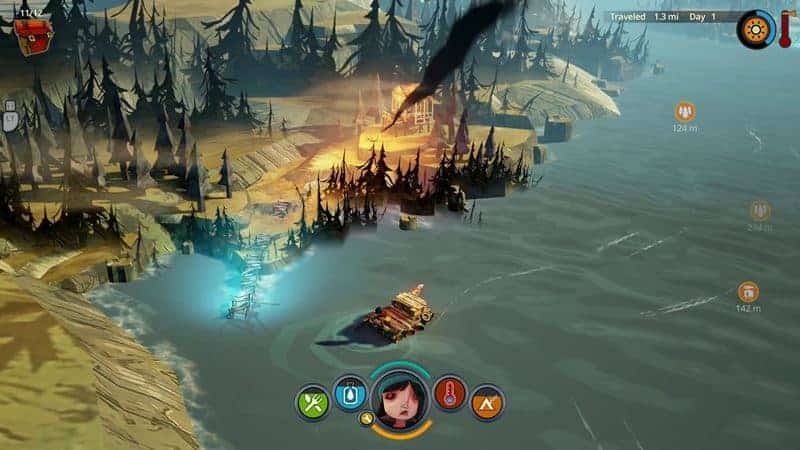 Playing Minecraft alone can be isolating, especially if you don't have any friends to construct with. Similar feelings of isolation are present in The Flame in the Flood, but you can look past it because this game offers ferocious gameplay and an upbeat outlook that will keep you immersed.
Players control an anonymous protagonist in The Flame in the Flood who must navigate a river on a hacked-together raft in order to seek safety and community.
The trek is challenging, full of disease, exposure, deadly snakes, and wild creatures. However, there are also heartfelt moments in which the protagonist bonds with their dog.
Flame in the Flood features a conclusive storyline, which will be preferable for players who live a linear story-driven experience. However, the game does not hold the players' hands. So, they are free to explore the post-apocalyptic environment in a bid to find their new home and learn new recipes for food, tools, and shelter.
If fending off sea enemies sounds fun, The Flame in the Flood is a must-play. Developed by The Molasses Flood studio, this game is available on PlayStation 4, Xbox One, Nintendo Switch, macOS, and PC.
Related Guides
Check out some of our related Minecraft guides.
Check out some of the other related gaming guides.
Final Thoughts
These are some of the games that play out like Minecraft. I didn't want to include any blatant clones of Minecraft because they tend to make the experience worse. However, genuinely interesting games that play out like Minecraft but have their own spin on building stuff are very exciting to play.
All the 31 games that I have mentioned will reignite the passion that you have for Minecraft. However, if you feel I have missed any other excellent Minecraft-like game, let me know in the comment section.