With so much rapid advancement in gaming over the past few years, many older classics have become obsolete. People who grew up playing classic Nintendo games would not even recognize them nowadays. Modern gaming consoles have way too much power, efficiency, quality, and superior graphics as compared to older games.
However, older games, especially the classic Nintendo games, are still quite fun to play, even though they are not that readily available. When it comes to classic games, you will be quite surprised that the games are still available in the market. However, they are not compatible with modern gaming consoles, so you will have to find a different way to play them.
One of the best ways to get the old gaming experience back without having to search for an outdated console is to get the best SNES emulator for Windows 10, Android and macOS. This will help you play your favorite games while using the superior graphics of your laptop. You do not even have to install the entire gaming setup as it connects easily to your laptop and allows you to play classic games that you may have been fond of in your childhood.
9 Best SNES Emulator for 2023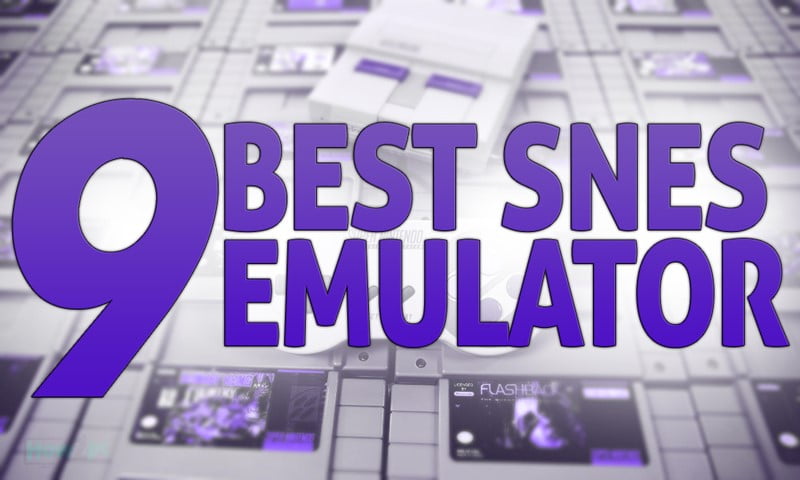 When it comes to the best SENS emulator, there are a few things that you should keep in mind. This usually has to do with the different features and the range of games that it supports, as well as its compatibility with different systems. Below are the 9 best SNES emulator for Windows 10.
1. SNES9X
This is one of the best SNES emulators available and has been around for quite some time. The fact that it is still being maintained and in use shows how reliable it is. This emulators supports most game titles and can play all Nintendo games. With extra features and hacks, it is one of the most reliable emulators available. The only catch is that you have to install it via the Direct X platform and it can't be downloaded directly. However, once you have it installed, you can use it without having to worry about additional load on your PC or android device. It is highly versatile and can be used with many android devices as well as Apple mac OS. If you are looking for an emulator that is reliable and has high performance, then this should be your first choice.
2. BizHawk
When it comes to playing your favorite games, one of the most important things to keep in mind is the smooth running of the software. With the BizHawk emulator, you can play games in fast mode, without losing the original experience. It is quite popular because of its ability to run many different platforms such as Nintendo as well as PlayStation. This makes it quite popular amongst gamers as it is easy to adjust with many systems.
3. RetroArch
If you are looking for a powerful emulator that can run on a wide range of different platforms without compromising any gaming features, then RetroArch should certainly be on your list. It uses a few libretro cores to run the games and supports a wide range of different platforms as well. Advanced features include netplay, rewinding, and the ability to upload your games to streaming sites such as Twitch and YouTube. If you are looking for an emulator with all the latest features and more controls, then this is just what you need.
4. Canoe
This is one of the most efficient Emulators available nowadays. It may not have all the advanced features as other emulators, but it does not drain the system either. You will not notice any extra strain on your system when using Canoe as it is an efficient emulator. The catch is that you have to use it along with the SENS classic edition and it cannot be downloaded separately. However, it still provides a great gaming experience and you can use it legally for most games. If you need a fast, easy option that dos not drain the power or slow down your system, then Canoe is a great choice.
5. ZSNES
Most people are looking to use their emulators on a PC, so you should look for one that is optimized to work on a PC. The ZSNES emulator is perfect for older systems as it can be modified quite easily. Consider the fact that many gamers use it along with another emulator, mainly due to the fact that it contains more hacks than the average emulator.
6. OpenEmu
While most emulators are optimized to work on Windows, the OpenEmu emulator works perfectly on Apple OS. It supports many of the best classic games and has advanced graphics quality. It contains many advanced features and integrates well with the Mac OS system. While it does require more cores to play games, it provides one of the best gaming experiences.
7. Higan
Higan is certainly a unique emulator as it can run on 14 different platforms and provides a smooth gaming experience. It is designed to be as accurate as possible when simulating the original console games, and does not put strain on the system either. It can run nearly all SNES and is the best SNES emulator for Windows 10. When it comes to accuracy, Higan is certainly the best option.
8. Virtual Consoles
Virtual Consoles has released their latest emulator that is capable of playing on most platforms. It is quite simple and easy to download this emulator and it supports a wide range of different classic games. This is one of the few emulators that is supported on android devices as well.
9. Nestopia UE
When it comes to finding an emulator that runs smoothly and does not have any glitches, then this is what you need. Nestopia UE is an emulator that has many advanced in-gaming features that match the best emulators in the market, even though the development has been stopped for the past few years. However, you can still download it and enjoy all the advanced features.