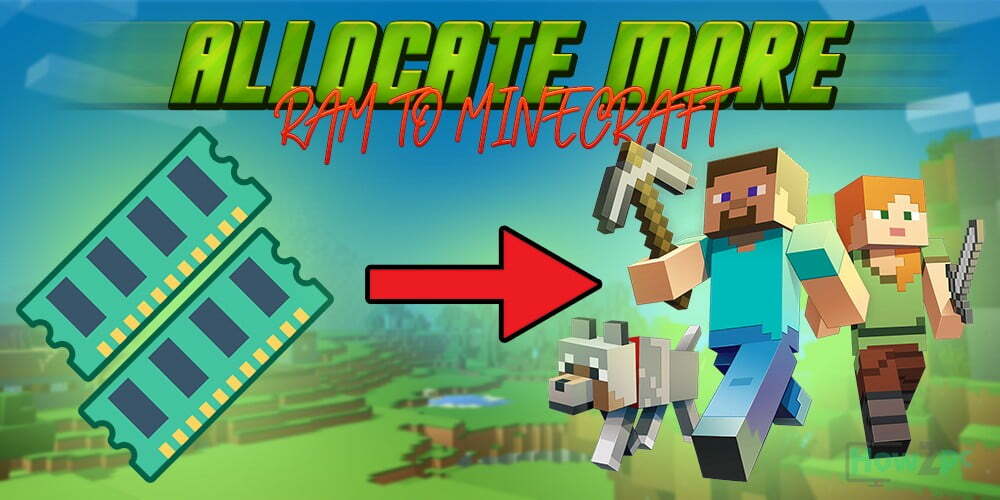 Video games are very famous among Millennials and Gen Z, and Minecraft is one of them. It is available from Android to pc. Minecraft uses up to 2GB of Ram when installed. When you wish to have the best gaming experience, and you download Mod packs, you will need more memory to enjoy playing without lagging. As the mod packs require more memory to run efficiently, then 2GB ram will not be enough. You might be thinking, How to Allocate more Ram to Minecraft? If its Yes, then you are at the right platform, we will share a complete guide on how to add more ram to Minecraft. And you will be astonished that there are multiple ways, which we are going to share with you.
How to Allocate more Ram to Minecraft?
There are various launchers to allocate more memory. Each has little different steps to assign more Ram, but that will not be difficult for you after reading this complete guide.
Available Ram of the System
First, make sure your system has enough Ram available, and you can check it in the most straightforward steps.
Go to the search bar of the windows toolbar.
Search system information.
Click on system information to open it, and check the available physical memory.
Main Launchers
Make sure, and you have the Java version of 8 64 bit. If you don't have it, download it. The latest version of Minecraft will be handy while applying launchers to allocate more Ram.
Main Launchers which I will be discussing are listed below: –
Now, I will be considering all the launchers, which help allocate extra memory one by one.
Minecraft Launcher
Starting from Minecraft Launcher.
The first step is to open your game and search for the installation tab.
On the right side of the version, there are three dots.
Click three dots and press edit.
Navigate through the drop-down menu and search JVM ARGUMENTS.
It can be seen something like "-Xmx2G -XX:+UnlockExperimentalVMOptions".
Your primary focus should be on the keyword "-Xmx2G". Here 2G represents the 2Gb Ram.
You have to change 2G as per your requirements. For Example, you want to allocate 6Gb Ram, and you can do it by replacing 2G with 6G like this "-Xmx6G".
Click on the Save button, and you have done it.
Make sure your system has enough Ram.
Twitch Launcher
Twitch Launcher is a desktop app.
Firstly, open the app and press the settings tab.
In the settings tab, you will see the Minecraft tab. Click on it.
After opening the Minecraft label, press on Java version settings.
Allocated Memory options will pop-up. It's like a slider.
You can pull the slider to adjust the memory.
Generally, 4Gb memory allocation is suitable.
Technic Launcher
Firstly, open the Technic Launcher.
Go to the launcher settings, and you will see four options after pressing launcher settings.
You have to click on the Java settings
Now, you are good to change memory as per your requirement.
FTB Launcher
Open FTB launcher, and to the right side, click on the Options.
Find RAM Maximum (MB).
Dragging the slider under RAM Maximum (MB) tab will change the memory.
Void Launcher
Open the void launcher, and at the up right-click on
Search for Minecraft tab options and click on memory option to change the memory allocation.
Once you have changed the memory, you are ready to run the Minecraft.
AT Launcher
First of all, open it and click on the Settings at the bottom right side of the launcher.
The next step is to go to Java or Minecraft tab.
Press the Maximum memory, and you can alter the amount of memory.
Once you complete the memory allocation, click on the Save button.
Now, you have completed all steps and ready to run the game.
Conclusion
Want to feel the best gaming experience, but you are facing problems in allocating extra Ram, and the game is lagging. You should follow all the guidelines given in the above guide.
Make sure to visit how2pc again and share it with others if you find this article helpful.