Kodi is something that has made an entry in everyone's visual life and has changed the game on how the video content is accessed and shared. If you're someone who likes to enjoy and access a whole range of videos on almost any device in the world, then Kodi 18.5 is something that you should know about.
In this article, we'll take a look at:
What is Kodi?
Kodi is an open-source software media center. It aids you in accessing all sorts of data such as videos and music which is available online. But there are a lot of such tools already available online that let you stream the data anytime you want, so what is so different about Kodi 18.5?
The answer is simple: The new version has subtitle and playback fixed, it supports archives over UPnP and now it is offering better EPG data storage. Another major change for Kodi 18.5 is that the new update has fixed the GUI and Estuary information such as icon names, scrollbar behavior, and label changes. Now, it even offers support for artist slideshow in 2.x and 3.x speed.
What is the basic function of Kodi?
You can literally play the audio and video data wherever you want, on whichever device you want to play it on. It includes Television sets, laptops, phones and even on your Raspberry Pi. Oh, and if you're wondering, you can also play it on your car stereo system using Bluetooth. Life just seems easier now, doesn't it?
It was launched in 2002 as the Xbox Media Player. Just a year later, its name was changed to Xbox Media Center. Many years later in 2014, its name was changed to Kodi. Even though the name has been changed multiple times, the purpose of its existence remains which is to get access to streaming media content and offering a way to hoard on the information in a safe space. The best part about Kodi is that it can operate on almost any device possible. All the operating systems in the world use Kodi, which makes it just more convenient.
How does Kodi work?
Let me start to explain what Kodi in a simple way. So you understand that there is content that is readily available online, and then there is some content that we can save on our devices. Some of the content is in audio format, while some other is in video format.
Kodi has its own user interface that works with your networks, be it local or external— and play that content for you. If you want to improve your user experience, even more, you can use third-party apps as well. We wouldn't advise that though, but since every good thing comes with a price— third party add-ons don't sound so bad, do they?
If you're wondering, that's fine but what kind of audio and video can Kodi play? Well, it can play almost every format of audio there is, and more. It can play AAC, MP3, and OGG. You can even create your own playlists with different tracks that you like.
Not only that, but it can also play video content of all possible formats there are. These include ISO, 3D, and H.264. As a cherry on top, it can literally import the movies and content from the internet as well and even stream music directly from other streaming portals as well. It can even add posters, trailers and fan art directly on to the file as well.
We all know the frustration of missing out on a game, or a tv show that only comes on at a particular time. You can save and view your TV shows very easily with Kodi. Many people like to see a slideshow of their images on their television sets, Kodi also lets you do that. Even though Kodi does let you record and live stream the content, if you want to record the content you need some sort of external services such as MediaPortal, Myth Tv, and Next PVR.
How to Update Kodi 18.5 on Firestick?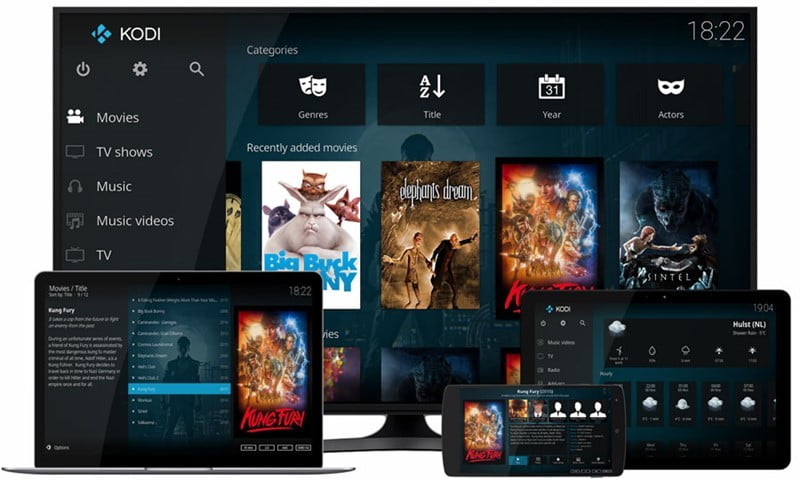 Before you go ahead and update Kodi 18.5 on Firestick, it is important that you make sure that your add-ons are completely compatible with the updated version. Additionally, before you update the Kodi 18.5, you need to allow apps from unknown sources to be downloaded into your computer by manually going to your setting and turning the toggle to blue by clicking on it.
It is also necessary to make sure to protect yourself with VPN while you're using Kodi for privacy and security reasons.
If you are looking to update Kodi 18.5 on firestick, you need to follow the following steps.
Step 1: Visit the Home Screen of Firestick.
Step 2: Scroll through the settings option on the main menu.
Step 3: Click on the 'Applications' option, available at the 4th right corner of the screen.
Step 4: A sidebar pop-up menu will appear. Scroll through and click on 'Managed Installed Applications' option.
Step 5: A vertical list of installed programs will appear. Scroll through and hang over the 'Kodi' option. You will be able to see the version which is currently installed.
Step 6: Click on Back key. This will lead you to the main Firestick homepage
Step 7: Scroll through and hang at 'Settings' option
Step 8: Click on 'My Fire TV' and then simply click on 'Developer Options' which will appear in the pop-up side menu
Step 9: Click on the option 'Apps from Unknown Sources' and click on the option to turn it 'on'.
Step 10: Move back to the main home page for the Firestick and scroll through the search bar. Type 'Downloader' and press 'enter'
Step 11: A list of options would appear, but make sure to click only the 'Orange Downloader icon' from the options, and then press 'OK'.
Step 12: Pressing 'OK' will ensure that the downloading process has been started. After a while, you'll get a notification that downloader has been installed.
Step 13: Click on 'Open'
Step 14: Click on 'Allow'
Step 15: A welcome window will appear, Click 'OK'
Step 16: Press OK on remote. It will open the keyboard. Type the address 'firesticktricks.com/kapk' which will lead you to the most latest version for Kodi to download.
Step 17: After typing the address, simply click on 'GO' option. Kodi will start to download
Step 18: After it is downloaded, a message would appear asking to update Kodi. Click on 'Install'
Step 19: Kodi will start updating on your Firestick. Wait for it to be updated before you click done.
Step 20: Launch Kodi directly from Firestick main home page, or scroll through to find it inside the 'Apps and Channels folder'
Step 21: After you launch Kodi, a Kodi Home screen will be displayed.
Congratulations, Your Kodi is updated to the latest version (Kodi 18.5).
List of Supported Remotes for Kodi 18.5
A lot of devices are currently supported by Kodi 18.5. These include Apple TV remotes, MCE remotes, RF remotes,  CEC, game controllers and smartphones. You can even use your existing XBMC remote directly with Kodi 18.5, and there is a chance it will work perfectly. Not only that, you can even use your keyboard to connect with the Kodi 18.5.