The Elder Scrolls V: Skyrim has a special place in the heart of many gamers. I mean, which other game lets you raid dungeons, kill dragons, turn into a werewolf and hunt innocent nordlings and come back to a warm bed, hot tea, and your pet Shiro – yea, I named my dog Shiro.
Skyrim is the embodiment of everything great with the Elder Scrolls franchise. This game has set a new bar for RPGs. Even after a decade of its release, only a few games can come close to the original open-world RPG created by Bethesda.
The world in Skyrim is alive; it is immersive, and you get to live in it, not through it. Skyrim does not hold your hand or spoon-feed directions – come on, you are playing as the former leader of the rebellion; figure your shit out.
Since Skyrim does not place a leash on its players, you are free to roam around and make sure you do because you will get to see a world filled with mesmerizing beauty and mystic landscapes.
I still remember ditching the main quest after being captivated by exploring and casually walking into Liar's Retreat. Sure the enemies were higher level but what ensued next was nothing short of exemplary – yes, I did walk out with a long hammer for anyone asking.
Experiences like these are everywhere in Skyrim, and they are what keep us yearning for this game. If you want these experiences to transform into other games, you will need to play games that replicate the general feel of Skyrim.
Today, we will be looking at 26 such games. So, let's jump right into it.
1. The Witcher 3: Wild Hunt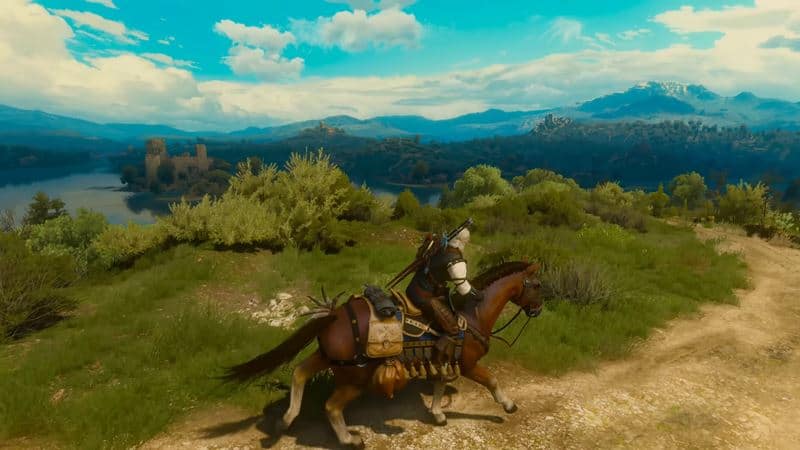 The tale of the White Wolf tasks us through an epic medieval landscape riffed with greed and war looming kingdoms that want to take control of the Northern realm. The backdrop of Witcher 3 and Skyrim is quite similar.
In Witcher 3, you are mutant wrestling with your inner belief in good and evil – or, as Geralt says, "the lesser evil." You are cast alone with a morally corrupt society, and the ravaging war has destroyed what remains of the society. Monsters – dragons too, are meddling with the affairs of the common folk. Yet, you are the only person that can save the world and form an unwavering legacy – sound familiar anyone?
The world of Witcher is as interactive as the world of Skyrim. You will have plenty of things to do and new areas to explore. You will need to explore new locations and loot abandoned sites if you want the best swords and gear for Geralt – pro tip, Ursine gear set is the best.
Like Skyrim, the side quests in Witcher 3 add a whole new layer of replayability into the game – I cried when Barren finally reached Anna but was equally angry at that fat bloke when he demanded more work from me before paying.
Quests like the Ugly Baby, in which you have to lift the curse from an elf, introduces us to the world of magic in Witcher 3, which, although not as deep as Skyrim – is there.
Developed by CD PROJEKT RED and released in 2015, The Witcher 3: Wild Hunt is as far as a game will come to Skyrim.
Check out some of our The Witcher related guides below:
2. Dragon Age: Inquisition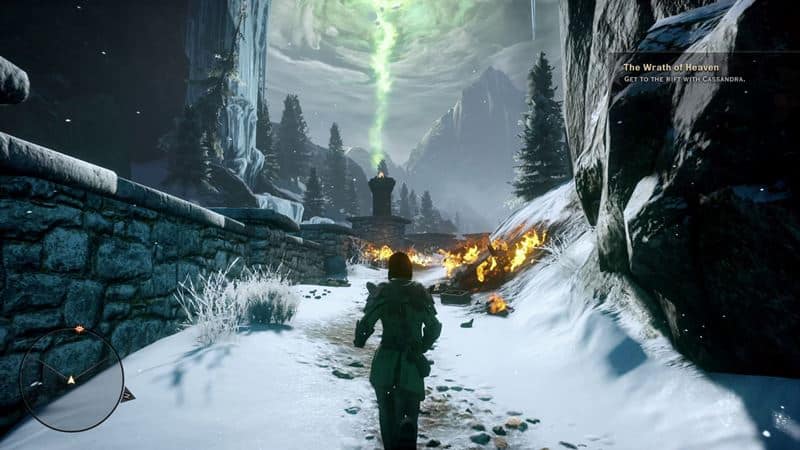 Being the dragon-hunting fanatic, you are, I see your eyes glistening by looking at the name of this game. Dragon Age: Inquisition has a lot more in common with Skyrim than just killing Dragons – which they are many to hunt.
When you set foot into Dragon Age: Inquisition, it takes you to a character-picking screen similar to Skyrim. You can select different races and design the perfect character you want – we don't talk about why I choose a female elf on my first playthrough.
In Dragon Age: Inquisition, the world revolves around you because you are the chosen one who can save the world from the onslaught of monsters – which is a load of bollocks because all I could care for was loot. As a result, this game has a myriad of items to collect, caves to raid, and gear to find.
Developed by the creative arm at BioWare and published by EA – you have every right to be surprised by that – Dragon Age: Inquisition is an excellent fantasy RGB that has you killing monsters and dragons. Oh, and did I tell you the world is large and has many places to explore?
Dragon Age: Inquisition is available on EA play and Steam for $40. If you are on a console, you can purchase the game on PS Store or Xbox Store. If you don't want to pay the full price, wait for a sale because this game is often discounted.
3. The Elder Scrolls IV: Oblivion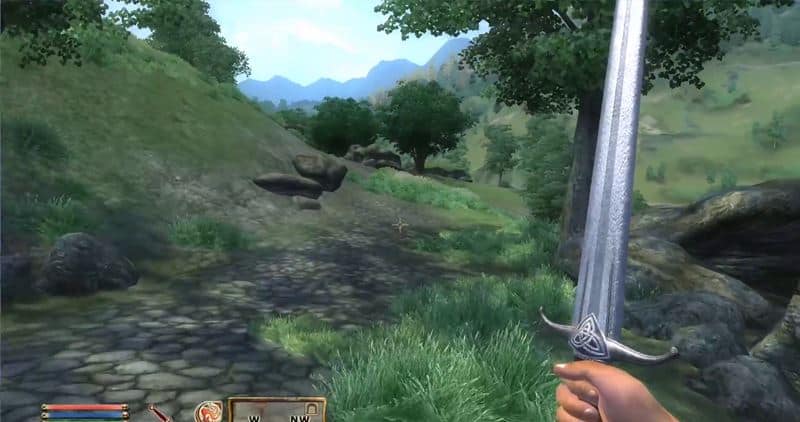 The famed predecessor to Skyrim, Oblivion, is what set the stage for Skyrim. It has many of the same mechanisms, and its story is set 200 years prior to Skyrim.
You start off as a prisoner – Bethesda has a strange knack for introducing a game character as a prisoner.
Throughout your journey, you will find heaps of dungeons to explore, tombs to raid, treasure to unearth, and gear to loot.
The world of Oblivion is very much alive. Despite this game being released in 2006, the core gameplay does not feel dated. Sure, the graphics are meh – but if you are on PC, plenty of mods bring the textures back to life.
Developed by Bethesda, The Elder Scrolls IV: Oblivion is a masterpiece and one you cannot miss in the Elder Scrolls franchise.
It is available on PC through GOG and Steam for a meager price. If you still own a PS3 or an Xbox 360, you can fire up Oblivion and enjoy a retro gaming experience like never before.
4. Kingdom Come: Deliverance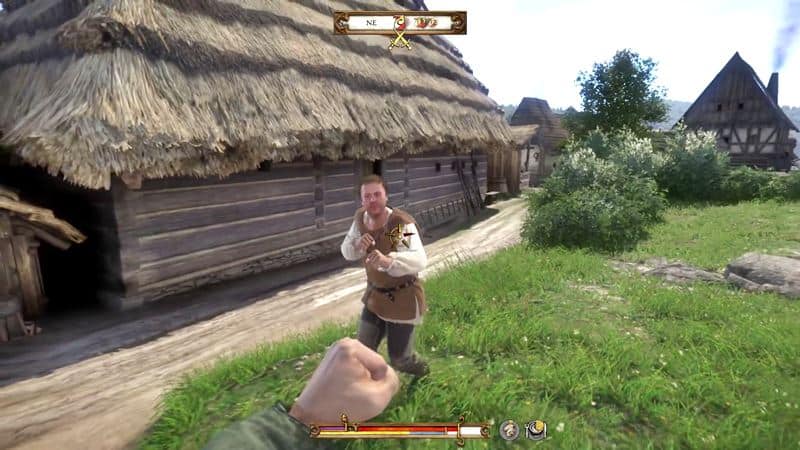 If you like the idea of an open-world RPG with items to loot, skills to unlock, and areas to explore like Skyrim, but fantasy is not what you are craving, then Enter Kingdom Come: Deliverance.
Fixated on realism, Warhorse Studios gives you a vast area to explore, set in the time of the Roman Empire. After the death of Charles IV, the Empire is in turmoil, and you, the son of a blacksmith, are dragged into the conflict after your village burns down.
Now it's up to you to create your destiny and build the kingdom. Along the way, you will meet many characters, each of which has an interesting story – Hans Capon being my favorite because that jackass turns out to be a softie that cares about people.
Unlike Skyrim, where the premise is on fighting monsters and dragons, Kingdom Come: Deliverance will pitch you into real-world battles from the medieval area. You will have to take victory on swords and your sheer wits. The sword-fighting mechanics of this game are next to none.
Kingdom Come: Deliverance is available on PC, PS4, and Xbox One. It is priced around $10, so if you are looking for an open-world RPG game like Skyrim and want to relive as a badass Knight, check out Kingdom Come: Deliverance.
5. Dragon's Dogma: Dark Arisen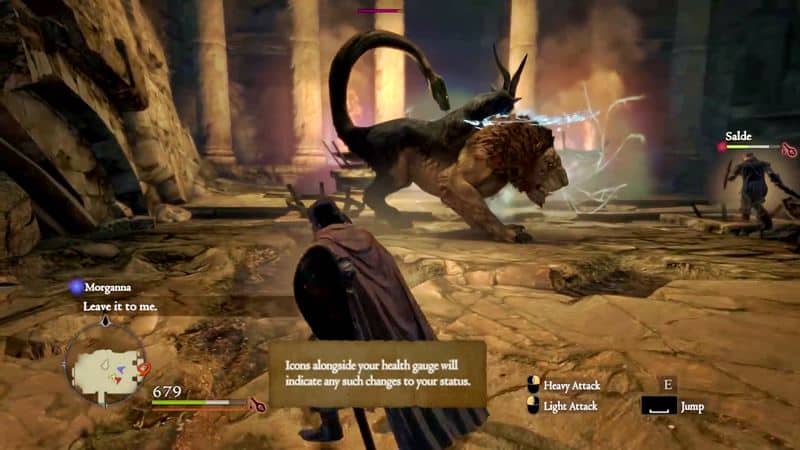 Dragons – a lot of them, Capcom's open-world RPG game has that in common with Skyrim. For RPG lovers, dragons are the most sought-after creatures we love interacting with. Dragons always have a unique charm to their gameplay – I hope I am not only speaking for myself.
Dragon's Dogma: Dark Arisen opens up with a mythical dragon plucking the heart out of the main character that gets risen in the bid to enact revenge on that dragon. Didn't make sense? Well, you are quite right – but I have to say it makes for a grand opening to a game that is much more than killing dragons.
The game is set on a breathtaking fantasy Island of Gransys, hiding many dangers. You will traverse through hidden dungeons and fight different monsters of all shapes and sizes – so if you're already missing the dragon fights, Dragon's Dogma can fill that need.
And if you're someone who loves spending hours crafting your character, you'll be glad to know there are lots of character creation customization options to help you nail the look of your Arisen – I personally went old school with bare feet.
The game's combat is extremely fun and thought-provoking. There is no single way of approaching a fight – the game offers the liberty of choosing any skill, tactic, or gear you want. How you fight is entirely up to you.
Each step is shrouded with mystery, and the game will keep you on your toes. Developed by Capcom and released in 2013 – the same year as Skyrim, Dragon's Dogma: Dark Arisen is a must-play for Skyrim fans yearning for big dragon fights and an unapologetically vicious world. The game is available on PC, PS4, Xbox One, and Nintendo Switch.
6. Monster Hunter: World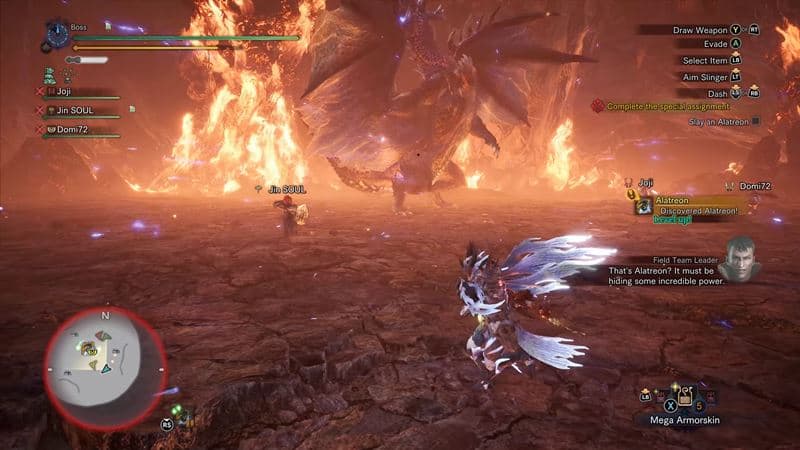 Skyrim has you killing many monsters, dragons, hybrids, and whatnot. There is a great thrill in battling different monsters. Monster Hunter: World lets you capture that experience in a modern open-world setting.
Monster Hunter: World is a darker version of Skyrim with much more gore and monsters to kill. Developed by Capcom, Monster Hunter: World is an open-world RPG game where you fill the boots of a monster hunter trying to free the world from these creatures.
This game gives you access to a wealth of different weapons, each of which has its own playstyle and perks. You will not need to grind for this game's weapons and gear items. The loot system of this game is very generous, and it rewards spending more time in the game. Therefore, before you get bored with a particular weapon, you will have something new to play with at your disposal.
Monster Hunter World is available on PC, PS4, and Xbox One. It is a must-play for Skyrim fans wanting more free-flowing combat with endless enemy variety.
7. Fallout 4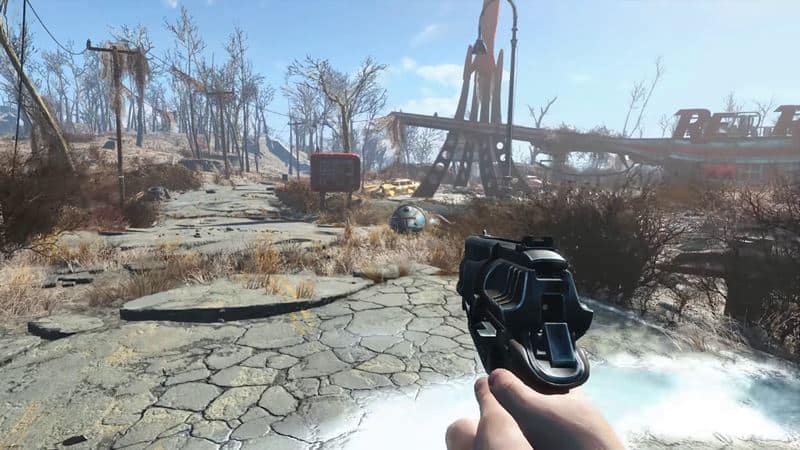 From the creators of Skyrim, Fallout 4 is a neo-apocalyptic interpretation of a post-nuclear world. You play as one of the survivors and are tasked with rebuilding society. Players must forge strategic alliances and level their character by building a home, restoring web vitals, etc.
The survivability gameplay of the Fallout 4 plays a lot like Skyrim – Oh, and did I mention all the time you are out there exploring the world of Fallout 4, you are not alone. A fluffy dog companion or a new friend that you make in the settlements that you explore is there by your ride, which makes exploring the grim open world a bit less lonely, I suppose.
Like Skyrim, Fallout 4 does not hold your hand, nor does it limit you to the main quest. You are free to go wherever you want. Like dungeons, Fallout has Vaults hidden underneath the surface. These vaults are fun to explore and even challenging to break into – I used tutorials to break into some of them, but this secret stays with you and me.
Another word of advice: exploring the world, killing monsters, and making alliances can be very fun and rewarding but don't forget the game's main objective – I am sorry, what was it again? Oh yes, you are looking for our daughter, which is taken by the bad guys – well, apparently.
If you want a game like Skyrim set in a post-apocalyptic era, Fallout 4 is a must-play. It is available on PC, PS4, and Xbox One. The games go on sale occasionally, so snagging up one for a good price should not be an issue.
8. Middle-earth: Shadow of Mordor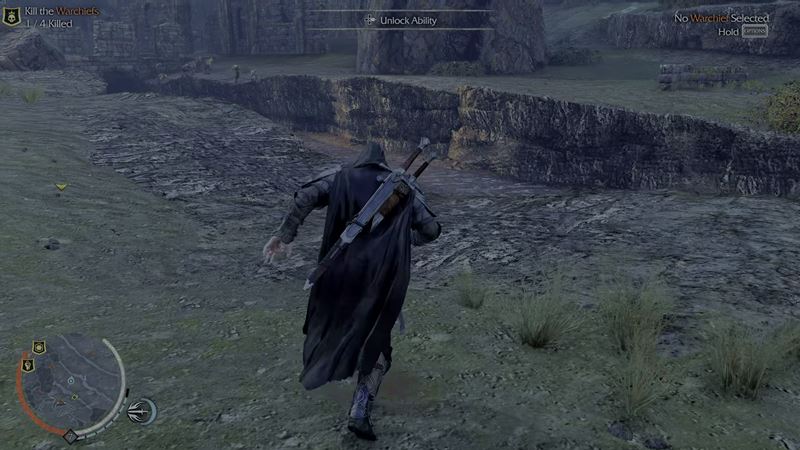 The Middle-earth: Shadow of Mordor is a darker and mythical take on the open world genre filled with Lord of the Rings lore. Combining two popular things – Skyrim and Lord of the Rings, you could sink hours into this game, exploring the rich and expansive open world this game offers.
As fate would have it, Middle-earth: Shadow of Mordor will pitch you against the orcs – I like the ones in Skyrim better, though. However, that is not the only similarity between Skyrim and Middle-earth: Shadow of Mordor.
Like Skyrim, you get a ton of different enemies to fight in this game, and the excellent nemesis system makes each encounter all the more memorable. The nemesis system is like clearing a very difficult enemy in a dungeon, but this time he gets a special introduction before the fight, which makes killing him more accomplishing.
Combat in Middle-earth: Shadow of Mordor is very engaging. Unlike Skyrim, you will have to do with swords only – too bad. However, the unique abilities and skills your character has, break up the pace of the combat in a good way.
Developed by Monolith Productions and released by Warner Bros. Interactive Entertainment in 2014, Middle-earth: Shadow of Mordor is available on PC, PS4, and Xbox One.
9. The Elder Scrolls Online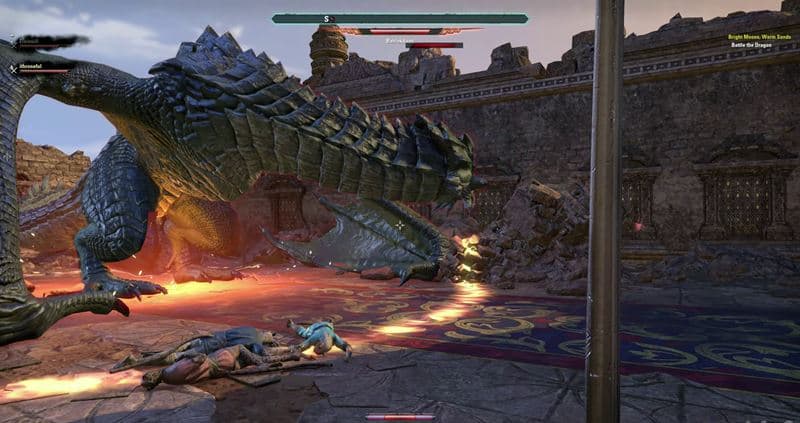 Developed exclusively as a multiplayer experience by ZeniMax Online Studios, The Elder Scrolls Online is the latest entry into the Elder Scrolls series with a heavy emphasis on interactive online gaming.
In essence, The Elder Scrolls Online is a multiplayer version of Skyrim as the core gameplay is the same, which is not a bad thing after all because Skyrim has solid mechanics – we don't count the jump mechanics, which are lifted straight from the 1990s.
In Elder Scrolls Online, you are free to forge your own destiny along with countless other real-world gamers. You interact with them, do quests, and explore in a multiplayer setting – damn those who start looting before the fight is finished.
After getting off to a rocky start, Elder Scrolls Online has found a solid footing in this multiplayer-dominant gaming era. This game is unique; it picks up the well-established role-playing mechanics of Skyrim and throws players into a large open world in which they are free to do whatever they want. It certainly makes for very impressive and liberating gameplay.
An interesting concept indeed and one that has been executed quite nicely. The Elder Scrolls Online is a must-play for Skyrim fans that are bored of the non-interactive NPCs and are achingly waiting to role-play with real-life gamers. The Elder Scrolls Online is available on PC, PS4, PS5, Xbox One, Xbox Series S and X, and MAC OS X.
10. God of War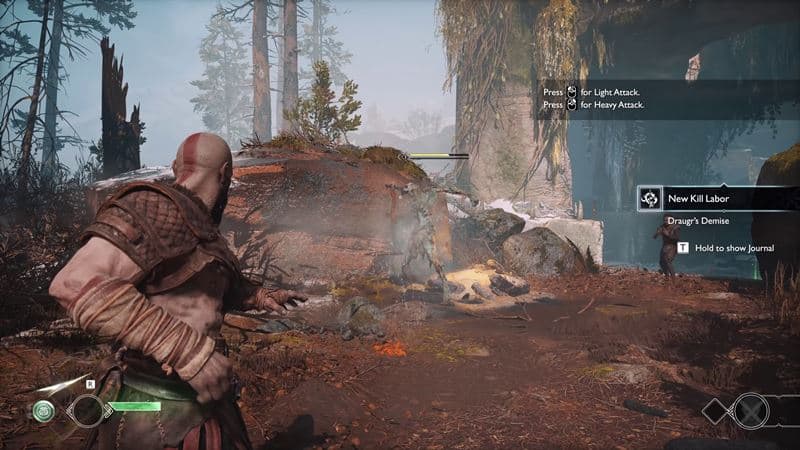 The maturing bond between a father and a son through a vicious underworld with monsters to fight and gods to dethrone, sounds interesting, doesn't it? Sprinkle in some open-world goodness, and you have a game that is the mythological version of Skyrim – yes, I am talking about God of War!
Developed by Santa Monica Studios, God of War is the fabled series that Playstation gamers are proud of. Being a PS exclusive for so long, this game is finally here for PC gamers to enjoy.
God of War has you playing as Kratos (the former God of War). The latter rebelled against his very people and killed all the Gods for betraying him – including that maniac Zeus. He is back, but this time not because of what you think – Kratos needs to fulfill the wish of his dead wife, for which the game takes you through the realm of Midgard (ancient Scandinavia). Before he could realize Kratos is back to his old ways of killing monsters and Gods.
God of War takes the slow-paced Skyrim combat and sets it on fire. Precision hits, quick dodges and parries, and well-timed hits are the name of the game here. Combat in God of War is fun, and there is no shortage of enemies. You will get to battle different creatures and Gods, which have their own playstyle and attack moves.
God of War is available on PS4 and PC. If you haven't played this beloved PS franchise, now is the chance for all PC gamers.
11. Horizon Zero Dawn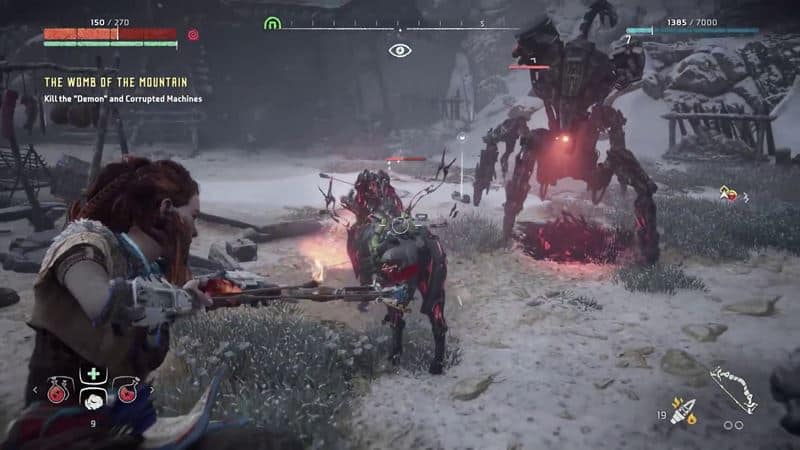 A girl haunted by existential crises and created as an outcast by her tribe in a world ravaged by Robotic dinosaurs – what could go wrong? Horizon Zero Dawn is a post-apocalyptic RPG set in a time when humanity has gone back to the dark ages, and large machines have taken over the land.
Robotic Dinosaurs are not really the first substitute for dragons but believe me, they play exactly the same. In Skyrim, dragons are these alluring monsters that are more viscous than other enemies in the game and harder to kill. Well, the same is the case with the Robotic Dinosaurs in Horizon Zero Dawn, and this uncanny resemblance makes for very interesting gameplay.
In Horizon Zero Dawn, you play as Alloy – a girl that is searching for her origins. Unanswered, she seeks the wild to discover who she is and takes on the Robotic Dinosaurs with craftable bows, traps, and other skills she hons throughout the game. The story is very intriguing and has excellent development, making you enjoy every moment you spend on the game.
For the most part, Horizon Zero Dawn was a PlayStation exclusive but has recently been released on PC along with God of War. You can find Horizon Zero Dawn in the beloved Steam Store.
12. Darksiders III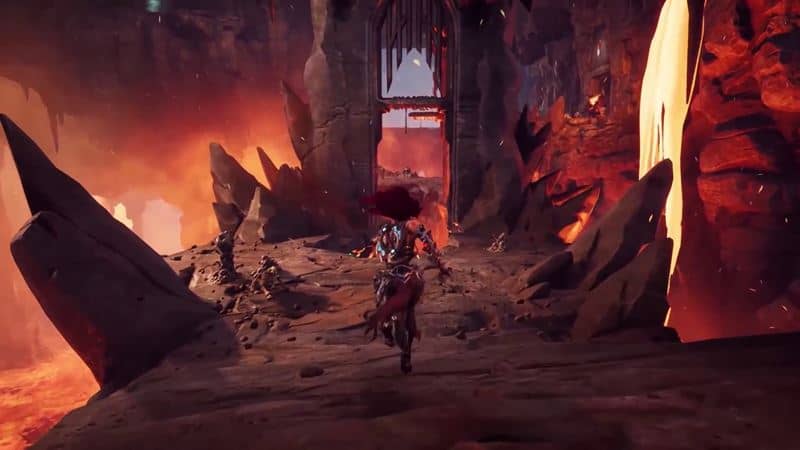 Consider Darksiders III to be the darker evil twin of Skyrim. Centered around the apocalypse setting, you play as Fury on a ravaged Earth where Angels and Demons are on the loose. This game has a gritty vibe that will keep you anxious and focused throughout your playthrough.
If the return of the dragons and the epic battle with Alduin the World-Eater – gosh, killing him was a big sigh of relief on my part, is what gets your heart racing. You will have that in abundance in Darksiders III.
The game has a diverse cast of enemies, each of which plays out differently. Therefore, you have to plan out your fights before making the all-important decision of going against a boss – don't be like me, dying 30 times to figure out what actually needs to be done.
Darksiders III doesn't quite have the open world that we come to expect from Skyrim. However, the level design is fun and engaging. Developed by Gunfire Games and published by THQ Nordic, this game is available on PS4, Xbox One, Microsoft Store, Nintendo Switch, and Google Stadia.
If you are looking for a dark, gritty, action-packed game with a great combat system and enemies that will put your skills to the test, might I suggest Darksiders III.
13. GreedFall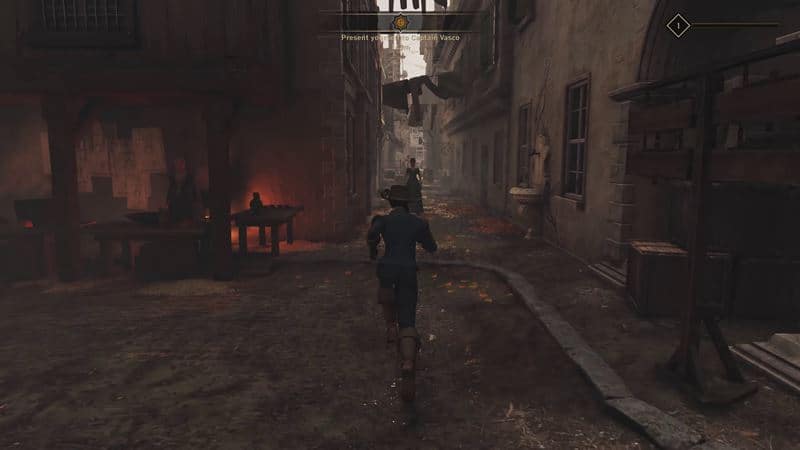 The feeling of despair when you are all alone in a foreign land. GreedFall sets the same undertone as Skyrim. However, unlike Skyrim's superficial and fantasy world, GreedFall introduces you to the early medieval era – that means no dragons!
In GreedFall, you play as an emissary of the royal court sent to a foreign land by the King. Nearly had me yawning there with that plot – luckily, you forget all that quite quickly, though. As more and more characters unravel, the story keeps getting complicated and intriguing.
There is no shortage of combat in GreedFall. From the short skirmishes to the all-out epic wars, GreedFall will keep your sword wet and your hands warm. The world we get to play in feels very Nordic – the mountains, gorges, and lush green valleys are very reminiscent of Skyrim.
Quite a shame that such a beautiful map is not clouded with a large pool of activities – transversing through the barren wilderness is indeed boring.
The developer behind GreedFall is Spiders, and it is published by Focus Home Interactive. Greedfall is available on PS4, PS5, Xbox One, Xbox Series S and X, and PC.
14. Kingdoms of Amalur: Reckoning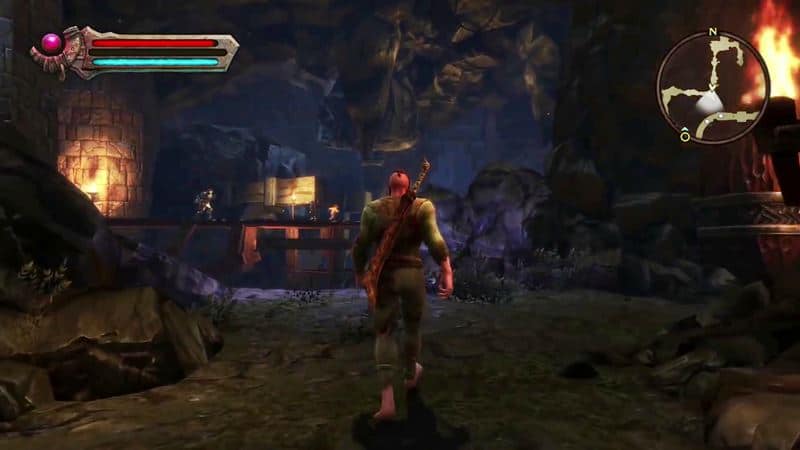 Kingdom of Amalur is a lighter, less intensive take on Skyrim. The retro graphics and the stiff combat are a nod to the past Elder Scroll gamers. The retro graphics make this game less serious than Skyrim – I did have a jolly good crack seeing the faces of some of the monsters. Scary – far from it
The combat system in Kingdoms of Amalur is pretty much the same as the one in Skyrim, minus some agility. There is no shortage of monsters to kill, and the monster variety is next to none – no dragons, though.
There are also plenty of weapons to find and loot to collect. Kingdoms of Amalur keeps you hunting for new weapons and gear for stats padding.
If you don't fancy some sword action, you can always choose the mage class – yes, like Skyrim, this game has classes too. It also allows for hybrid builds – mage assassin build, anyone?
Kingdom of Amalur is set in a colorful fantasy world, which is brimming with creatures to kill and monsters to execute. Developed by Studio 38, it was their last game before they filed for bankruptcy.
Kingdom of Amalur is available on PS3, Xbox 360, and PC. So, whip out your previous generation consoles if you want to engage yourself in a softer and more colorful version of Skyrim. However, if you don't have legacy consoles, don't worry. The game has been remastered for the Xbox One, PS4, and Nintendo Switch with better graphics.
15. Gothic 3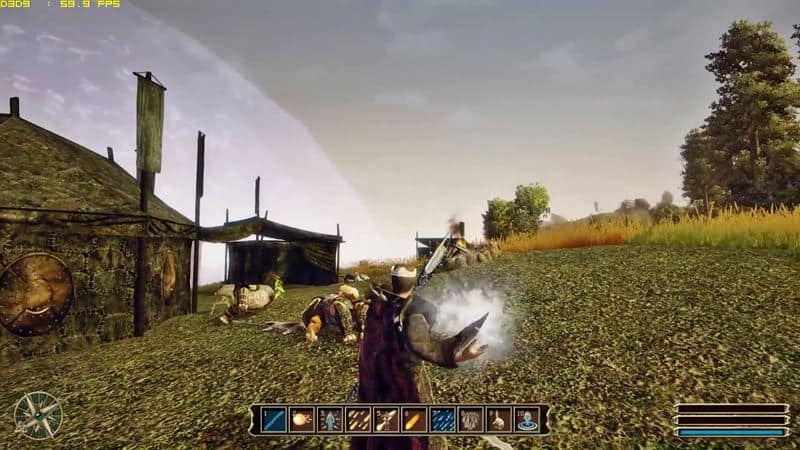 If you're an old RPG fan like me, especially the ones that transport you back to the medieval era, Gothic 3 should be right up your alley.
To put it into perspective, Gothic 3 is an insanely difficult version of Skyrim. If Skyrim has Dungeons to clear – Gothic takes you through insanely challenging ruins.
The world of Gothic 3, although vastly different from the mythical landscape of Skyrim, has an eerily same feel – it almost feels as if playing in the same world but set in a different period of time.
The graphics of Gothic 3 are not the best – so to enjoy this game, you have to be someone who is not bothered about outdated graphics. Due to its age, the Gothic 3 is best played with community mods, and boy, what an experience it is.
Skyrim is not dictating and allows you to wander off of your own accord – but this game takes it to a whole new level. It even is a bit too aloof for my liking. You won't see your quest givers in the compass, and the HUD won't show how many steps you need to take until you reach your destination. Instead, it'll be just you, a map, and an ambiguous description.
Like Skyrim, there is no shortage of enemies to kill and ruins to explore. Developed by Piranha bytes and co-published by JoWooD Productions – Deep Silver – Auran – Aspyr Media, Gothic 3 is available on PC.
16. Dark Messiah of Might and Magic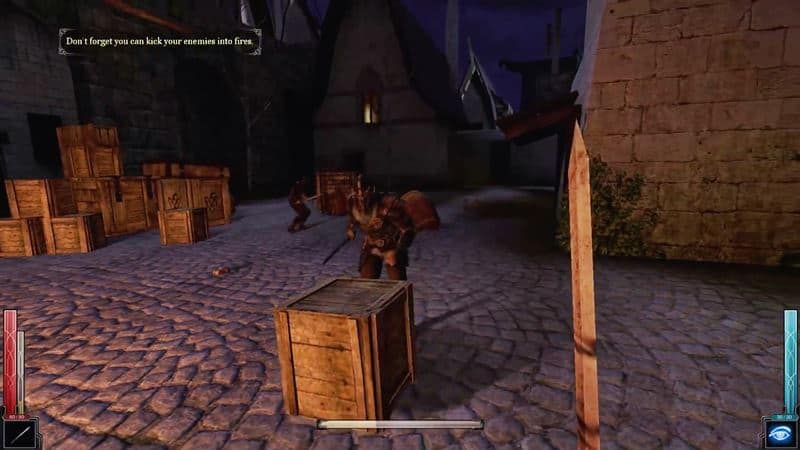 The mystical setting of Dark Messiah incorporates just about every well-known fantasy stereotype you can imagine. Giant spiders, demons, dragons, magic swords, orcs, magicians, elves, and a host of other creatures are all there.
These cliches are supported by a narrative and presentation that are noticeably more gritty than those in Skyrim.
However, Dark Messiah has a wide range of classes and talents, just like Skyrim. You can shape your persona however you choose. The combat system and environments in the game both exhibit a comparable level of adaptability.
You have access to a number of different spells and weapons. Each one supports a different kind of play. One can interact with the environment. For instance, you can perform an ice spell to make adversaries fall to the ground or knock over things to kill them. However, Dark Messiah differs greatly from Skyrim in other ways.
Dark Messiah is linear rather than providing a sizable open environment with tonnes of content. There are nine chapters in the game. Every chapter has a clear objective that you need to complete in order to go forward.
For the most part, every chapter contains quite open-ended surroundings. Therefore, you have some freedom in how you pursue your objectives. Dark Messiah of Might and Magic is fun if you can ignore the linearity and prefer something quick and easy with a distinctive battle system.
This game, created by Arkane Studios and published by Ubisoft, is playable on PC and Xbox 360.
17. Enderal: The Shards of Order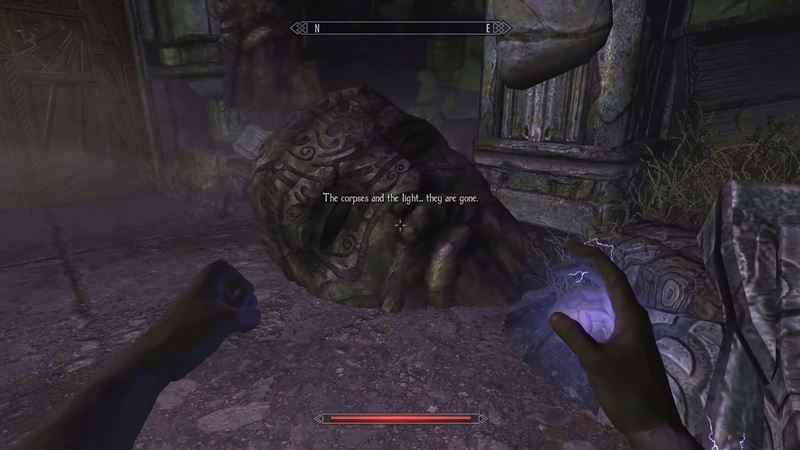 Enderal: The Shards of Order isn't a full release like the other games on this list. Instead, Enderal is a comprehensive conversion mod for Skyrim created by SureAI.
The aesthetics and the majority of the gameplay are exactly the same as those in Skyrim. However, the setting, narrative, and battle strategies are completely different.
The world of Enderal is substantially different from Skyrim despite certain similarities. It has distinctive mythology and examines cliche subjects like time, religion, and fate. Enderal's mythology generates a compelling narrative that lasts for about fifty hours.
You will explore a variety of unusual dungeons, perform a number of objectives, converse with well-written characters, and interact with some unusual systems throughout the story.
Repeated assaults and little movements are heavily emphasized, but it isn't much else. The fighting is comparable because Enderal is a total conversion mod for Skyrim. However, each battle presents a different set of difficulties due to the stronger adversaries and slower pacing of the fighting.
Enderal: The Shards of Order is one of the best modifications you can install if you love Skyrim and want something quite similar but with a different planet, plot, and combat system.
18. Red Dead Redemption 2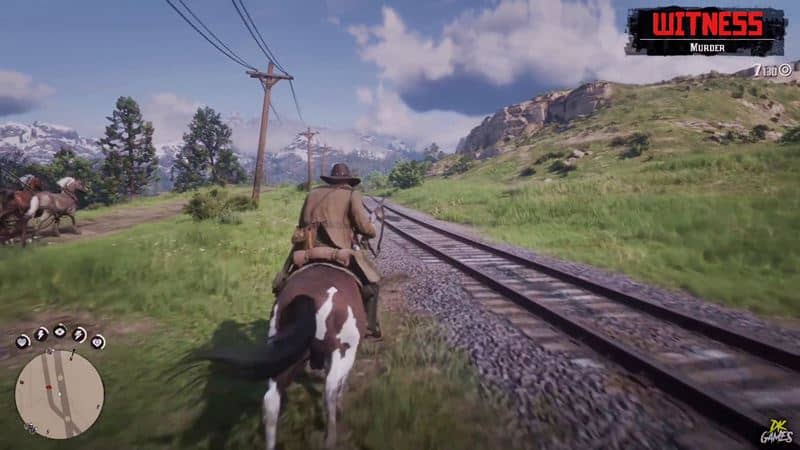 In Skyrim, you start off as the leader of the rebels taken prisoner. Red Dead Redemption 2 lets you relive the same experience in a more modern Wild West setting.
You play as Arthur Morgan, a respectable man in the dutch outlaw gang running from the authorities. It may seem like Arthur is a strong-willed man who can hold himself and the gang together in tough times.
However, deep down, he is in dispute with himself and suffering from identity crises. This split personality narrative Rockstar has developed plays throughout the story. We see a man that acts tough but is wrestling with his own demons deep down and questioning his decisions. It is a unique narrative that Rockstar has been able to carve out.
Red Dead Redemption 2 is one of the few games that rival the world with the scale of Skyrim. As a result, the high country of Red Dead Redemption 2 is very much alive and immersive as it is big with plenty of things to do.
Everything in this game attempts to pull you into this sense of realism- from skinning animals, feeding the horse, and cleaning the guns – to the footprints you leave in the mud.
Red Dead Redemption 2 will keep you glued to your TV or computer screen – minutes turn into hours, and hours turn into nights before you realize how much time has gone by.
You must be bored by a fantasy setting, so dive into the wild west of Red Dead Redemption 2 and role-play as one of the most notorious gangsters who put on a tough face with a soft heart.
Red Dead Redemption 2 is available on PS4, Xbox One, Google Stadia, and PC.
19. The Outer Worlds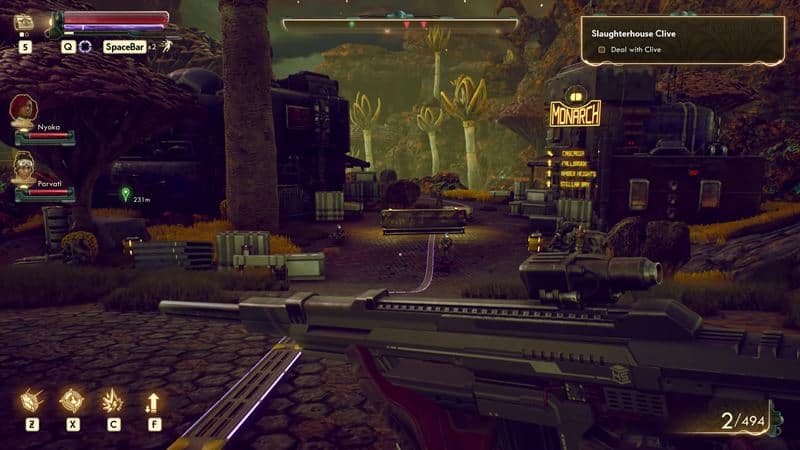 For some people, Skyrim is all about role-play, quests, and exploration – you know, just the usual RPG game stuff. For those RPG fanatics, The Outer Worlds is a great alternative to Skyrim to satisfy their craving.
The Outer Worlds isn't as massive as Skyrim, nor does it match the depth. Still, it provides more of a deep and concentrated experience that excels at just about everything it tries to do.
Your RPG itch should be satisfied by the fact that it is sci-fi inspired and actually quite humorous. It's not any less of an experience than Skyrim just because it employs hubs rather than a fully open environment and uses lasers instead of magic; the limited map it offers is filled with things to do.
As a matter of fact, the limited scale makes it even more enjoyable, as you can actually reach a satisfying conclusion in a reasonable time if you so choose.
Set in a corporate-ruled solar system – develop your character, who has just awoken from a decades-long cryosleep.
After reaching a certain level, you start increasing your skills with natural progression. The game lets you make all sorts of builds, each being viable. You can choose from a non-violent, stealth, guns blazing, or any other way you like.
Developed by the folks over at Obsidian Entertainment and published by Private Division, The Outer Worlds is available on PS4, Xbox One, Nintendo Switch, and PC.
20. The Legend of Zelda: Breath of the Wild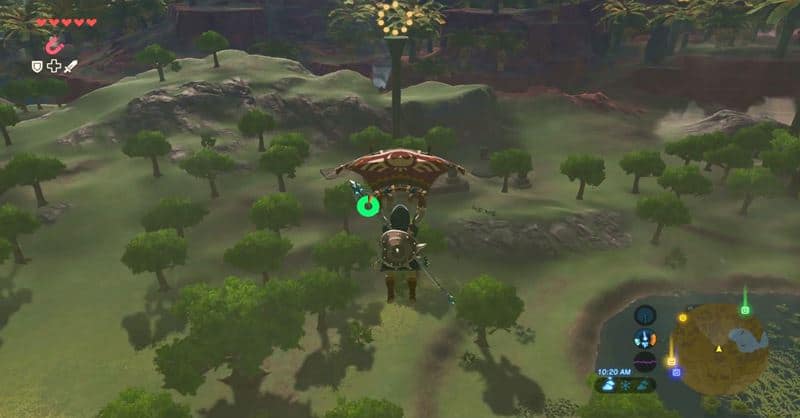 The Legend of Zelda: Breath of the Wild is a light-hearted take on Skyrim. Rather than having a grim and dark world – Breath of the Wild adorns its colorful world with cheerful retro graphics – seeing the world of Breath of the Wild is a therapeutic experience.
The main protagonist you play as in Zelda is a kid lost in a fantasy world with no objective – did somebody call my name?
While you could pursue the story and finish this game within a week – where is the fun in that? Like Skyrim, this game does not hold your hand, allowing you to truly wander in the vast open lands.
Exploring in Breath of the Wild is meaningful and rewarding – there is so much to discover, and each horizon brings something new to chase after. The game is jam-packed with secrets, shrines, and just downright beautiful scenes to find.
The combat system of Breath of the Wild is a far cry from Skyrim, and this game is not about that – so don't buy it with the hopes of finding slaying monsters.
If you want to play this epic tale of Zelda, you will need a Nintendo Switch or a Wii U because this game is exclusive to that platform – ugh! I really want everyone to play this game because of how good it is.
21. Conan Exiles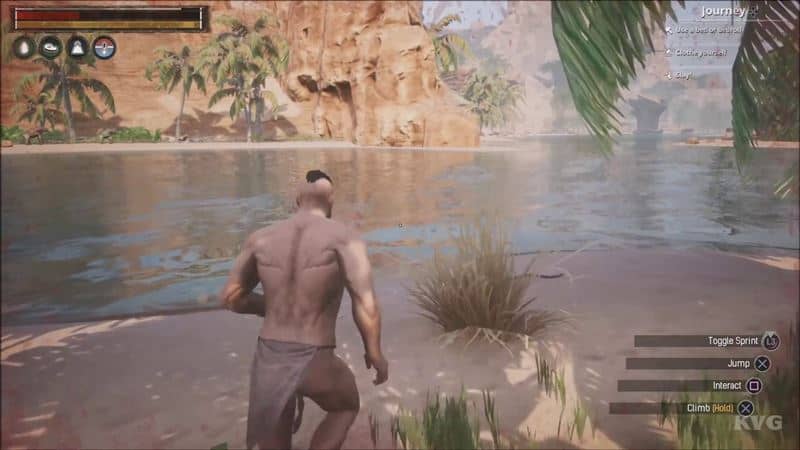 Conan Exiles, a game based on the Conan the Barbarian series, was created by a tiny team at Funcom; despite being an Indie title, it seems far more spectacular than you'd expect.
Despite the absence of dragons or magic, Conan Exiles is a considerably more cruel and unrelenting experience than Skyrim, a game focused on hardcore survival.
Create a new character that Conan will bring back to life and send you to the Exiled Lands to see if you can survive – prisoner flashbacks in Skyrim, anyone? The game is set in the same fictional historical period.
You may certainly infer from the name that this isn't exactly the friendliest location on earth. However, in an effort to survive, you will face off against the elements, the environment, wildlife, and even other players.
There are mods that add additional survival aspects to Skyrim. Still, Conan Exiles is a much simpler method to get that experience in a brand-new environment. You must control your hunger, thirst, and heat, in addition to your health, in order to remain alive.
You'll spend the early stages of the game gathering resources and slapping them together to create crude tools in an effort to survive the night. Still, ultimately you'll be able to construct bases and farms and create potent weapons and armor.
Along with the imaginary dinosaur-like monsters that stalk the plains, other players can be partnered up with or assaulted. Although leveling up does grant you some strength in the form of attribute points, your major method of advancement is through what you construct yourself. This is a challenging but incredibly enjoyable survival game if you can get into it.
22. Neverwinter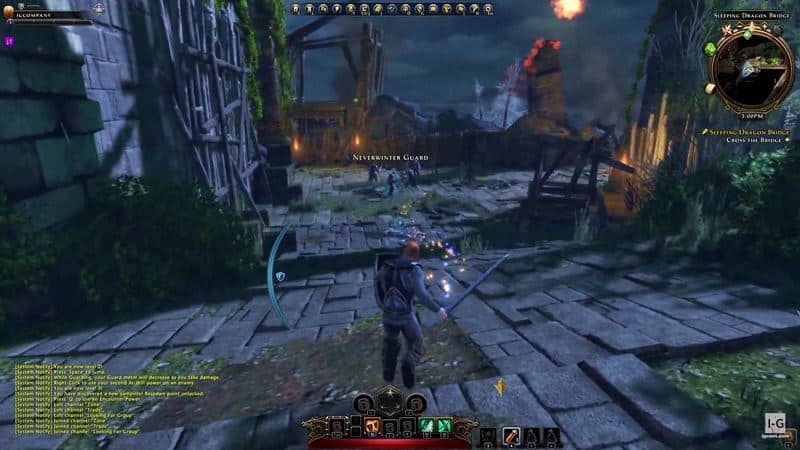 The whole Elder Scrolls series—including Skyrim—clearly draws inspiration from the vintage pen and paper Dungeons & Dragons game. So what better game to switch to than one sanctioned by Dungeons and Dragons?
The free MMORPG Neverwinter, created by Cryptic Games, is the best representation of dynamic role-playing in a video game to date.
Having said that, you don't even need to be familiar with Dungeons and Dragons to enjoy this unique and different tale. Additionally, as the game is absolutely free to play, there is nothing to lose even if you don't like it.
As in most MMORPGs, making a character is the first step in starting the game. Nine traditional classes are available: barbarian, cleric, fighter, paladin, bard, ranger, rogue, warlock, and wizard.
A somewhat complex narrative to follow, at least by MMO standards, this game involves a missing Lord, the almost total destruction of the titular Neverwinter, and competing political forces. However, years after its initial release, the tale has undoubtedly developed due to the addition of new information, features, and side activities.
There is a tone of content to whisk away at slowly by playing alone, but you can also team up for challenging raid-style tasks. Additionally, the fighting is more complex than in a typical MMO. Your ability to aim, time, and execute attacks will determine how you attack, which will feel quite similar to those who play Skyrim in third-person.
23. Dragon Age: Origins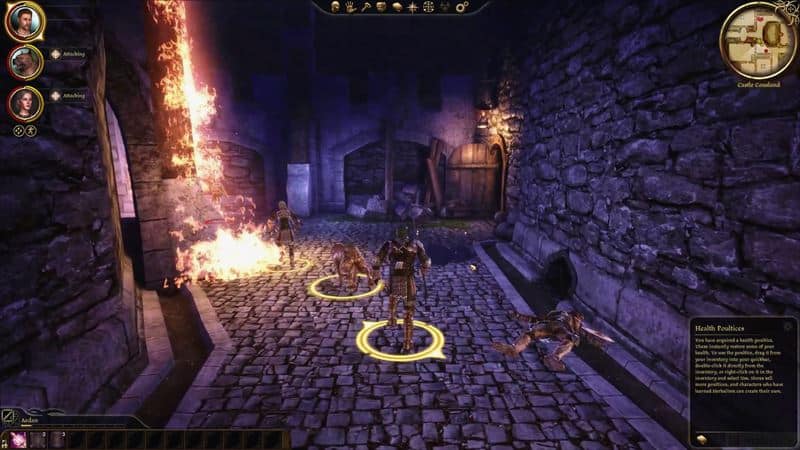 Just the game title should ring a bell – dragon age. Skyrim and Dragon Age: Origins share many similarities in their respective stories and worlds. The game's universe has almost every well-known fantasy trope and an epic tale about overcoming an old evil.
But in contrast to Skyrim, Dragon Age delivers more in-depth storytelling and a focus on decisions through dynamic dialogue options. In addition, the plot of Dragon Age will seem familiar to anyone who has played Skyrim or watched other fantasy movies or television shows.
However, Dragon Age: Origins stands out from other fantasy games because of its superb characters, which gives the narrative and environment a deeper emotional level.
You have several dialogue options available each time you converse with a character. Every decision you make through the dialogue options impacts subsequent events of the game. Many of these mechanics can be found in a few other games on this list, even though they are not included in Skyrim.
You must make your character before you can play Dragon Age. You must choose a name for your character, alter the character's look, select a race, and then select a class. The whole character-making process is oddly similar to Skyrim.
By having these similarities, the game plays quite similarly to Skyrim. Yet, it has a distinct world that breathes a layer of fresh area into the genre.
If you want to play a game that is mostly similar to Skyrim but also not almost the same, Dragon Age: Origins is your best bet. This game is available on PC, PS3, Xbox 360, macOS, and Xbox Cloud Gaming.
24. Elden Ring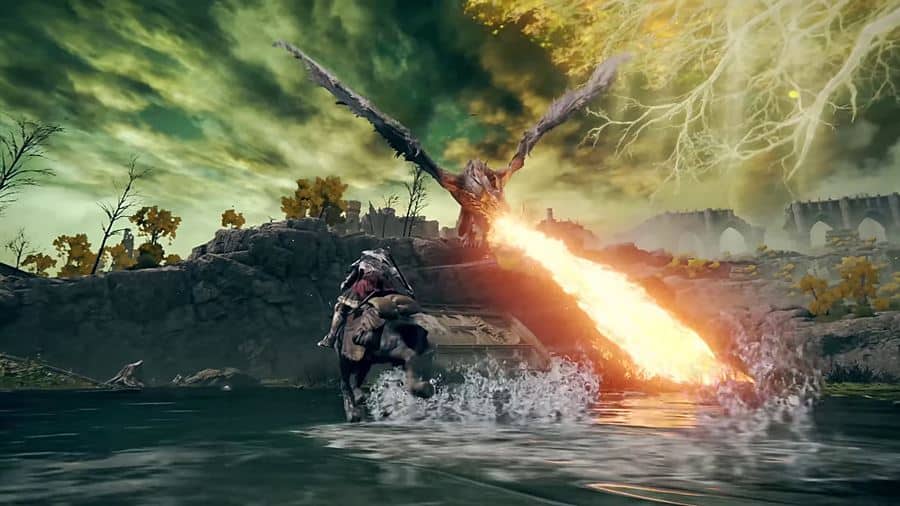 If you have mastered the combat of Skyrim and slaying monsters, doesn't feel any exciting – Elden Ring is here to save the day. From the creators of Dark Souls – one of the toughest RPG combat games – Elden Ring will put your skills to the test at every corner.
Unlike typical RPG games where combat is an afterthought – Elden Ring is developed from the ground up to be a combat-heavy game with great emphasis on dodge and parry – hate to admit it. Still, the combat took the better of me as well.
The open world of Elden Ring has a dark and gloomy vibe – quite the opposite of Skyrim. However, the world is as alive as any other RPG, and you never know what is waiting for you around the corner – jumpscares!
With plenty of weapons to collect, locations to discover, and enemies to track down, you will never be bored when Elden Ring. Whether you are trying to overcome that annoying boss fight for the 20th time or exploring the unknown – Elden Ring will find a way to test your skills and wits.
Developed by FromSoftware and published by Bandai Namco, you can enjoy Elden Ring on PS4, PS5, Xbox Series S and X, Xbox One, and PC.
25. Guild Wars 2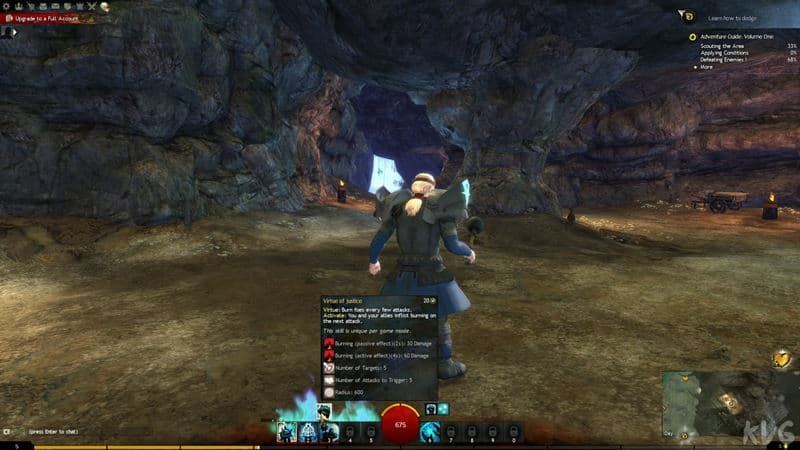 Does a free RPG game with the same mechanics as Skyrim sound good – well, of course, it does? Building on the great foundation provided by Guild Wars, the sequel adds much-needed improvements.
I will be honest – this game's depth is nowhere near Skyrim, but what do you expect from a free-to-play Indie game? Created by ArenaNet, this game is heavily centered around the multiplayer aspect.
Consider it a multiplayer spin-off on Skyrim that does the core RPG part pretty well without adding unnecessary complications. If that sounds good, hop onto your PC and download this game through Steam.
26. Mount & Blade II: Bannerlord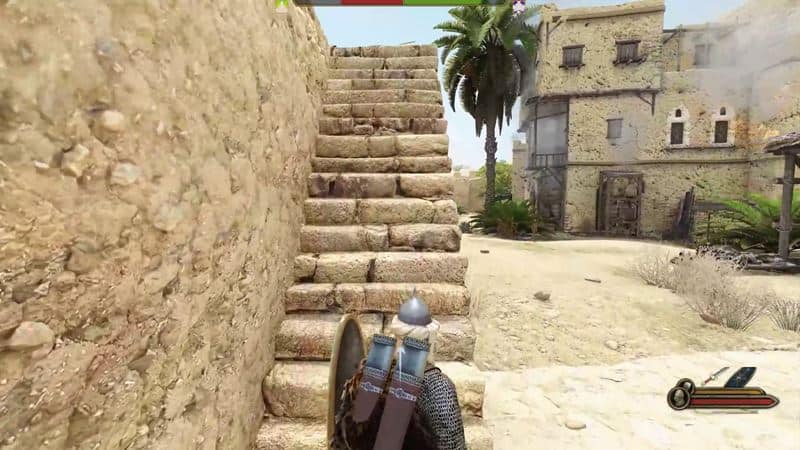 There is no better feeling than knowing you have risen as the Dragonborn – I mean, who doesn't love a bit of dragon blood in his veins? Mount & Blade II: Bannerlord will make you relieve the same feeling as you conquer your way through the vast continent of Calradia.
Mount & Blade II: Bannerlord is a medieval strategy and action game with role-playing mechanics. It brings a more realistic twist to the RPG genre with real-time wars and raids.
In Mount & Blade II: Bannerlord, you are the Hero of your own story, and the whole map of Calradia is your playground. The game lets you explore to your heart's content and proceed through the story as you wish.
Developed by TaleWorlds Entertainment, Mount & Blade II: Bannerlord is released on PS4, PS5, Xbox Series S and X, Xbox One, and PC. The game just got out of Beta testing, so hold your horses if you encounter a couple of bugs and glitches.
Related Guides
Check out some of our related Skyrim guides.
Check out some of the other related gaming guides.
Final Thoughts
No game can replace the love for Skyrim – but that does not mean you need to shun other games like Skyrim – they have their place in the RPG genre along with Skyrim.
All the 26 games I have mentioned provide an interesting spin-off on Skyrim without diverting too much from the original formula that made Skyrim popular in the first place.
Who knows, maybe playing these games will rekindle your spirit for Skyrim – because, after all, these games are based on that.
Before signing off, let me know if you have tried any of the games I mentioned. While you are down in the comment section, tell me for which other game you would like to see a list of similar titles.