PDF ranks among the most popular format in which a professional file is rendered. Often these PDF files require some sort of editing, be it a signature or the addition of a clause.
Let's be real here the price of mainstream PDF editors has gone quite out of hand lately and most of the time paying for a "professional" PDF editor is redundant for people looking to edit just a handful of files.
What if I told you that you can get the same quality PDFs edited with free tools. Yes, you heard it right folks there are tools available on the market that let you edit PDF for free and hence this article focuses on them.
in this article, I am going to list the 10 best free PDF editors. All of these are regarded as the top PDF editors in the industry and rest assured, they are tried and tested by us and many people across the globe.
As eager I am to dive into the list before I do so however we first need to figure out how to choose the best editor for ourselves.
What To Look for in a PDF Editor?
Choosing the best PDF editor for your needs is not as easy as it seems especially when you are looking for a free one. What happens mostly is that the companies lock some important features behind a paywall and then brand their bland editors as free to use.
One should avoid such traps and hence these are the things you should look for in a video editor.
The first and foremost thing you should be cautious with is what the company is selling you as a free editor. Most of the time companies brand their free editors as a substitute to their paid ones but in some instances, these free editors are time-limited or lack basic editorial features.
The other crucial aspect to consider is the scale of your operation. This is important because free PDF editors may come with certain limitations. Therefore, it is a wise call to check the complete description of the product first.
The last thing left to consider is whether the PDF editor you are eyeing contains the specific feature you need for your work. Since free PDF editors lack some features and the ones, they do contain varies from editor to editor, therefore, you should double-check to save the hassle that may come later.
With a basic understanding of how to choose the best free PDF editor now at the helm let's dive right into the list of the 10 best free PDF editors.
You May Also Like:
How to Choose the Best PDF Editor for Your Business
10 Best Free PDF Editors Reviews
Assuming you clicked on this article to find PDF editors, not PDF viewers you are looking for a tool that offers advanced features. How does it sound if I say I have got 10 of them in this article? So, without further ado, these are the best free PDF editors in no particular order.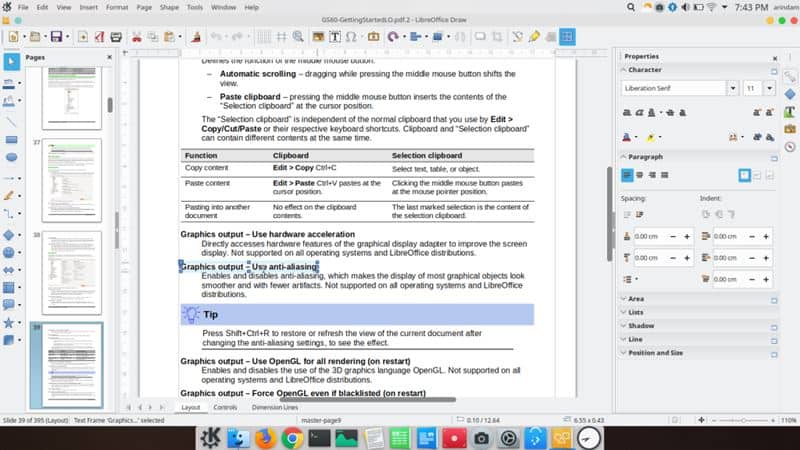 Not everyone requires a complex PDF editor and if you are a part of that crowd then LibreOffice Draw is for you. This multi-platform editor is available on Mac, Windows, and Linux as well hence regardless of the platform you can enjoy free editing.
LibreOffice is a free open-source office suite and has been around for a while but the latest addition to this platform has made it more worthwhile. What I am talking about is the Draw free PDF editor they integrated with the platform.
The aspect that makes this editor so great is the streamlined process by which you acquire it. Simply head over to the LibreOffice website and within minutes you can get everything set up.
Using the editor is pure joy. The interface is clean and well laid out. Navigation through the different options is smooth and hassle-free. In terms of features, the LibreOffice Draw offers multiple features in both the editing and formatting domain.
With this edit, you can add or create headers or footers, delete, and arrange pages, add signatures, and all that fun stuff. You can also get pretty thorough with this editor given your need and it won't disappoint you in any domain.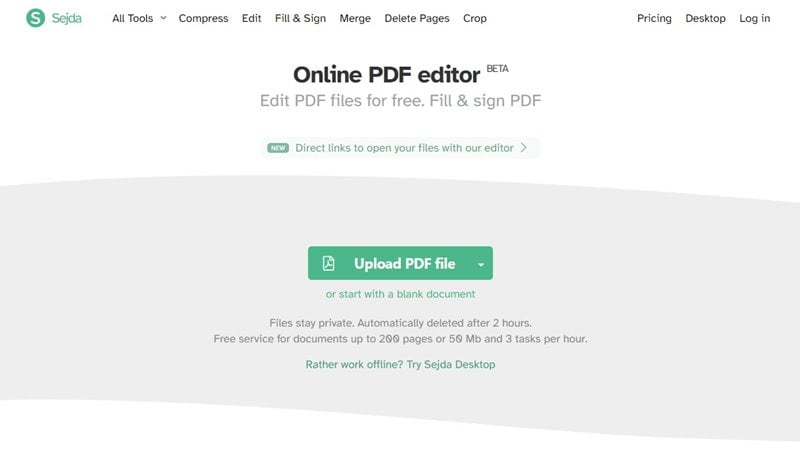 Sejda is one of the finest PDF editors you can use to modify and churn out protected and secured PDF files. This is a cloud-based editor hence it does not require any download on your PC although a desktop application is available if you want to go down that route.
Besides the capability of the editor, the most prominent feature it offers is watermark-free PDF edits. Hence this is among the very few premium editors that do this hence making it very handy for official university or corporate documents.
On top of that, another reason why this PDF editor is a personal favorite of many professionals is because of its simple interface with well-integrated features. The single bar menu is very to use and every feature that Sejda offers is easy to find.
On the topic of features, this PDF editor allows for text formatting, adding Header and Footers, adding images and hyperlinks, rearranging or deleting pages, merging two PDF, and even an electronic signature facility is available here to foolproof your documents.
This all however comes at a cost though and that being file capacity. With the free version, you can only edit PDF files that are less than 200 pages long and have the size of 50 MB or lower.
These restrictions have minimal effect on casual users but for professionals, they might be a hindrance therefore do keep that in mind.
To make up for the shortcoming Sejda offers some great value-added features that being the removal of any data after 2 hours of the completion of the file and the web integration tool that allows sharing the PDF with anyone.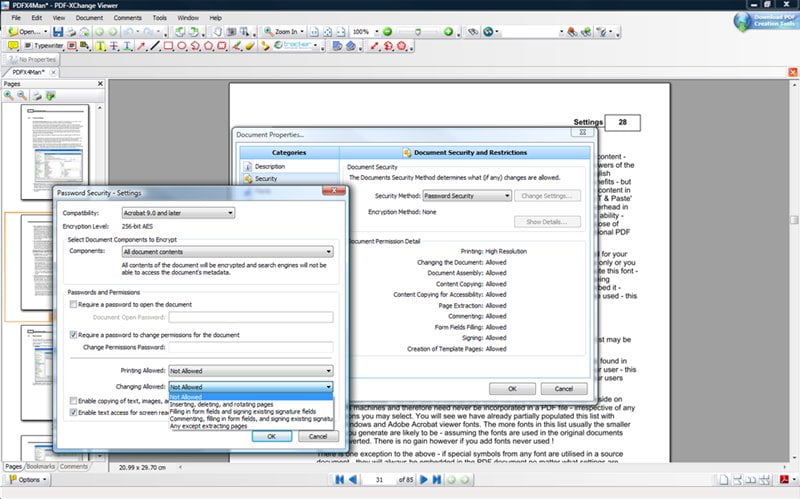 This is an excellent all-around tool available for Windows that will allow you to create professional PDFs. PDF Xchange is best suited for people working in a professional environment.
Truth be told the interface of this PDF editor is a little clunky and complex. But what it packs inside is quite spectacular. All the basic features like merging or splitting two files, arranging, and formatting them are available here.
Where this editor takes things up a notch is when it comes to professional-grade features like a company stamp option. Due to the top-level features it contains this editor excels at editing long documents or files.
The most exuberant use of this editor is Optical Character Recognition (OCR). In a more common term, this means that the editor can recognize a photocopy of the original document.
You get all this functionality with a catch though and that being the files edited with the free version of PDF Xchange leave a watermark. This is the compromise you have to make to use the free version of this PDF editor.
PDFill is an excellent yet underrated PDF editor that many people often overlook in favor of more mainstream offerings. The website of the application does not help either in this regard as it is very generic looking and lacks information about the product.
That said though the editor itself is rather nice and offers plenty of basic features as well as advanced features. The most distinguishing feature of PDFill which most others do not offer is the ability to compress PDF files.
This is quite useful especially for students looking to upload their files on online portals. Besides that, the other functionality of this editor includes adding text to the document, rearranging pages, adding or deleting pages, electronic signature you get the gist of it.
Whatever you need is present here. After a user has finished formatting the file the editor allows the file to be exported and converted into any format.
Then the most obvious question is why this editor has fallen out of grace perhaps one reason for it is that the interface of PDFill is rather clunky and annoying. The application needs an interface overhaul to make it user-friendly.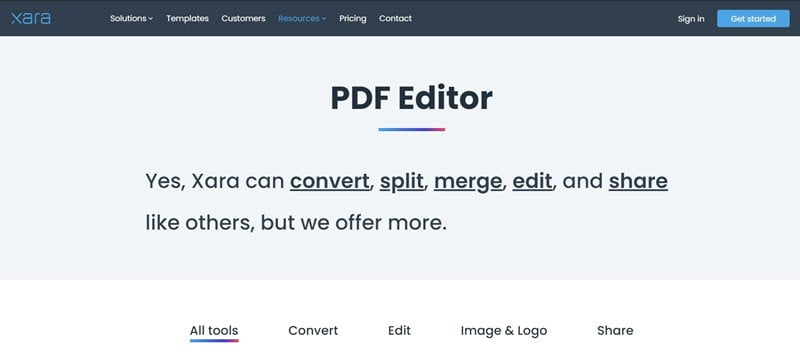 Although relatively new to the club of free PDF editors this Xara PDF Editor presents itself as a compelling package by offering more features than the competition.
The Xara PDF Editor is another addition to the list of cloud-based editors. To use this editor, you do not require any additional downloads on your PC just simply head over to the website and sign in with your account to access the platform.
The main advantage of this free PDF editor over others is that it offers a slew of features on top of the basic features that competitors lack. Not only it can merge and split two or more documents and add text to it, but it allows you to mold the document to your liking.
With this PDF editor, you can edit pre-existing text, add or edit images, and change the font and color of the document. When a document is complete you can export the file in any format you desire which is quite handy in a pinch.
Xara cloud PDF editor also features a document sharing feature which you can use to view the document along with your team or coworkers. This editor is not all sunshine and rainbow though and there are some drawbacks to it as well.
The biggest caveat of the editor is that the finalized file has a Xara Cloud watermark. This can be somewhat off-putting in a professional environment therefore for official documents keep that in mind.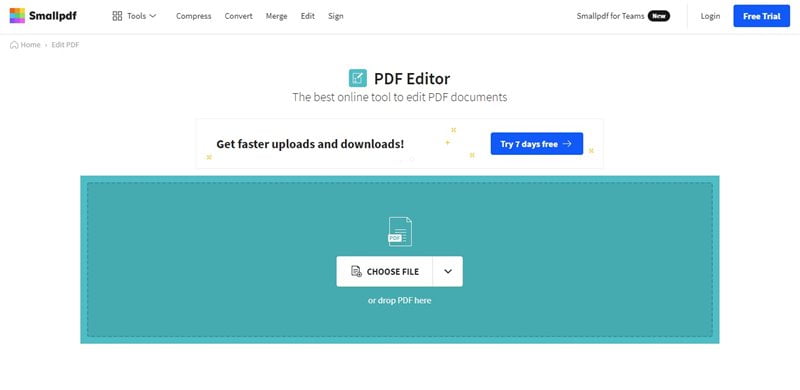 Smallpdf is a handy cloud-based PDF editor that provides a slew of different features. For starters, since it is a cloud-based editor it does not require any tedious downloads. You can simply get to the editing part by creating an account and signing into the platform.
Once in the application, you will be amazed at how simple and intuitive the user interface is. Everything is laid out well and is present where it should be hence you can get started on editing the PDF document right away.
Most important besides the usual opening files stored in the computer approach this PDF editor also allows you to open files present in cloud-based services like Dropbox or Google drive.
In terms of features at your disposal, we are looking here at the full suite of functionality. With this software, you can add headers and footers to the existing texts, merge or split two documents, add, arrange or delete pages.
This editor also allows the user to change the text and font of the document although the options here for that purpose are slightly limited compared to other editors. One can also import shapes to the document to make it more professionally appealing.
Once you are done with the file you can convert the file into multiple formats which is another handy feature which the SmallPDF editor provides.
The only area where this editor lacks is in modifying existing text. You cannot edit existing text here so be wary of that.
All the functionality you are getting also comes at a price. The SmallPDF editors can only be used to edit 2 documents in a day. This is the restriction you have to live with if you want to free a completely free PDF editor.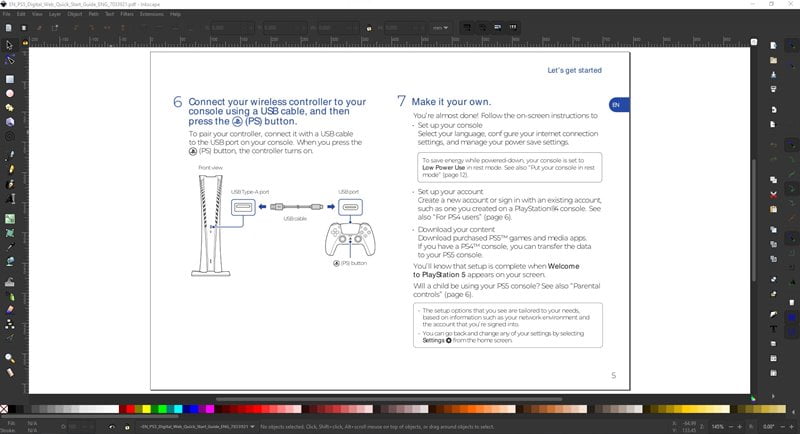 Inkscape is the best choice for the professionals that are looking to edit images and graphics of their PDF file. You should perceive this platform as not only a PDF editor but also as an image editor.
Inkscape besides offering PDF edit tools includes a list of comprehensive graphic tools which you can use to spruce up eye-catching images. Although granted the number of tools that are available for graphic manipulation can be quite overwhelming but once you get a hang of these tools there is no other free PDF editor like it.
Besides the graphical shenanigans Inkscape allows serves as a text editor and allows the user to edit the preexisting text of the PDF file. This is a neat feature which many will come to love and appreciate.
All in all, Inscape is a fantastic PDF editor if your work mostly relies on altering and modifying graphics and images. If you can get by the cluttered and janky interface, then you will find this editor to be very appealing.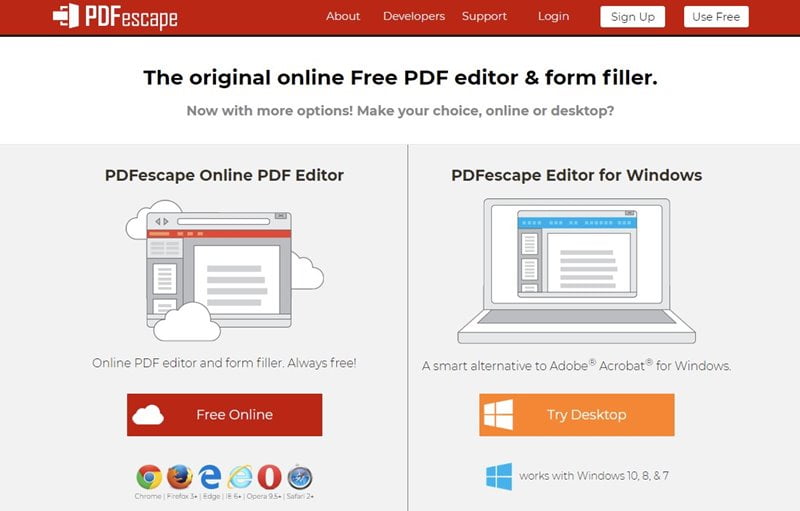 Online PDF editors have been on the rave lately and this PDFescape comes in as one of the most popular ones in this domain. Since its inception, this PDF editor has been able to bag multiple users and you might just be the next one.
The best aspect of PDFescape is the comprehensive toolset it provides. Any tool or feature you need for editorial purposes is present here and not locked behind a paywall like other editors.
As for its application, you can use PDFescapte to insert headers and footers, add text to an existing file, change the layout of the pages, add or delete pages, and it even allows for the insertion of hyperlinks.
Another neat aspect of PDFescape is that with this tool you can lock and encrypt important files. This coupled with the electronic signature capability makes your files secure and safe.
PDFescape can be enjoyed on all major internet browsers that include Chrome, Firefox, Edge, Opera, and Safari.
If all the features of PDFescape excite you then in starting the whole edit over before using the app bear in mind that you cannot undo any command on this application. Therefore, even a slight mistake will result again.
In the free version of PDFescape, there are just a handful of fonts to choose from which somewhat hinders the experience of the user. This issue is exuberated by the fact that this editor does not allow for modifying existing text.
In the free version of the tool, there is also a limit set on the length and the size of the document you can edit that, in this case, being 100 pages and 10 MB respectively.
You May Also Like:
How to Delete a Page in Word on Windows and Mac
PDFsam is more of an organizer than an editor. This does not mean that it lacks editorial capabilities but rather that it has basic ones.
This PDF editor is suitable for PDF compilers and finalizers because it has a great interface and placement of the tools. One can easily split and merge documents on this article. Arranging pages is also no hassle.
This all is made possible by the lightweight nature of the editor which enables a smooth and rapid operation. Also, this editor does not contain any watermarks so the end file comes out clean and professional-looking.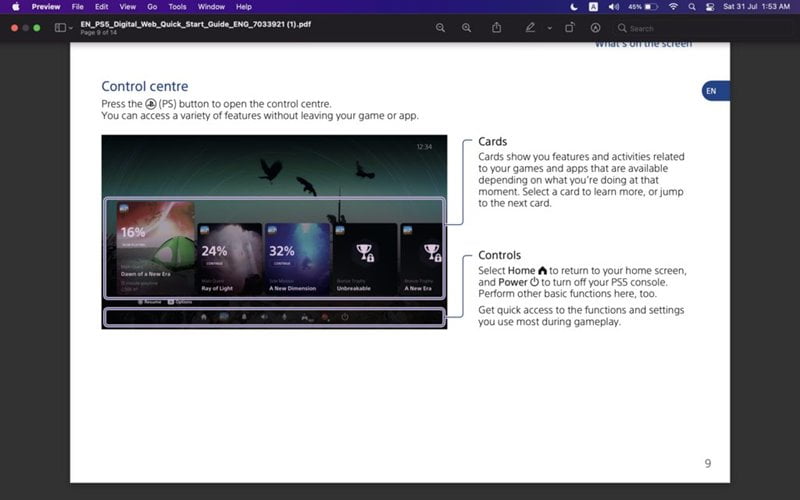 Why look tireless for free PDF editors when you have one right within your reach. Mac users can use the preview Apple preview application that comes preloaded in every Mac device to edit PDF files.
The Apple preview editor is the real deal and not like some other half-baked preloaded application that may come with another manufacturer. It has an impressive and vast catalog of tools to choose from which although may not be transparent at first.
To view the full suite of tools available inside the application you have to click on the markup button that looks like the tip of a pencil. Now with the list of the tools available, you can add text, drawings, notes, and insert shapes into your file.
There is also an electronic signature facility which you can avail to sign your important documents. This covers up all the functionality that mostly you will need to edit any document hence if you have a Mac, you should use the Apple Preview application as it will take care of most of your needs.
The only drawback I see with this application is that it might be too basic for some people. If your work heavily relies on editing complex PDF files, then the Apple Preview application might not be for you.
Conclusion
This wraps up our list of the best free PDF editors. This article covers a wide array of editors that all have their own feature set. Hence to select the best editor for you explore the feature set available in each and download the one that caters to your needs the most.