So, you have decided on a white theme for your gaming setup and want a white gaming PC to complement it? Well, I can't blame you white PCs have been all the rave lately because they look so good.
The issue, however, is that most manufacturers charge you for the looks and end up selling white gaming PCs that have sub-optimal gaming performance.
Don't you just worry, though, because, in this article, I am going to list the six best white prebuilt gaming PCs that not only look great but also have amazing performance.
The PCs in this article are picked keeping in mind the different budget options for gamers therefore, this article contains a white prebuilt gaming PC for everyone.
I know you are eager to see what I have in store for you, so without further ado, let's dive straight into the nitty and gritty of the article.
In a Hurry? These Are the Best White Gaming PCs
The following is a quick glance at the six amazing gaming PCs that are going to be included in this article.
*For more info on the gaming PCs below, click the "Jump to review" button to go to our overview of that PC.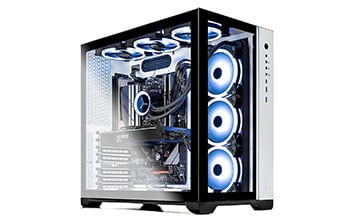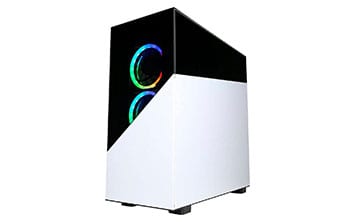 2. CyberPowerPC Gamer Supreme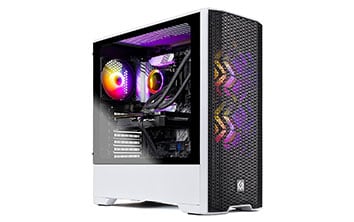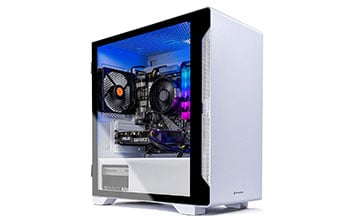 4. Thermaltake LCGS Glacier 100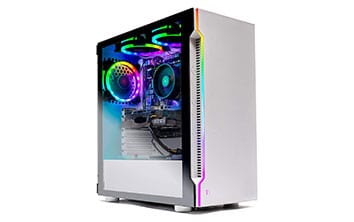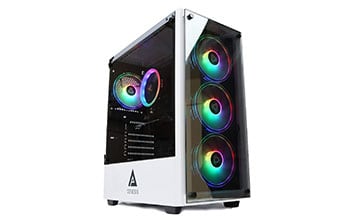 6. Kepler Systems Gaming PC
Buyer's Guide: Everything You Need to Know
Before we dive into gaming PCs, I would like to run you through the important points that heavily influence a consumer's buying decision.
The Buyer's guide section is centered around enlightening gamers on all the things they need to know before buying a gaming PC.
At the end of this section, you would have gained sufficient knowledge to make a more informed decision based on your needs.
Therefore, I recommend not skipping the Buyer's guide section especially if you are new to PC gaming or PCs in general.
The Few Key Considerations Before Purchasing a Gaming PC
Before you go in and dump all your money on a white gaming PC I want you to consider these key points because they are most likely to shape your buying decision.
Most are of a strict budget and even if budget is not a concern there is so much we can do. Let me clarify, what i want to say is that a gamer is either constrained by his budget or by the specificity of what he wants in a gaming PC.
Therefore, before buying a gaming PC, the budget and usage are the two main points that you should have a clear idea about.
Budgeting is relatively simple, if you have a budget of $2000 it is a given that you will buy a gaming PC that has a monetary value of $2000. While this approach to buying a PC is not wrong, I would like to discourage it.
It is better that you buy a gaming PC based on your needs. The way you can access your need is to evaluate which games you want to play on the PC. Once you have picked a favorite game, check out its system requirement. I have a complete article on how to check if a PC can run a particular game which you can refer to for more in-depth information.
The gist of it is that by knowing and evaluating your needs you would be in a much better position to buy a gaming PC.
Why the Best Is Not Always the Right Choice?
Like I have previously said, you should buy a gaming PC by evaluating your needs. This section is an extension of that. If you are buying a gaming PC according to your needs, then you don't really need to be fussed about the most expensive gaming PC being the best.
While on paper it may seem very tempting because the best PC will have the most high-end specs, you have to ask yourself whether you can have a use for these specs. If your games revolve around using the specifications that are inside the best gaming PC then sure you can go ahead and buy it but most of it just ends up being wasted potential.
Therefore, what I want from you is that you stay vigilant and don't fall into the "more expensive product being the best" trap.
What Are the Factors That Make up an Ideal Gaming PC?
The previous two sections talked about how you should approach the gaming PC buying decision, but you also need to know how to distinguish between different gaming PCs. Well, this is where this section comes into play as in it, I will mention the important factors of a gaming PC.
The Gaming Experience is Everything
The most important aspect that a gaming PC has going for it is the gaming experience. After all, you are spending a lot of money on a gaming PC and despite that, if you are not satisfied with how the PC works then this does not bode well for daily use.
The gaming experience is the culmination of all the different traits of a gaming PC hence measuring it is rather difficult for a novice PC gamer. Therefore, our reviews keep the gaming experience at the front and center when reviewing a product.
Prebuilt gaming PCs are designed around convenience. Unfortunately, convenience is a word not known to many PC gamers and if you get a chance to meet a hardcore PC gamer, they will always talk you down on going with a prebuilt gaming PC.
What I want you to know is that prebuilt gaming PCs are absolutely fine and the talk about prebuilt gaming PCs not being good should not deter you from buying them.
The ease of use and convenience that these gaming PCs provide is next to none. You get a fully-ready gaming PC delivered to your doorstep without needing to worry about anything.
Hence prebuilt PCs not only have the effort of building your gaming PC but also save up a lot of time that you can invest in playing games rather than figuring out how you can build a gaming PC.
Prebuilt gaming PCs typically come from reputable manufacturers which is quite reassuring in the sense that if anything goes wrong with the PC you would be able to get it fixed.
These all traits add up to make one convenient package which we call a prebuilt gaming PC.
The Specification to be on the lookout for in a White Gaming PC
Having the right set of specifications is important if you want your gaming PC to play all the latest games without a hitch and last a long while as well.
I know most gamers expect to run games on at least 1080p resolution therefore all the gaming PCs mentioned in this article are listed keeping that in mind.
That being said, due to the obvious price difference some PCs are better than the rest. Irrespective of the budget, the ideal specification for a gaming PC should look something like this.
The minimum you would want is a 6 core 12 thread processor but ideally, the processor in your PC should have more than 8 cores. The AMD Ryzen 7 5800X in the SkyTech Prism II fulfills that requirement with flying colors.
The RAM selection is pretty straightforward. In this day and age, it's either 16GB RAM or nothing. 8GB is not sufficient for modern games and 32GB is overkill for most situations hence 16GB RAM is ideal.
Also, try to get the latest DDR5 RAM if you can. DDR5 RAM is much faster than DDR4 hence providing a performance boost in some games.
For playing the latest games at ultra graphic settings you would need an Nvidia RTX 3080ti or an AMD RX 6700 XT. Both of which are found in the SkyTech Prism II and CyberPowerPC Gamer Supreme respectively.
In modern times, there has been a shift in moving towards cloud storage but regardless of how good cloud storage gets they can't yet replace mechanical storage drives.
It is recommended that you have at least a 1TB storage drive in your PC however if you are a habitual downloader then having 2TB or more is not off-limit.
An important thing to keep in mind is that irrespective of the storage capacity you should always go with an SSD drive. Hard disks are slow and obsolete now and therefore fast SSD drives are a much better option.
With an SSD onboard, a PC feels much smoother and quicker to use. Hence look for PCs that have SSD drives rather than HDD drives.
In-Depth Review
Now that you know all the fundamentals related to buying a gaming PC, let's dive into the reviews of six white gaming PCs that you previously looked at.
To keep this PC ahead of the competition no expense is spared. This PC is powered by the latest Ryzen 7 5800X processor, which is the flagship offering of the brand. This 8 core 16 thread processor is a brilliant performer and can handle any task you throw at it.
A powerful CPU needs a strong GPU, therefore, an Nvidia RTX 3080 Ti is installed in this PC. This GPU is very capable and a brilliant performer not only for 1080p gaming but also for 4K gaming.
Most high-end gaming PCs have measly cooling solutions but not this PC. Skytech has gone the extra mile and installed a 360mm AIO liquid cooler in this PC.
Liquid cooling is much more efficient than air cooling and therefore, the temperatures of this PC are lower than its competitors during gaming. For maximum cooling performance, additional 3 case fans are installed alongside the AIO liquid cooler.
As for the other specs, this PC has 16GB DDR4 RAM and 1TB NVMe SSD. The SSD installed on this PC is not the ordinary one but rather the latest Gen 4 NVMe which is a lot faster and expensive too.
Already, we get it the specs of this PC are top-notch but what else does it have to offer. Well, the one thing I am most impressed by is the design of this PC.
Not only does the PC come with a striking beautiful case but it also is littered with RGB lighting that covers each and every corner of the PC.
Skytech is using the ever popular Lian Li 011 dynamic case. This case or should I call it a glass sandwiched box because of the excessive use of glass panels has excellent dimensions.
It is shorter than your typical towers but wider at the same time which gives the PC a very upright prominent stand on the desk.
Overall, the Skytech Prism II is a gorgeous gaming machine that not only looks great on the desk but is capable of playing all the latest games at 1080p and 4K resolution due to its top-notch specs.
The CyberPowerPC Gamer Supreme turns heads. It is definitely a looker due to its unique and distinct case design. I don't recall seeing a similar gaming PC in the sub $2000 so if the aesthetic is what you are after then the CyberPowerPC Gamer Supreme should fit the bill.
This isn't to say that CyberPowerPC is all about looks. On the contrary, it has some serious performance potential due to the 8 core 16 thread AMD 7 3700X CPU and the Radeon RX 6700XT.
Having such a high-performing GPU and CPU in a gaming PC means that you can easily play all the games not only at 1080p but also at 1440p resolution. For a sub $2000 gaming PC this is quite amazing actually which goes to show how rapidly technology has progressed over the years.
Power doesn't really mean anything if a PC cannot fulfill your daily needs. Fortunately, this PC has got the full suite of connectivity and therefore, has all the ports that you might need in your daily use.
The PC can even be connected to multiple displays at once and due to the high-performing GPU, you can connect up to 3 monitors simultaneously without any issue.
Enough with the positives, now move to some negative points about this PC. The main drawback of this PC is the lack of airflow. To have a smooth and uninterrupted design the manufacturer had to compromise on airflow.
To combat this issue, this PC comes with an AIO liquid cooler and 2x case fans, but they aren't enough. As a result, the heat dissipation is not up to the mark as other PCs on this list. The excessive heat buildup restrains the PC from working at its maximum potential due to thermal throttling.
Besides the sub-optimal airflow and heat issue, there isn't much wrong with this PC. Therefore, if you can look past that issue this is actually a very good $2000 gaming PC.
At the heart of the PC is a 6 core 12 thread Intel i5 10400 CPU, which is combined with the Nvidia RTX 3060 Ti graphics card. This combo makes short work of any game you throw at the PC.
This PC can run all modern games at 1080p without breaking a sweat. The great performance potential of this PC is matched by an equally great cooling performance.
The semi-open front mesh grill of the case means that the PC can breathe much better and hence have better airflow as a result. Heat is the kryptonite of any gaming PC so seeing it contained on this PC is quite reassuring for long-term use.
If you are a multi-tasker and just cannot stick to one task at a time, then the 16GB RAM in this PC has you covered. 16GB RAM capacity is plenty sufficient for multi-tasking.
Adding to the multi-tasking aspect of this PC is the support for multi-screen connections. Up to 3 monitors can be used on this PC.
The only negative in the specs department is the use of a 500GB SSD. 500GB storage capacity is just not sufficient enough for modern-day gaming because apps and games have gotten a lot bigger over the years.
On the topic of connectivity, the SkyTech Blaze 3.0 fares quite well in that regard. It includes all the ports that you will need to connect necessary gadgets and peripherals when gaming.
If you don't fancy cables, then you would be pleased to know that the built-in Wi-Fi connectivity of this PC is very good.
To top it all off, this PC comes with 3x RGB fans that not only aid in cooling but also enhance the aesthetic of the PC. Due to the semi-open front panel design, the RGB fans can be seen spinning which gives the PC a distinct and unique look.
Powering all the components is a 600W 80+ gold rated PSU which is quite reassuring. I cannot stress enough the importance of having a good quality PSU and the 80+ gold rating ensures that the PSU used in the PC has an efficiency of over 80%.
All in all, a fairly great white $1500 gaming PC with the only turnoff being the lack of a USB-C port.
Before I dive deeper into this PC, can we just appreciate how clean the design of the PC looks. We are talking borderline minimalism here because the clean lines and the uninterrupted design of the PC points in that minimalist direction.
But then you see the RGB lighting which is definitely a much-needed addition to this PC. Fortunately, the implementation of RGB lighting is done rather tastefully here and it does not break the whole subtle concept of the clean.
Clean on the outside but definitely powerful on the inside. Through the use of the latest hardware, this PC generates very good performance for 1080p gaming.
On this PC you can play all the modern AAA games without a hitch which is fantastic considering this is a sub $1000 gaming PC. At this price point expecting 1440p performance would be stretching it a bit too much.
The PC is able to deliver this performance through the use of the 6 core 12 thread AMD Ryzen 5 3600 CPU and the Nvidia GTX 1660 Super graphics card. Both components represent the best mid-range value in PC hardware.
The only performance part slowing the PC down is the use of 3000MHz RAM. While the 16GB capacity is plentiful but ideally a 3200MHz RAM would have been so much better in this application and would have slightly improved the performance of the PC.
500GB storage in the PC is quite limiting in terms of what you can install. Nevertheless, I can't fault the connectivity of this PC though.
It includes the full suite of connectivity without the omission of any necessary ports. The PC even has very stable built-in Wi-Fi and Bluetooth connectivity for ease and convenience.
The data speeds on Wi-Fi are also very good and you could exclusively use Wi-Fi for gaming due to the consistent uninterrupted signal processing that this PC has.
Overall, the Thermaltake Glacier 100 is a perfect example of how good gaming PCs have become. No doubt, this PC isn't perfect. It has its fair share of drawbacks but none of them is a deal-breaker and at the end of the day you will be able to game at 1080p on this PC pretty flawlessly.
The Skytech Archangel is a very compelling value to money gaming PC. This PC comes in at around $800 and for that price, the specifications and features present in this PC are quite decent. While it won't blow you away in any regard but it gets the job done almost every time.
To have those fancy features and specifications you do have to sacrifice on the looks. I will admit that this PC is the least good looking out of all the six gaming PCs present in this article.
Although looks can be a very subjective matter, gamers would agree that there isn't much in the Skytech Archangel design to appreciate. Sure, there is an RGB LED strip nestled at the edge of the front panel but that does not have enough presence to look distinct.
The same story continues with the rest of the panel as well. A little lacking in the looks department but the Skytech Archangel surely makes up for the lost ground in the specs.
This PC comes with a 6 core 12 thread Ryzen 5 3600 processor paired with an Nvidia RTX 1650 graphics card. This duo makes for a very good 1080p performance machine. While it won't win any performance awards, it can play all the latest games you throw at it on decent FPS at medium graphic settings.
From an $800 gaming PC, being able to run all the latest games is quite impressive. But if you aren't impressed yet then this PC has a couple of extra tricks up its sleeve as well.
The Skytech Archangel comes with 500GB SSD storage, which surprised me because SSD drives are usually reserved for more expensive gaming PCs.
If this wasn't enough then the PC also comes with built-in Wi-Fi 6 connectivity. Wi-Fi 6 is the latest technology standard and hence the signal strength and reception of this PC are amazing. The PC can also achieve data speeds up to 1Gbps which is also quite impressive.
I will however have to knock some points down because of the 8GB RAM. 8GB RAM is just not enough for gaming in 2023 to find out why to refer to my in-depth article on the matter. The takeaway here is that if you want to game smoothly on this PC then you will need to upgrade RAM to 16GB.
Fortunately, adding more RAM to this PC is a relatively straightforward process because it comes with a vacant RAM slot.
Overall, I would rate the Skytech Archangel quite highly. If you can look past the boring design and are willing to upgrade RAM, then this PC can be a great value to the money gaming machine for around $800.
The Kepler Systems Gaming PC is a budget offering but don't let the low price tag distract you from an otherwise decent gaming machine. Of course, to keep the price low some compromises had to be made but that is quite common in gaming PCs at the $500 price range.
The main takeaway here is that this PC can play some latest games like Valorant at 1080p resolution, granted you drop the graphic settings down to low. For other more demanding games, you will need to drop the resolution to 900p or 720p respectively for a smooth gaming experience.
The Achilles heel of this PC is the use of older generation parts. The Nvidia GTX 750 GPU and the Intel Core i5-2400 CPU which are used in this PC are over 5 generations old now. Official support of these components however is still lingering around so that's a good thing I suppose.
Besides, the CPU and the GPU other specs of the PC are acceptable. This PC has 8GB RAM which is on the lower side but can be worked with.
Similarly, the 500GB storage capacity can also be deemed satisfactory for the price because after all, you can't have everything on a $500 gaming PC.
A major negative that may potentially be a deal-breaker for some is the lack of built-in Wi-Fi in this PC. While it does come with an external Wi-Fi adapter but that is not an optimal solution.
There is no denying that this PC is not the best performer but I reckon it nails the aesthetic part quite well.
By looking at the PC you won't be able to discern it as an older gaming PC because it carries a modern flare in the looks department.
The front and the side panel of the PC are made from glass, like all other modern gaming PCs. The Kepler gaming desktop also comes with plenty of RGB that is visible through the frosted tempered glass panels.
This PC undoubtedly looks like a more expensive gaming PC than the price would suggest. Overall, I can't fault this PC for its looks. All things considered, it is actually a quite good-looking gaming PC.
All in all, I won't recommend this PC to everyone. Due to its lackluster gaming performance, this PC doesn't quite cut it for me but if you are someone who plays less demanding games like Counter-Strike: Global Offensive then this PC can be worth a shot.
Related Guides
Check out our GPU-focused prebuilt PC guides below.
Check out some of the other related guides.
Check out our aesthetics-focused gaming PC guides below.
Final Word
Now that all the white gaming PCs have been mentioned it is time to wrap up the article.
Before I conclude, I again want to emphasize the importance of buying a gaming PC based on your needs, and in order to do that you should know what you are going to use the PC for and buy accordingly.
This is very important because ideally, you should only spend that much money on a gaming PC that is required.
This is the reason, the six gaming PCs included in the article come in at different price points because I wanted everyone to have a gaming PC that suits their needs.
I would love to hear in the comment section down below which white PC you are buying and why. While you are in the comment section do mention whether you agree with me that a gamer should buy a gaming PC according to his needs or you still prefer the good old way of spending the most money possible on a gaming machine.