As you might already know, Voice Over Internet Protocol (VoIP or, as it is also called – the IP telephony technology) today is a decent communications solution for many businesses across different industries. It enables making calls, conversing via chats, and even attending video or audio meetings, and doesn't rely on cellular or landline-based networks.
These excellent VoIP qualities can perfectly fit enterprises that need a good connection while interacting with customers, clients, vendors, and colleagues. According to FinancesOnline, because of the lucrative benefits it provides, the international market for VoIP services is expected to increase all the way to $102.5 billion by 2026, which is a significant increase in comparison with $85.2 billion in 2021.
Needless to say, the app market today offers more and more choices with first-class call quality and great collaboration options.
In this article, we'll make a detailed overview of the finest VoIP solutions you should definitely give a try, with analyzing their benefits and possible downsides to know about.
1. MightyCall
If you're looking for the best value for its money, the MightyCall application can be the right option for your business. Basically, that's an all-in-one virtual phone solution that ideally works for small and medium businesses. With over 20 years of experience on the market, it is highly appreciated for the ease of use, comparatively low prices, and the useful functions it offers to clients.
Advantages:
Easy to learn and navigate, user-friendly interface
Powerful integration to WhatsApp Business
Two monthly subscription plans are offered: Small Team for $9.00 and Business $15 per user per month
Packed with the top-notch features the app clients require the most, such as call routing, custom greetings, 24/7 auto-receptionist, and many more
Professional customer support assistance
Drawbacks:
A limited number of calls and members (for the basic versions)
The outgoing message handling requires that all messages be available to all users which are not always required
2. Dialpad
Founded in 2011, the Dialpad app is a feature-rich platform that enables effective team communication through voice, video, messages, and online meetings to empower your business performance and enhance your employee productivity. Additionally, this software is a great tool for reaching out to clients, as well as other businesses with utmost ease. Scalable and flexible, Dialpad can effectively integrate with other software solutions and perfectly meet any business needs regardless of its size and the industry it operates in.
Advantages:
Innovative phone system with call switching and video calling features
Supports web, iOS, Android, and Desktop
Perfectly fit small and medium businesses
The most famous integrations clients appreciate in Dialpad are Google G-Suite, Salesforce, and Microsoft Office 365
Free trial is available, and the monthly pricing starts at $15 per user
Drawbacks:
Small meeting capacities: for more than 10 participants in video conferencing, you'll need to pay an add-on of $15 (if not upgraded to pro version)
No call quality information in the analytics report
3. RingCentral
RingCentral is a cloud-based VoIP solution that can easily fit nearly any business requirement. Their clients can choose from four different plans with each granting unlimited phone calls and SMS for RingCentral customers. Each option has specific functionality, which means you'll pay for the services you really need and use for your business. Along with that, you can discover which plan will better fit your enterprise on their website or consult with customer support service, which is available 24/7.
Advantages:
Supports over 200 integrations
Automatic generation of customized reports with various KPIs, including average call duration, quality of service, first call resolution, and many more
Large meeting capacities with up to 200 participants at once
Unlimited storage (for the Ultimate plan users)
The monthly pricing starts from $19.99 for the Essentials to $49.99 for the Ultimate version
Drawbacks:
No free trial is offered
The users of Essentials, Standard, and Premium plans have limited storage capacities
A steep learning curve for new users
4. Mitel
Last but not least, a popular VoIP provider that specifically targets small and medium-sized businesses is Mitel. It features the large variation of plans offered for different businesses, including the plans for small businesses, larger enterprises, and contact centers – the prices depend on the services each plan encompasses. Additionally, the clients can get effective customer support and solutions from the setup process to the initial product use, which is considered to be the major advantage of using this app.
Advantages:
The first-rate customer support service, new customers are given one person for individual assistance while getting accustomed to the product use
Features a diverse number of functions including messaging and voicemail options: auto-attendant, computer, and outlook integration, call queuing, and voicemail to email
The bulk import feature allows to quickly upload contacts from CSV, Google, and some Microsoft 365 products
Compatible with different CRM systems
The basic plan, Essentials, starts out at $20.99, while the elite tier will cost $38.49 per user per month
Drawbacks:
A limited number of call-ins
Non-accredited by BBB (Better Business Bureau)
Which VoIP Provider Should You Get?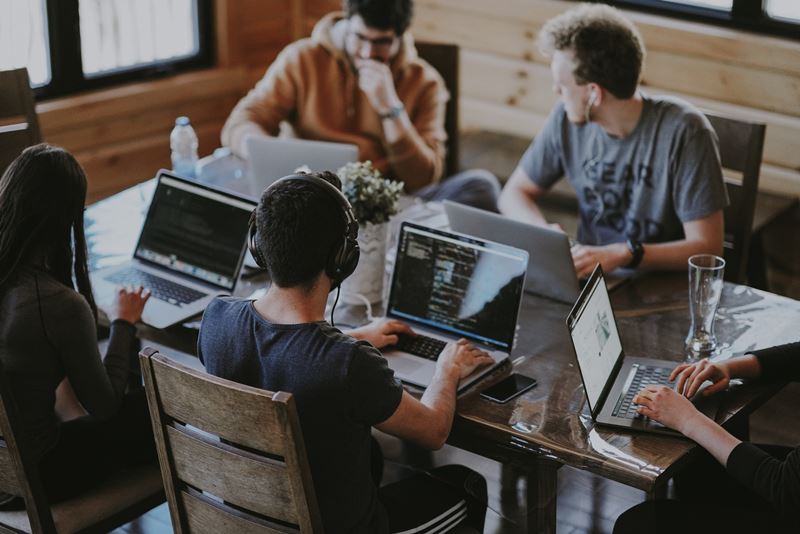 With over 3 billion active users per day, VoIP technology has already become a powerful tool for any business to utilize. However, to make the most of its use, it's essential to learn the critical qualities your VoIP providers should feature. According to Forbes, the most important signs of a good VoIP solution are:
Has many services and features
Secure and straightforward
Features cost-effective plans
Offers great customer service
Functional and scalable
Wrapping Up
To conclude, the right VoIP app can help you to set up great connectivity regardless of the location you or your employees are doing their job from. Along with that, the VoIP solutions can not only upgrade the workflow and employee performance but also contribute to reducing the cell data expenses, which is another great advantage that many businesses today are willing to get.
We hope that the top-rated VoIP options presented in this article have helped you to choose the best application that perfectly fits your business objectives and needs. So, what else are you waiting for? Implement your best VoIP application right away and enjoy all its benefits today!