Bluetooth eliminates the hassle of managing the cables of your PC peripherals, but is it possible for a motherboard to have Bluetooth?
Yes, a motherboard can have Bluetooth if a Wi-Fi card is installed on the motherboard. Luckily, Wi-Fi cards are quite common on motherboards these days; therefore, if your motherboard has Wi-Fi it will have Bluetooth.
Wi-Fi and Bluetooth connectivity are salient features typically only present in high-end motherboards. Therefore, for the most part, motherboards lack a Bluetooth connection.
In this article, I will not only tell you how you can check if a Bluetooth connection is available in your motherboard, but I will also tell you how you can make a motherboard Bluetooth compatible even if it does not natively have a built-in Bluetooth.
So, without further ado, let's begin.
Why Do You Need Bluetooth in Your Motherboard?
Simply put, Bluetooth is the most convenient method for data transfer. You can use Bluetooth to transfer files from one PC to another in no time or to other portable gadgets.
You can even use Bluetooth to connect your favorite wireless earbuds or headphones. Due to the ease of use, most people gravitate towards Bluetooth for fulfilling their connectivity needs.
Due to being wireless, Bluetooth makes the whole procedure tireless, but the main caveat is that Bluetooth only works at short distances.
However, that shortcoming is not felt when connecting using Bluetooth on a PC because most PC peripherals and gadgets are made to work in their confined space.
All in all, having a Bluetooth connection on your PC makes the whole experience cable-free, which adds a lot more convenience into the mix.
Which Motherboards Have Bluetooth?
The motherboards with a built-in Bluetooth connection generally start from over $250. low-end and mid-range motherboards don't come with Bluetooth connectivity. That being said, though, there are some budget motherboards in which you will be able to find Bluetooth connectivity.
Mainly, the reason Bluetooth is not available on some motherboards has more to do with the nature of the product than the actual price difference itself. Ethernet LAN has been the gold standard of desktop computer connectivity for quite a while now, and most people still prefer using LAN cables over Wi-Fi for a more stable connection.
This gives little incentive to manufacturers to include Wi-Fi on all motherboards. Hence Wi-Fi connectivity is seen as a bonus rather than a necessary feature. If Wi-Fi is not present, Bluetooth will also be nonexistent on the respective motherboard.
Desktop Motherboards
Only the high-end motherboards from both AMD and Intel sides come with built-in Bluetooth connectivity.
These motherboards come with expensive price tags, which in most cases are above $300. You can find some desktop motherboards with built-in Bluetooth connectivity that are not as expensive, but lately, those have become a bit of a rare sight.
Therefore, unless your motherboard comes from the high-end lineup of AMD or Intel motherboards, I won't expect it to have Bluetooth connectivity.
Laptop Motherboards
A laptop is a portable device that is made to be a go-anywhere compact PC. A computer like this requires a Bluetooth connection, so it is not a surprise that almost all laptop motherboards have built-in Bluetooth connectivity.
How to Check if Your Motherboard Has Bluetooth Connectivity
There are many ways that allow you to check the Bluetooth connectivity of your motherboard. Today, I will list three of the popular and straightforward methods that you can use to accomplish your task more easily.
1. Check the Back of the Motherboard for Any Bluetooth Antenna Port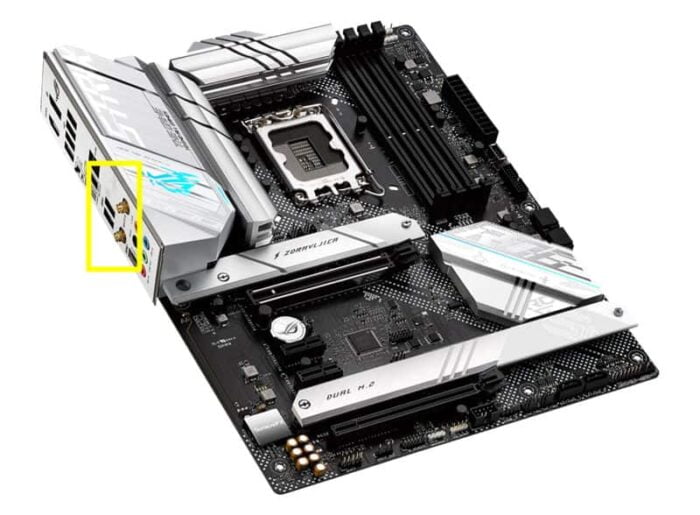 If your motherboard has Bluetooth, it will also have an Antenna port on the back. Checking for the presence of the Antenna port in your motherboard is relatively straightforward.
Pull out your PC and take a glance at the back I/O. If you see an Antenna port, then your motherboard supports Bluetooth.
2. Use the Device Manager to Check for Bluetooth Connectivity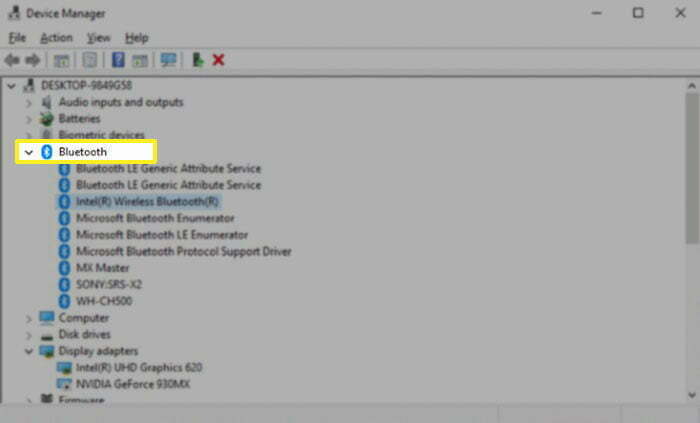 Windows has a great built-in device center called the device manager that comes in quite handy for checking on things on a PC. It can tell you if your motherboard has Bluetooth or not by the following method.
Navigate to the Windows search bar and type Device Manager.
Press the Enter key on your keyboard
On the new page that opens, search for the Bluetooth option.
If the device manager has a Bluetooth option, your motherboard has built-in Bluetooth connectivity. You can enjoy connecting to any Bluetooth-supported devices you like, for example, Apple air pods.
However, if the Bluetooth option is not displayed in the device manager window, your motherboard does not support native Bluetooth connectivity.
An interesting thing I would like you to note is that sometimes you don't get the Bluetooth option in your motherboard not because it does not have Bluetooth but rather because the Bluetooth drivers in your PC are missing.
Therefore, head over to your motherboard manufacturer's website and check for the latest version of Bluetooth drivers for your motherboard model.
3. Check the Motherboard Specification

All motherboards have a set of specifications, and information regarding these specifications is available in the motherboard spec sheet. Therefore, you can use the motherboard spec sheet to check if it supports Bluetooth.
To check the motherboard's spec sheet, you can either use the user manual supplied with your motherboard packaging or head to your motherboard manufacturer's website.
If you are using the manual motherboard, head over to the specification page and see if Bluetooth connectivity is listed among the other specifications of your motherboard.
If you are using your motherboard manufacturer's website, open your motherboard's technical specs support page. Among the listed specs, find if Bluetooth is mentioned.
How to Add Bluetooth to Any Motherboard?
If you checked your motherboard with all three methods and verified that your motherboard does not have a Bluetooth connection, don't worry because I will tell you how you can add Bluetooth to any existing motherboard.
1. Use an External Bluetooth USB Adapter/Receiver
Bluetooth adapters are USB-powered devices that plug into the USB port of your motherboard and add a Bluetooth connection to it. The working of a Bluetooth adapter is very simple, and they offer almost the same level of connectivity as a built-in Bluetooth.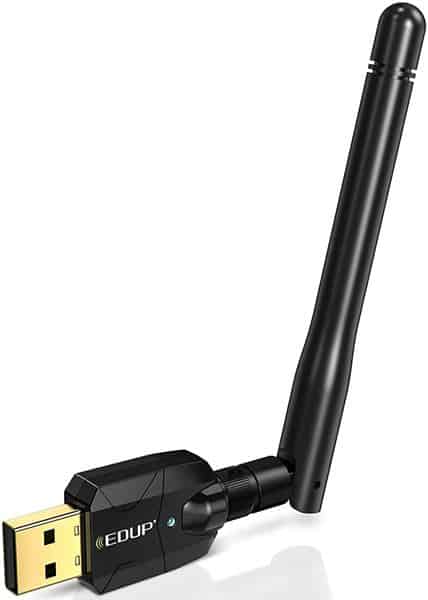 However, due to the sheer number of different options available in the market ranging from $5 Bluetooth adapters to $50 Bluetooth adapters, it is important that you find a high-quality one.
Irrespective of the price, make sure you get a Bluetooth adapter that supports Bluetooth 5.1 or Bluetooth 5.2 protocols.
2. Use a PCIe WiFi Card
PCIe cards plug directly into the PCIe slot of your motherboard and turn your motherboard into a Bluetooth-equipped device.
We have to use the PCIe WiFi Card because a standalone Bluetooth PCIe card does not exist. As a result, Bluetooth comes bundled with Wi-Fi cards.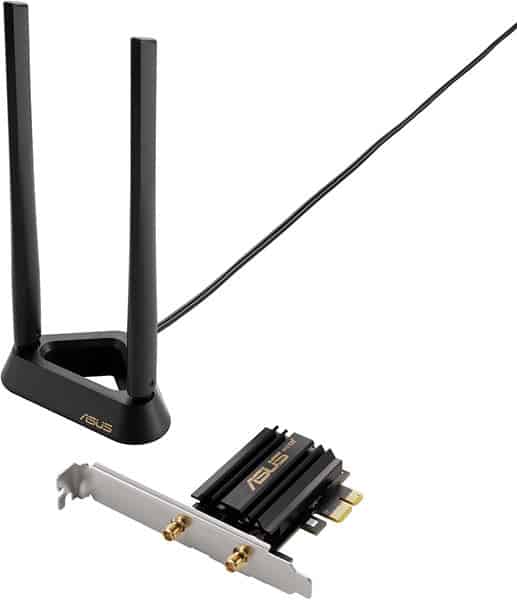 Compared to Bluetooth USB adapters, the PCIe cards come at a significantly higher price, but they have their advantages. The main advantage of using a PCIe card is that it seamlessly integrates with the motherboard without any tinkering.
PCIe cards also, on average, provide a faster Bluetooth connection as opposed to the Bluetooth USB adapters. This is because PCIe cards use the 5.2 or newer version of Bluetooth which results in them supporting higher bandwidth.
However, before you commit to buying a PCIe card, make sure that your motherboard has a vacant PCIe slot in which you can plug in the network card.
Related Guides
Check out some of our related motherboard buying guides.
Check out some of the other related motherboard guides.
Conclusion
Bluetooth connectivity is very sought after in motherboards. Sadly, motherboard manufacturers don't go down the route of providing USB connectivity in all their motherboards.
If you want Bluetooth in your motherboard from the get-go, you will need to buy an expensive motherboard that will set you back around $300 at minimum.
If you are unwilling to pay that amount for just Bluetooth, then you are right because that is ridiculous. Therefore, in this article, Therefore, in this article, I told you two budget-friendly ways by which you can add Bluetooth to any motherboard that natively lacks support for Bluetooth.
To recap, the two ways were:
Buying an external Bluetooth USB adapter
Using a PCIe card
I hope that you have found the information mentioned in this article to be helpful. With that being said, let's wrap up this article.
Before I sign off, let me know in the comment section if your motherboard had Bluetooth or not. Also, let me know which solution you used to make your motherboard Bluetooth supported. Finally, if you have any other Bluetooth solutions, let me know in the comment section.